The 10 Best Floating Aquarium Plants to Buy in 2023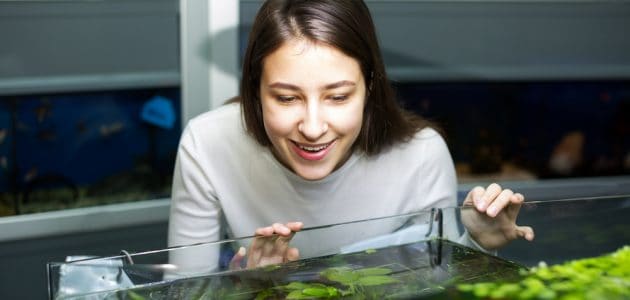 An aquarium without floating plants is a lot like a sky without clouds, and just like humans, fish can tell that something is missing. If you're wondering if your aquatic family would enjoy an overhead of greenery, start small and watch their renewed quality of life speak for itself.
Floating aquarium plants transform freshwater tanks into rich environments where aquatic life can flourish. No matter the type of aquarium you own, there's a floating plant out there that can boost its aesthetic — amongst many other things!
How to Pick the Best Floating Plants for Your Aquarium
A lot of love and dedication goes into setting up a successful fish tank. Adding or subtracting one factor can quickly change the composition of an ecosystem. However, that's not always a bad thing. When you find the best floating aquarium plants for your tank, your aquatic pets quickly reap the benefits.
Benefits of Floating Aquarium Plants
Before we reveal our favorite plants, we want to take a moment to discuss the many benefits that adding floating plants to your aquarium can bring.
Aesthetic
Adding floating aquarium plants to your fish tank does wonders for its visual appeal. You'll love the natural look it brings to your tank, but your fish will love it even more.
Filtration and Waste Regulation
When dealing with nano fish tanks, floating aquarium plants can double as a filtration system. But while they do a lot to filter water, most fish tanks still require a mechanical filtration system. Floating aquarium plants quickly regulate waste while reducing nitrate and phosphate levels.
Oxygenation
The presence of floating aquarium plants improve the health of your fish by supplying their tank with extra oxygen.
Food
Floating aquarium plants can also serve as a nutritious snack. Your fish will be able to graze and nibble this vegetation, adding vitamins and nutrients to their diets. However, do note that plants do not replace the need for actual fish food.
Shade
Some aquatic creatures enjoy plenty of shade while others are content with minimal amounts. In general, fish enjoy swimming under shaded waters because it makes them feel safe and protected. A shaded haven can transform a timid fish into a curious one. However, an excess amount of cover-surface can lead to disturbance in your lower tank, as discussed in our full guide.
Recreation
When you're a fish living in a tank, you need all the recreational activity you can get. Adding floating aquarium plants to your tank can create a fun environment for fish to hide and play in.
Breeding
If you're looking to grow your aquatic family, breeding might be on the table. Should this be the case, floating aquarium plants are the perfect place for fish and shrimp to lay their eggs and an even better place for their offspring to play in. This also applies to betta fish, too — who utilize floating aquarium plants when building bubble nests.
Can I Use Plastic Floating Aquarium Plants in My Tank?
Live aquarium plants tend to be the preferred option, however, fake aquarium plants are far from shabby. In fact, it's perfectly common for fish owners to use a combination of live and fake floating plants in their tanks. While different, plastic plants do offer plenty of benefits, albeit some cons as well.
If you are strictly here for plastic floating aquarium plants, we have two artificial options on our list: Lotus Leaves and Water Lily Pads. Feel free to jump ahead, as most of the information in this guide is tailored to live floating aquarium plants.
What to Consider When Selecting the Best Floating Aquarium Plants?
We took the following factors into consideration when building our list of the best floating aquarium plants of 2021. We'll highlight these categories as we dive into each entry — so you know exactly what you're working with.
Type: We'll let you know what you're looking at: A live plant or an artificial one.
Growth: We'll fill you in on each plant's growth cycle, to help you find one that suits your aquatic schedule.
Temperature: We'll explain which temperatures need to be maintained to keep each plant happy and healthy.
Upkeep: Lastly, we'll label each plant as low, medium or high-maintenance.
Now that we know why floating aquatic plants are so great, let's find out which plants made the A-list. Should you need any more information, we welcome you to check out our full Buyer's Guide, where you can find answers to frequently asked questions and more.
Top 10 Best Floating Aquarium Plants 2023
A Guide to Buying the Best Floating Aquarium Plants

Fish owners all over the world know that running a successful aquarium is no walk in the park. There is so much to consider when adding a new specimen to your tank, be it a fish, a snail or a floating aquarium plant. However, when done right, your aquascape can flourish, improving the quality of life of your underwater family. Before we answer some of the most frequently asked questions concerning floating plants, let's cover everything you need to know before making a choice.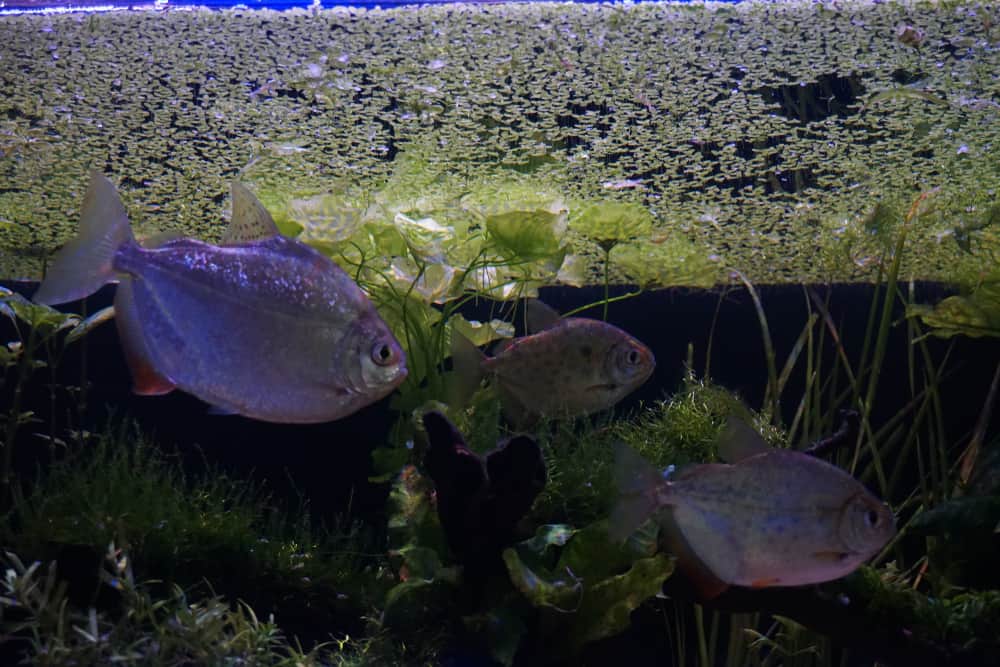 What to Consider Before Selecting the Best Floating Aquarium Plants
Before you can pinpoint the best floating aquarium plant for your tank or pond, it's crucial that you consider some very important factors. This will help you choose a floating plant that will benefit your tank and the aquatic creatures that call it home.
Size
Most floating plants can thrive in just about any aquarium, no matter its size. However, there are a few plants that require a larger environment to thrive in, like Water Lettuce, for example.
Seller Reputation
When you order a floating aquarium plant online, it's important to find a reputable seller who can offer you quality products. No matter their reputation though, it's important to thoroughly wash the plant and give it some downtime before introducing it into your tank. All of the sellers on our list are touted for quality and excellent customer service.
Lighting
If you plan on adding a floating plant to an outdoor body of water, you don't have to worry too much about lighting, the sun will do that for you. However, if you plan on introducing a floating plant to your indoor aquarium, finding out how much light a plant needs to thrive is of utmost importance.
Aquatic Life
Most importantly, you need to consider if the chosen floating plant is going to improve the life of the aquatic creatures living in your tank.
Filtration System
Although floating aquarium plants do help with oxygenation and filtration, larger tanks will still require a reliable filtration system. However, if you have a small fish tank you can swap a filter for a floating plant like Duckweed. This plant improves the levels of oxygen while working to reduce the growth of algae. But beware, it grows very quickly and requires maintenance.
Surface Agitation
Another important factor to consider is the surface agitation of your aquarium or pond. Most floating plants prefer to live amongst a low water flow, as is the case with Water Spangles.
Fertilizer
Although not all floating aquarium plants require fertilizer to survive, adding some to your substrate can help your plants thrive. Such is the case for the ultra-adaptable Java Moss.
Long-Term Goals
Before adding a floating plant to your aquarium, it can be beneficial to decipher what your long-term goals are. Are you searching for a plant that will live in your tank for years on end, helping to improve everything from cleanliness to oxygenation? Or are you simply looking to add a dash of color to your aquascape? If the latter statement is accurate, we suggest looking into an artificial plant like the Water Lily Pad.
The Difference Between Live and Artificial Plants
Floating aquarium plants have so many benefits, it's a wonder that anyone could have a plantless aquarium. However, without proper care, they can be tough to maintain. Artificial plants are superior in this regard. Let's go over the benefits and drawbacks of each.

Pros of Live Aquarium Floating Plants
Natural filtration
Improves oxygen levels
Provides hiding spots
Encourages fish to play and breed
Natural food supply
Controls the levels of algae
Beautiful
Cons of Live Aquarium Floating Plants
Maintenance
Live plants with long roots can clog tank filters
Most live plants require a low water flow
Overgrowth can limit the amount of light in your tank
If not properly cleaned, they can bring parasites into your tank
Create an abundance of CO2 during the night
One way to prevent any of these cons from taking place is to choose a very low maintenance and adaptable plant like the beloved Java Moss.
On the other hand, live floating aquarium plants are great but they're not for everyone. Sometimes, it can be beneficial to opt for an artificial floating plant instead, especially if you don't have much time to dedicate to maintenance. Let's look at the pros and cons.

Pros of Artificial Floating Aquarium Plants
Little to no maintenance is required
Will not change the composition of your aquarium
Do not harbor parasites
Easy to clean and remove
Can boost an aquarium's overall look
Cons of Artificial Floating Aquarium Plants
Colors can fade over time
Generally more expensive than real floating plants
Doesn't add any value to the ecosystem
Must be thoroughly cleaned before being added to the tank
Both live and artificial plants can improve the life of your aquatic pets. So ultimately, the choice is yours.

Frequently Asked Questions (FAQs)
Now that we're familiar with both sides of the coin, let's cover some of the most frequently asked questions concerning floating aquarium plants.

Do I Need a Floating Plant Separator?
Whether or not you need a floating plant separator is entirely up to you. However, if you have more than one plant species living in your tank, you might want to split things up. This is especially important if you have a floating plant that grows as quickly as Duckweed, as you might need to isolate an encumbered area so that light can get through to the bottom of your tank. You can create a floating plant separator by using Airline Tubing.
How Many Floating Plants Can I Have in My Fish Tank?
While there is no limit to the number of plants you can add to your fish tank, there is such a thing as too many. Since most plants absorb and give off oxygen, having too many plants can affect your fish in a negative way. When selecting plants, be sure that they work together to create a healthy environment for your pets. Using floating plant separators can also help prevent the takeover of certain fast-growing plants.
What Is Substrate?
Substrate is a term used to refer to the loose materials at the bottom of your tank. Substrate can be anything from pebbles and gravel to sand and soil.
Can I Put Floating Plants in My Pond?
There are plenty of floating aquarium plants that can thrive in an outdoor or indoor pond. One of the most commonly used floating plants is Duckweed. If you have ducks, goldish, turtles or koi fish, they will love snacking on these tasty plants and luckily, Duckweed is so bountiful, they'll be able to eat at leisure.
Are Floating Aquarium Plants High Maintenance?
While some floating aquarium plants are high maintenance, most of them pretty much fend for themselves. This is the case for the majority of the floating plants on our list. However, plants that grow at an alarming pace may require additional work, as leaving them to their own devices can cause them to take over your aquarium. If you're looking for a gorgeous floating plant that has long roots but is considered to be very low maintenance, we suggest checking out the Red Root Floater.
Which Floating Aquarium Plant Is Best for Shrimp?
If you're thinking of adding a floating aquarium plant to your shrimp tank, we would highly suggest Water Spangles.
Which Floating Aquarium Plant Is Best for Betta Fish?
When it comes to floating aquarium plants, betta fish aren't too picky. In fact, they're happy as long as the chosen plants offer them plenty of shade and downtime. However, when it comes to building their bubble nests, betta fish tend to prefer utilizing the ultra-adaptable Java Moss. This is especially true when Java Moss has been set up to float instead of anchored down.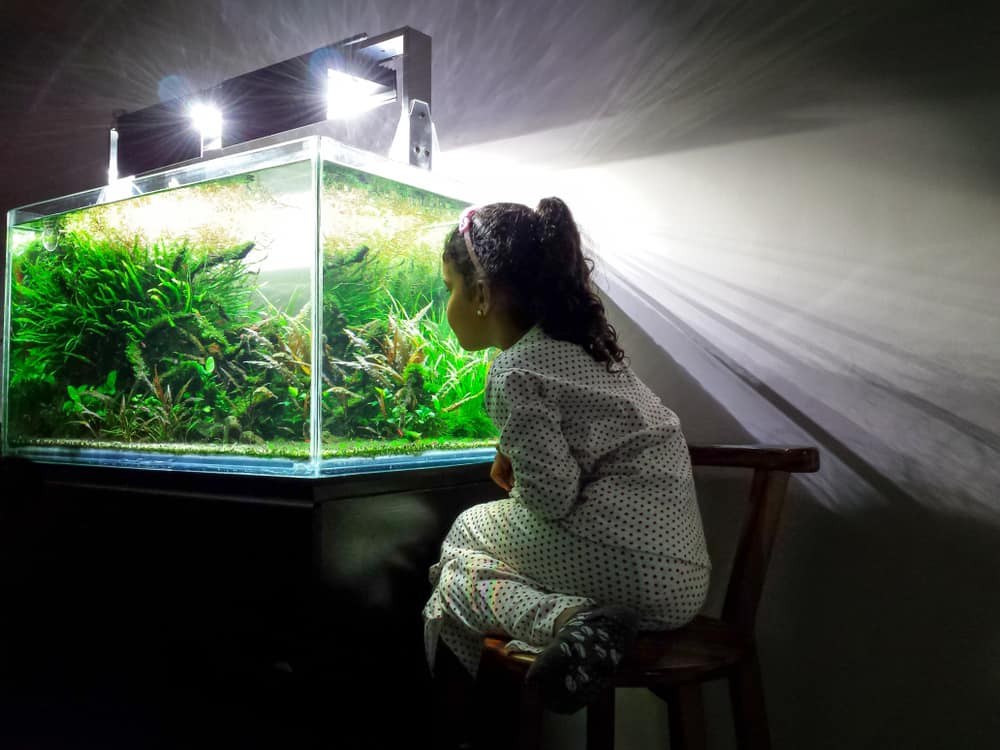 Final Thoughts
Whether you're looking to add some greenery to your goldfish's bowl or a pop of color in your pond, there's a floating aquarium plant that can bring your aquascape to new heights. Floating plants offer a buffet of benefits that both you and your pets can enjoy. Take the time to find the best floating aquarium plants for your individual needs, weighing up the pros and cons in the process. Your aquatic family will thank you for it.