The 10 Best Large Dog Crates to Buy in 2023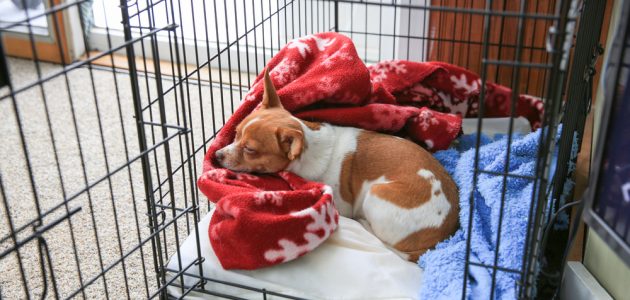 Many of us already know the joy and privilege that comes with sharing our lives with a canine companion. We provide them care, comfort and security, and in return our furry friends give back unconditional love by the bucketful. It's only natural that we pet parents want the best for our pups, and part of that is giving them a cozy place to call their own.
A dog crate can be the answer here. Often associated with crate training, they can be a safe and secure place for your pup to lay down their head, or an easy form of transport in the car when taking them on a trip.
There are many options on the market when it comes to crates for generously-sized dogs, and many considerations to keep in mind when picking the right one for you and your pet. Fortunately, we have already done the hard work for you. This guide will cover everything you need to know to make the big decision, and show you a selection of the best large dog crates available for purchase today.
Choosing the Right Crate for You and Your Dog
To help select the perfect crate for your furry best friend, keep these important factors in mind.
Size
The size of the crate you buy is very important and should be chosen carefully based upon the size of your dog. One that is too small risks your pet being uncomfortable in a place they should see as their home, which will deter them from sheltering in it and make training much more difficult. On the other hand, a crate that is too large will encourage your pup to soil inside it if they can sleep away from their mess.
Fortunately there are plenty of sizes to choose from, and often the same model will come in a variety from small to large. For larger dogs the typical crate will be 42 inches long and 30 inches tall, which is suitable for a dog weighing 70-90 pounds, however you are very much encouraged to measure your pup and make a decision based on their needs. We have included a short guide here on how to do so.
Material
Crates come made in a variety of different materials and each have their benefits and drawbacks.
Metal Wire Crates
Metal wire crates are very sturdy, which is a positive if your pooch likes to bite and chew. They can also stand up to more physical punishment from boisterous dogs who haven't quite learned how to behave. They have been known rarely, however, to have sharp edges if the manufacturer isn't attentive to detail, and transport can sometimes be an issue due to their tall, boxy shape. For those interested by the benefits of a metal crate, the MidWest Homes for Pets iCrate is the top pick on our list and is a great example that's definitely worth a look.
Plastic Wire Crates
Plastic, or hybrid plastic-wire crates are sometimes referred to as 'flight kennels'. This is because they often are used with transport in mind, and many models fit plane standards for hauling in cargo. They are lightweight and portable, but sometimes suffer from a lack of internal space due to this fact. These crates are also less durable than their metal counterparts and fall victim to the dreaded chewing instinct all puppies seem to have. If you're looking for a something easy to transport, or just prefer the thought of owning a plastic crate we encourage you to check out the Petmate Sky Kennel, which is our top choice for travel crates.
Soft-Sided Crates
Soft-sided crates consist of a fabric lining supported by a rigid frame. These are used, mostly, as a portable home-away-from-home for your pup, due to their ease of set-up and hauling. As the walls provide no real obstacle to a determined pooch they are unsuited to crate training and are instead suggested for dogs who are already trained, or those who just need a cozy place to sleep. The AmazonBasics Soft Dog Travel Crate is one of two soft-sided crates on our list, and it's here for good reason. If your dog needs a snug hideaway that will easily follow them wherever you go then we suggest you take a look.
Wooden Crates
Wooden crates are often 'furniture crates', which is to say that they are made to look good and compliment the room in which they are placed. This is a great positive to some, but to others who don't mind a more neutral-looking crate they are unnecessary. They are often quite sturdy, but their weight makes rearranging and transporting them a hassle. We have only one furniture crate on our list and it's the ecoFlex Pet Crate/End Table – an attractive product squarely aimed at the style-conscious dog owner.
Hygiene
Teaching your dog to control their bladder is an important part of crate training, but as anyone who's owned a pup of their own will know, accidents happen! A crate that is easy to clean will save you a lot of time and trouble.
Metal crates often come with a removable floor panel that can be discreetly hosed off in the yard while holding your nose.
Plastic, wooden or soft-sided crates rarely come with this benefit so if you choose one of these for your pet it may be wise to provide a lining of your own that can be removed if soiled.
Features
There are many additional features that manufacturers include with their crates that could benefit you, but sometimes it takes a keen eye to spot them.
Some crates come with roller treads to help transport and prevent floor scuffing, while others have detachable feeding bowls, or useful handles for carrying.
We will cover the specific features of each crate in our reviews. It pays to keep these details in mind as you may find something that suits you and your pet's unique needs.
Hopefully now we have given you a good idea of what to look for in a crate for your beloved pooch. Read on for our top picks of the best large dog crates on the market and, armed with knowledge, you might just find the home of your big pup's dreams.
Top 10 Best Large Dog Crates 2023
Full Guide to Buying the Most Suitable Crate for Your Dog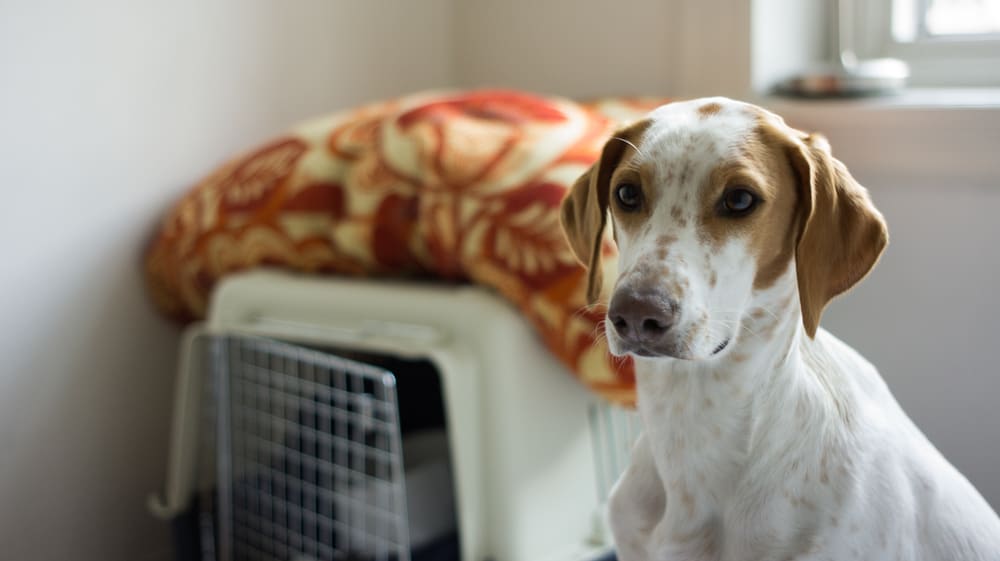 Now you have seen some of the best options available to you on the market currently, you may still have more than a few questions about buying the best crate for your pet. Hopefully, by the time we're done, you will have all the information you need to make a properly informed decision.
What Is a Crate For?
A crate can serve a number of purposes in your dog's life, depending upon your intentions or the model you buy. It may be as simple as a cozy place to sleep, or something in which you can transport your pet safely.
It can also provide a space-efficient place dedicated to your dog, their bed and their toys, which will free up a great deal of the room that would otherwise be cluttered. Additionally, it is helpful to contain your pet at times when they may be overstimulated and cause a ruckus, such as when guests drop by unannounced or when the kids come home from school. It can also allow you to safely transport your pet, whether in the car on a day-trip or on a plane across the country.
These days many people are also curious about crate training, which has become popular amongst both professional and casual dog owners. It is claimed that, like the wolves they are descended from, dogs have a natural instinct to find their own den: a comfortable spot they can call their own and retreat to when they need some space or reassurance. Providing such a place is good for your pet's mental well-being and may also offer further benefit if used in a proper training regimen.
There are many other uses besides these and it's likely that, once you own one, you and your dog will be discovering new ways to use them you hadn't even considered.
Crate Training
This has been mentioned many times in this guide and, for many people, crates and crate training are inseparable. The benefits are numerous so, for those curious, let's explore the topic so you can make up your own mind.
What Is Crate Training?
Crate training is the process of teaching your pup to accept a dog crate as a safe and familiar space they can rest in, away from the household or any stressors that may be bothering them. Many people who advocate this method suggest that dogs are naturally inclined to this sort of behavior, thus making it suitable and convenient for training your dog into many good habits.
Should I Crate Train My Dog?
Crate training is currently very popular amongst dog owners and it's easy to see why. It brings many benefits, quickly teaching your precious pooch where to sleep and where to go potty, while also getting rid of many of those nasty habits that come naturally to naughty pups.
When taught correctly, a crate becomes a place of stability in your dog's life. It becomes their den, and by working with their natural instincts you can teach them into all sorts of good behaviors that last a lifetime.
Most importantly, for both new dog owners and those more experienced, it is quick and straightforward, often taking only days or weeks for your dog to master.
What Are the Benefits of Crate Training My Dog?
If done correctly, using positive reinforcement, your dog may come to see its crate as a place of privacy and safety, in the same way that we see our own houses or rooms. This is especially good for anxious pups who need a place to retreat to and a little extra stability in their lives.
Crate training is also handy for house-training your dog as, if the crate is appropriately sized, they will want to avoid soiling in any space where they sleep. This encourages them to hold their bladder until the morning, or to alert you when they need to do their business. Of course, this helps instill the behavior outside of the crate too, as your pup starts to associate the outdoors as their place to potty.
Particularly boisterous or excitable dogs can benefit from a crate by learning when it is appropriate to play and when it's time to settle down. Being inside a cage or crate prevents overstimulation, encouraging sleep or relaxation. Such pups can also be kept out of trouble when you are at work or in bed by keeping them confined, though it is very much encouraged to exercise your dog and leave the crate door open whenever you are around.
How Can I Crate Train My Dog?
There are many resources available for pet parents who want to try their hand at raising their pup with a crate.
The Humane Society has a guide here that many may find helpful.
We'll leave the specifics to the professionals but, generally, crate training should be a positive experience for your dog and always associated with something pleasant such as a treat or attention. Every dog takes to the process differently, so don't become impatient with your pup if they don't respond correctly right away. The method is tried and true, so take it slow, and you're eventually sure to see results.
Size
Perhaps the most important consideration to make when deciding to buy a crate is just how big (or how small) you need it to be for your pup. Whether for everyday use or just travel, you want your dog to be comfortable in their home and the best way of making sure that is the case is to make sure it is appropriately sized.
How can you be sure you're making the right choice? Well, it starts with knowing just how large your oversized puppy is.

Measuring Your Dog
Large dogs average in at around 70 to 90 pounds, however the largest breeds can tip the scales at 100 to 150 pounds. Some crates operate on this standard, using weight as a measurement, but this is not the most convenient method. Instead, we encourage you measure your dog properly and use their length and height to make a decision.
Measure from the tip of their nose to the base of their tail and then add four or so inches, perhaps a little more if you want to be sure, to get an appropriate length for the crate. For height, it is best to measure while your dog is sitting, as this is when they are tallest. Measure from the top of their head to the ground and add two to four inches to allow enough head room.
If you are unable to measure your dog, or if you prefer to use weight or breed to determine a crate size, the Association of Professional Dog Trainers has published a comprehensive guide that can be found here.
Is Bigger Better?
There is a common misconception that a larger crate is better for your dog as it allows them more space to relax. This is not true. A crate should be just large enough to allow your pup to turn around and get comfortable, but no more than that. Any larger risks nullifying that important 'den' instinct and they may soil on one side of the crate if they can sleep on another.
As already suggested, an ideal crate size is approximately four inches longer and taller than your pup and no more than that.
General Questions and Good Practice
To make sure you get the most out of your crate, we've answere some of the most common questions regarding their use below.

How Long Can I Keep My Dog in a Crate in One Session?
Many people see crates as a way to keep our pups out of trouble when we are not around. While they do serve that purpose it's important to remember we should try to avoid limiting our dogs' freedom as much as possible.
When training puppies a good rule of thumb is to keep them in the crate for a maximum time of an hour per month of age. They will not be able to control their bladders for any longer, which will obviously lead to a mess and complicate efforts for house-training.
Once your dog is both crate trained and house trained they can be safely kept confined for up to eight hours, though this should be avoided if possible and they should be given as much exercise as they need before and after. If you can, try providing something safe to stimulate them and occupy their attention, such as a toy, while they are locked in.
Should I Use the Crate to Discipline My Dog?
There are split opinions on this question.
Some believe that a crate can be used as a 'time-out' zone to punish your pet for bad behavior, if the right lessons have been taught and the crate is associated with calm and quiet.
The Humane Society, however, advocates against crate-based punishment entirely. Their rationale is that the crate should never have negative connotations to your pet or they will refuse to enter it in future.
The general consensus is that your pet's crate should always be a positive space for them and for you. If you decide to use it for punishment, use it sparingly and carefully.
Should I Cover My Dog's Crate With a Blanket?
While a common practice amongst crate-owners, whether you do this will depend upon the personality and nature of your dog. The simple answer is that some pups are calmed by the security of an enclosed space, while others become anxious and claustrophobic.
If your dog responds well to having their crate covered you may find it worthwhile to continue to do so, as it may help reduce overexcitement and barking, especially when there are guests over, or in other overstimulating situations.
For those who are interested a more in-depth guide is available.
Should I Leash or Collar My Dog While Using a Crate?
No, you should never allow your dog to wear a collar or a leash inside a crate. There are many horror stories of pups whose collars have become caught in hinges or wiring, subsequently suffering life-threatening breathing problems. Of course, many pet parents do not follow this advice and suffer no ill-effects, but the danger is always present. If you want to be safe, remove your dog's collar before sending them to their crate.
What Should I Consider When Transporting My Pet Using a Crate?
Depending on your mode of transport, there are a great deal of things to bear in mind when taking your pet across the country or abroad.
First, you will want to find a crate that is appropriate for travel. The Petmate Sky Kennel is our top pick for this purpose, though the Petmate Vari Kennel is also a contender, if your pup is not too large. Both will fit in an averagely-sized car and come with tie-down holes to keep the crate stable during transit.
If you are flying the question becomes more complicated. While the Vari Kennel and Sky Kennel both fit most flight cargo regulations you will want to confirm with your airline some time before the departure date.
The Humane Society has you covered with a guide on this topic, outlining all considerations you need to make, not just relating to crates specifically.
Final Words
Here we are at the end of our guide, and hopefully by now you are well on your way to finding the right crate for you. That is, if you haven't decided already! We've tried to cover a range of crates in our list, from sturdy metal fortresses to soft-walled boudoirs, so no matter what your pet's size, breed, age or temperament, you should find something to suit their unique needs.
As always, no matter what you choose, do so with your pup's best interests at heart and find them the home they deserve.