The 10 Best Guinea Pig Bedding to Buy in 2023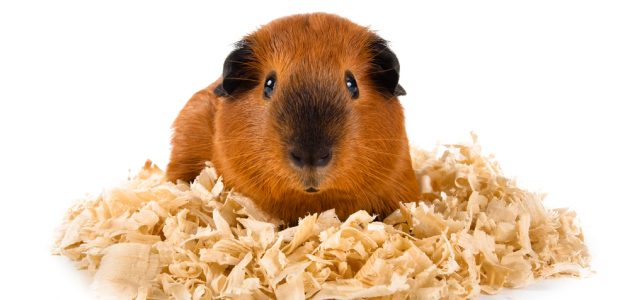 Just like us, guinea pigs love a comfy, safe place to call home. And as guinea pig owners, that's exactly what we want to provide. But getting the right bedding for our guinea pigs isn't always easy.
In this guide, we break down everything you need to know about guinea pig bedding so that you can choose products that will have your guinea pigs content in their new home!
What to Look for in a Guinea Pig Bedding
There are a number of factors you need to consider when buying bedding for your guinea pig, which can impact everything from your guinea pig's health to your finances. In the list below, we advise on some of the key things to look out for.
Material
Choosing the right material for your guinea pig is important because it affects everything from comfort to health. We have covered all the different material options here.
But whatever material you choose, you will want to make sure that it is:
Non-Toxic
Because your guinea pig is so little, they can be affected by small amounts of toxins that wouldn't bother a larger animal or human.
Dust-Free
Just like with humans, too much dust – such as that found in generic sawdust or cat litter – can affect your guinea pig's breathing. Check that any product you buy for your guinea is at least 99% dust-free.
Aroma-Free
Your guinea pig has a very sensitive nose and even mild aromas, such as those found in some wood products, can be overwhelming. Imagine if you were stuck in a room with a bad smell all day – bedding with too much aroma will feel like that to your guinea pig!
Another note: you may also want to consider materials like paper, which encourage natural guinea pig behaviors like nesting and burrowing.
Absorbency & Odor
Guinea pigs pee. Guineas pigs poo – sometimes, as frequently as ten times an hour. That's a lot of poop. And a lot of potential odor.
Luckily, the best guinea pig bedding can help you deal with some of those unfortunate poo smells and absorb all that pig pee until you have the time to clean it out again.
Certain products are more absorbent than others. Paper-based products, for instance, can prove more absorbent than wood shavings and better at controlling odors. But they do tend to be more expensive as a result.
Environment
All that bedding has to come from somewhere, and the more we use, the more impact our guinea pig can have on the environment.
Eco-conscious guinea pig owners have turned to more sustainable options, like fleece linings, in recent years to reduce their impact. Although these are more expensive to purchase, they can prove much cheaper than single-use products in the long run. They can be more time consuming, however, as they need to be washed and cleaned with a special pet detergent on a weekly basis.
Hardwood and biodegradable paper bedding can also prove a good environmental alternative to fleece based or traditional bedding options.
Budget
When budgeting for your guinea pig bedding, you will need to consider the upfront cost, the amount supplied, and how cost-effective it proves over time.
Reusable fleece liners are expensive upfront but can prove cost-effective in the long term, while wood shavings and paper products can be cheaper at first but require regular replacing. Buying larger volumes of bedding in one purchase is usually cheaper than buying several, smaller amounts over time.
Origin
Although the FDA (the US Food & Drug Administration) regulates the importation of some animal products, these are mostly concerned with animal food and veterinary drugs. Crucially, the FDA does not currently regulate bedding for small animals like guinea pigs.
That means it's up to you, the owner, to check that the bedding you buy meets animal welfare standards. With a great deal of cheap imports coming from abroad, you may want to stick to products made within the United States from reputable brands so you can be confident of its source. In the product reviews below, we'll let you know when this is the case.
Experience
Your experience as a guinea pig owner might also affect your choice. The Metropolitan Guinea Pig Rescue recommends that first time owners use paper bedding, Aspen, or a combination of the two – as these are the easiest to manage.
New guinea pig owners, and less-experienced pet owners like younger children, may find the care requirements of a fleece lining more difficult.
A tip: Try out small quantities of different guinea pig bedding before you commit to one product. Every guinea pig is unique and will prefer different materials for their nests.
Top 10 Best Guinea Pig Bedding 2023
How to Choose the Right Guinea Pig Bedding

Buying the right guinea pig bedding can prove surprisingly challenging, with a wide variety of materials and brands on offer. In the following guide we go through all the factors you might want to consider when purchasing.
Materials
The most effective guinea pig beddings are typically made of one of three major families of materials: fleece, paper, or wood.

Fleece
Fleece bedding has emerged as a popular bedding solution in recent years. It can be washed and re-used, making it cheaper in the long term, and more environmentally friendly than disposable products. Fleece products should be multi-layered, with a non-permeable layer at the bottom and absorbent mid-layers which draw urine and other moisture away from the surface – and therefore your guinea pig's feet.
Most guinea pigs take to fleece well, as its comfortable and soft. As a singular item, fleece liners are also entirely dust-free and should be made from natural materials – making them a safe and healthy option for guinea pigs.
However, unlike shavings or paper, they won't be able to burrow or nest in a fleece liner. You may consider fleece products with a pocket, which will help imitate these properties, otherwise guinea pigs may attempt to burrow underneath the liner, defeating the purpose of a liner in the first place.
Fleece products are usually more expensive up-front than disposable options and need to be a good fit for the cage size. When in doubt: go for a larger size or attach the sides of the liner to the cage to stop your cavy finding its way underneath.
If you are an inexperienced guinea pig owner or are planning to have young children look after the pet, fleece may not be the best option as it can be more demanding to maintain than other products. Hay can attach to the liner, which is fiddly to remove, and solid waste must be removed by hand on a daily basis. The fleece will also need washing in a pet-safe detergent at least once a week. Buyers planning to purchase fleece bedding are therefore advised to buy two liners to be alternated between washes.
Fleece bedding also requires more preparation than alternative materials. First, wash the bedding in hot water and allow it to dry naturally. Then, pour a small amount of water over the fleece to check for absorbency. If water is pooling on the surface of the liner, repeat the hot water wash and try again.

Paper
Paper is a soft, tried-and-tested solution for guinea pigs, who love it for burrowing and nesting. It's also one of the most absorbent bedding options available; controlling odors and requiring less maintenance than other materials.
As the most processed single-use product, paper tends to be more expensive than alternatives, however. And, much as your guineas will love to burrow in it – all that rooting around is likely to cause more mess around the cage area.
Although it's disposable, eco-conscious buyers can look out for brands that use recycled paper in order to minimize environmental impact, like Small Pet Select's Natural Paper Bedding.
It's important that the bedding is derived from natural materials, and that it's free of dyes and chemicals which can be dangerous for your guinea pig. Paper comes in different varieties: from firmer pellet options, to finer, softer bedding. Some brands also offer combinations of wood and mixture in order to achieve some of the benefits of both.
Paper products can suffer from inconsistency, so check each packet before you use it on your guinea pig: anything that feels too dusty could be harmful for your pet.
Wood
It's good when nesting material mimics what your guinea would use in the wild. And whilst it isn't easy to imitate long grassland, wood shavings come close. Wood can be a popular bedding alternative to paper, providing a firmer environment for nesting, and lessening the risk of dust or chemicals.
Wood shavings tend to be less soft, however, since they are less absorbent, they require more regular cleaning to prevent odors. You may find pine, cedar, and aspen bedding being offered as nesting material – so which is right for your guinea?
We recommend Aspen: unlike pine and cedar, it's non-aromatic (aromas can irritate your cavy's respiratory system), making it the safest option. It's also softer than some other wood options, so won't harm your guinea pig's feet. Appropriate wood types, like Aspen, should also be non-aromatic, making them safer than pine or cedar shavings for use with your guinea pig.
If you do buy pine, make sure it's kiln-dried and all-natural. If the batch seems particularly dense in pine oils (smelling strongly), it's probably not suitable for your guinea pig.
Our Favorites by Material
While a diverse amount of bedding products can work for owners, some owners prefer to stick to a single product while others like to change things up. The following are our favorite product picks in each category.
Fleece Bedding
In the fleece-lined category, we recommend the Guinea Dad Fleece Liner 2.0. Compared to its competitors, it represents the best value for money and the best choice for the environment. It also boasts some of the best absorbency of any fleece product out there. Just be prepared for regular washing!
Paper Bedding
In the paper category, we think Kaytee Clean & Cozy White Small Animal Bedding offers the best value – controlling odor more effectively than its competitors, with a guarantee if it fails. Soft and environmentally friendly, it's a good all-around option for your cavy.
Wood Bedding
If your guinea pig responds well to hardwoods, then Kaytee's All Natural Aspen Bedding is an affordable, effective bedding solution by an established US brand.
What to Avoid
According to the Pet Care Veterinary Hospital, there are materials you should be sure to avoid using as guinea pig bedding. Wood shavings taken from timber yards or sawmills can be contaminated with mites and parasites or treated with chemicals – so always check the source of wood-based products.
Likewise, sawdust is obviously dusty, irritating your guinea pig's respiratory system, and sometimes risking more serious illnesses like pneumonia. Wood pellets too can break down into sawdust when they're wet.
The phenols and oils on some wood products can also act as an irritant, and even a carcinogen, for small mammals. Corn cob and straw bedding is common, but also inadvisable; molding quickly and getting trapped in unfortunate places on your guinea pig. There's also a risk your guinea pig will be tempted to ingest these food-like products.
Newspaper is also a common, but bad solution for bedding: lacking the necessary absorbency and accumulating bacteria, which is bad for your guinea pig's health. It's also a mess to clean! Finally, don't be tempted to use spare cat litter that's lying around: the hard surface can harm your cavy's feet, and the chemical treatment is a real danger to its health.
Preparing Your Bedding
Before applying your guinea pig bedding, ensure the cage or pen first has a solid floor covering. Otherwise, guinea pigs can catch their feet in wire and injure themselves. Cavies are very sensitive to heat and fumes, so ensure their pen location is also is suitably ventilated, with an open top and air-permeable walls (avoid glass!).
You may also wish to add a lining, such as old towels, before applying bedding on top. This will help with your guinea pig's comfort.
Once you've applied the lining, you should cover the floor of the enclosure with around three inches of bedding. Guinea pigs like to spend most of their time in a 'safe space,' where they burrow, and then the area where they go to receive food and water. According to research by Noldus, Guinea pigs also tend to prefer using the edges of their shelters to move: so pay particular attention to these areas when laying down bedding.
Cleaning Bedding
Ensure that at least once a week all bedding is removed, and the guinea pig enclosure is washed with a mild soap solution or pet-friendly detergent. Rinse thoroughly afterwards to remove all residue. Don't be tempted to re-use old bedding as this can contain harmful bacteria invisible to the naked eye. Keeping your guinea pig's habitat clean is vital for its long-term health.
A happy guinea pig should be active and inquisitive, exerting natural behaviors like nesting and burrowing. A very happy guinea will even 'popcorn' in their cage, leaping about in the air to show their appreciation of your efforts! You can find a video compilation here to show just what this looks like.
Final Thoughts
Although getting the right bedding for your guinea pig can seem bewildering at first, by using the principles outlined in this guide and our recommended products, you can't go wrong. By researching here, you can have peace of mind that your guinea will settle well into a safe and happy home for it to enjoy!