The 10 Best Pet Air Purifiers to Breathe Easy in 2023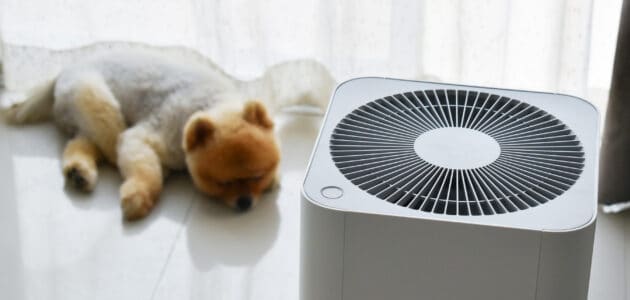 The quality of the air we breathe has a profound effect on human health, from our physical well-being to how well our minds work. For pet owners, the air quality battle is constantly raging, as every moved blanket reveals a storm of hair, dander, even feathers.
But diligent cleaning only goes so far, and for many pet owners, there's only one logical solution — machines. Air purifiers are popular for pet owners but choosing from the multitude of available products can be a daunting prospect.
The Most Important Factors in Choosing a Pet Air Purifier
There are a few major considerations when it comes to picking the best air purifier for pet-owning households. Here's what you need to know.
Types of Filters
Air purifiers all have the same basic functionality: they take in air, filter it, and recirculate it into the room. You can read more here about the types of filtration in air purifiers, but for now, it's enough to know that a good air purifier for pet owners should have each of the following filter types:
Pre-filter
HEPA filter
Carbon filter
Capacity
Larger spaces will generally require air purifiers with bigger, more powerful motors and fans, capable of taking in, filtering, and recirculating a greater volume of air. The products on our list range from low capacity (75 square feet) to high capacity (700 square feet).
Speeds
Higher speeds equate to more rapid air filtration, though that may come with a trade-off, as the more air runs through the unit, the quicker the filters will require cleaning or replacing. Most air purifiers have three fan speeds, though some of those on our list have four. Of the two four-speed options, one is very high capacity, while the other is medium capacity.
Size of Unit
Hand-in-hand with capacity and speed is overall size, both in physical dimensions and weight. Some units are tall and narrow, like this one. Others are very compact, like this one, which is the shortest one on our list. Still, others are made to be easily moved from room to room; if portability is your thing, you may want to try this little guy.
Decibel Level
If you're disturbed by the sound of a box fan or similar household appliances, an air purifier may not be the answer to your prayers. The motorized mechanisms in all air purifiers make noise, and at their highest speeds, some units can be especially noisy.
Price
A basic air purifier for a pet-owning household doesn't need to break the bank. There are several products on this list that can help improve air quality for around $50. Prices escalate quickly from there, though, and the most expensive units on this list are approaching $300.
To help you buy for your budget, we've grouped the products on this list into four categories:
$: ~$50
$$: $50-$100
$$$: $100-$200
$$$$: $200+
Technological & Safety Features
Because all air purifiers have the same basic functionality, deciding between them often comes down to their unique technological or safety features. Some of the most commonly offered technology or safety upgrades include timers, button locks, remote controls, filter change indicators, real-time air quality monitors, and auto modes. We make sure to point out the additional features in all our reviews.
With the above in mind, here are the best pet air purifiers that your money can buy.
Complete Guide to Pet Air Purifiers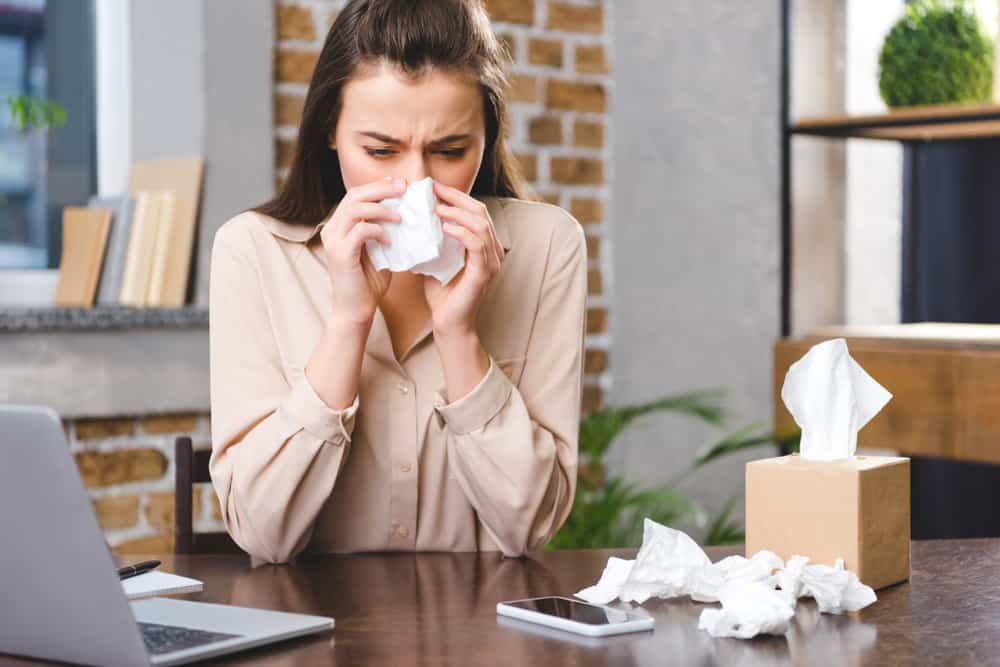 Whether you're using them to reduce the pet hair and dander swirling around you at all times or you're trying to cleanse the air of unpleasant smells, pet air purifiers can help you and your pet coexist more peacefully.
Here's a guide to everything you need to know to make the best decision — and help clear the air. Let's start with understanding how they work.
Air Purification for Pet Owners
The basic function of air purifiers is the same across the board: they take in air, filter it, and circulate back into the space. The more types of filters included, theoretically, the cleaner the air that's circulated back into the room.
For pet owners, the need for air purification is generally two-fold: reducing particulate like hair, dander, or (depending on how you roll) feathers, as well as reducing odors. Most air purifiers today have multi-stage filters and each of the units that made our list include both HEPA and carbon filters.

Types of Filtration
Here's a look at the different forms of air purification that you'll encounter during your product search. Notably, most air purifiers today have multi-stage filters, and all of the units that made our list include both HEPA and carbon filters.
HEPA
HEPA is an acronym that stands for "high-efficiency particulate air," and HEPA filters are rated by the Environmental Protection Agency to be able to remove at least 99.97% of airborne particles. In some air purifiers, the HEPA filters are permanent, meaning users will need to clean them from time to time, while most will require replacement HEPA filters.
Carbon
Carbon filters are designed to remove gases in the air, including pet odors. That also makes air purifiers with carbon filters popular for kitchens, multi-family homes, or very large bathrooms. Carbon filters can be cleaned off, but they will lose their effectiveness over time.
Pre-Filtration
Pre-filters consist of a mesh or fabric that captures large particles before they make their way into the other filters inside the air purifier. These are easily cleaned, whether by vacuuming or taking a wet cloth to them.

UV Light
Only a handful of the products on our list include a UV-C light, and in each of them, the light can be turned off. Many companies have begun offering UV-C light products as a way to disinfect or sanitize a variety of objects, from groceries to CPAP breathing machines, but the jury is out on whether they actually do anything positive.
According to the Food and Drug Administration, UV light can inactivate viruses — oh, say, coronavirus — but only through direct exposure over a long length of time and at a high dose.
When it comes to air purifiers, the UV bulbs included aren't high-powered, so their ability to kill viruses is likely to be fairly low. On the other hand, exposure to UV-C light, the type most often included in air purifiers, can be dangerous, though, again, prolonged exposure is the key danger.
Those who might be interested in taking a flyer on an inexpensive UV-C light option could consider this small-capacity Germ Guardian air purifier.
Ionization
This isn't a filter, as such, but ionization is a popular option in air purifiers. But you'll probably notice that none of the products on our list are ionizing air purifiers. That's because there's evidence that air purifiers that work through ionization release dangerous levels of ozone.
The Environmental Protection Agency advises against using air purification products that generate ozone, and there are other products that don't carry the risk.
Common Household Allergens
While it's true that air purifiers can be used to reduce odors, including those our four- and two-legged friends often produce, the majority of people looking to add an air purifier to their household are doing so to improve the air quality inside their home.
Here's a look at just some of the allergens that could be lurking in your home's air, often invisible to the naked eye:
Dander
Dust
Feathers
Mold
Bacteria
Mites
Think your house can't have these allergens because you keep it clean? Think again. A National Institutes of Health study found that more than 90% of American homes contained at least three detectable allergens.
Also, people in the home aren't the only ones susceptible to allergens. Your pets not only can produce allergens but also be sickened by them. Cats and dogs can be allergic to a wide range of things, including:
Cigarette smoke
Cleaning products
Dust
Fabrics
Rubber
Mold
Pollen
Fleas
Food
Medication
Dust
Insecticide shampoo
Thankfully, all the air purifiers to make our product review list are able to significantly reduce the symptoms of these allergens (for you and your pet) by removing the majority of the allergen's particle presence from the air.
That said, there's no air purifier in the world that can make an unsafe home safe.
Dealing With Major Air Quality Problems
Poor indoor air quality can be fatal. The EPA estimates that Americans spend about 90% of their time (pre-pandemic) indoors, where environmental pollutants typically appear at higher concentrations than outside. We're probably inside even more now, thanks to COVID-19.
Many factors can cause chronic poor indoor air quality, such as the presence of mold, bacteria, or asbestos. In addition, poor ventilation, lead-based paint, and deteriorating building materials all can cause breathing problems that masquerade as issues that could be solved by an air purifier.
If any of the people in your home are chronically ill or suffering from inexplicable headaches or other ailments, there may be another cause. You should check your home for signs of mold, lead paint, asbestos, poor distribution of air through HVAC systems, and more. This worksheet provides a good place to start.

How to Build Good Air Purifier Habits
You can help your air purifier do its job and extend its lifespan by getting into good habits, though our advice here should only, of course, be considered alongside the manufacturer's specific recommendations.
Cleaning
Your air purifier should become part of your regular household cleaning routine. If you vacuum once a week, take a vacuum to the air purifier at the same time. Try to do this cleaning outside if you can.
Remove any pre-filters or filters that can be removed and clear them of any visible debris with the vacuum, then take a very slightly damp cloth and run it along the surfaces.
PRO-TIP: Be sure to dry all parts thoroughly before putting them back in the air purifier, as moisture exposed to cool air can lead to mold and mildew growth.
Replacing Filters
Some of the units on this list have lights that indicate when the filter needs to be cleaned or replaced. But not all of them do, so you may find it helpful to begin keeping a schedule based on your usage and how often you need to replace or clean the filter. This way, you'll ensure you're limiting the amount of time you spend with an ineffective filter.
Proper Placement
Every unit is different, and placement guidelines depend on the overall size. But a good rule of thumb is to keep the air purifier at least 15 inches from a wall or other large obstruction to allow for adequate airflow all around the unit.
Remember that air purifiers work by sucking in untreated air and releasing it back out, so if the unit is too close to the wall, it may cause the motor and fan to work harder to pull and push air around.
Tips for Dealing With Pet Allergies
If your main reason for getting an air purifier is to deal with the allergies that are caused by your favorite furry or feathered friend, there are several other ways that you may be exposing yourself to these allergens. If that's the case, your problems won't be solved solely with an air purifier, so here are some tips for dealing with pet allergies.
See Your Doctor
If you haven't already, be sure to visit your doctor for an allergy test. Knowing exactly what you are allergic to can help you pinpoint changes you need to make in order to reduce the frequency and severity of allergic reactions to your environment.
It's easy to mistake one allergen for another until you have a medical diagnosis, but animal allergies are very common. It's estimated that in the U.S., almost one-third of people are allergic to cats or dogs.
Bathe Pet Regularly
If your pets don't have chronic skin or coat problems (and they're the type of pet that will tolerate bathing), give them a gentle bath every two weeks or in consultation with your vet's advice. And wash their bedding regularly, as pet dander and saliva are notorious triggers that can linger on fibers.
Clean Their Paws
Any pets who have access to the outdoors should have their paws wiped whenever they come back into the house or into your car. Using a litter mat can also help keep your pets' paws clean. Also, pets can have allergies too, and it's common for them to be sensitive to pollen, mold, and dander. Here's more info on how to spot and deal with your pet's allergies.
Consider an Allergy-Free Zone
If you or a member of the household are especially sensitive, consider establishing a space in the house as a forbidden zone for pets, and either train them to avoid the space or make it inaccessible to them.
Vacuum Dust & Use Wet Cleaning Products
You should, of course, maintain your regular cleaning schedule, but remember that vacuums and brooms can often push dust and particles around, so be sure to add the use of damp cleaning products, which can neutralize dry particles.
Add a HEPA Filter to Your Furnace or Air Conditioner
A standalone air purifier isn't the only way to introduce air filtration into your home. Most companies today that sell furnace air filters offer versions that contain HEPA filtration, which can help clean the air in your entire house.
Pet Air Purifier FAQs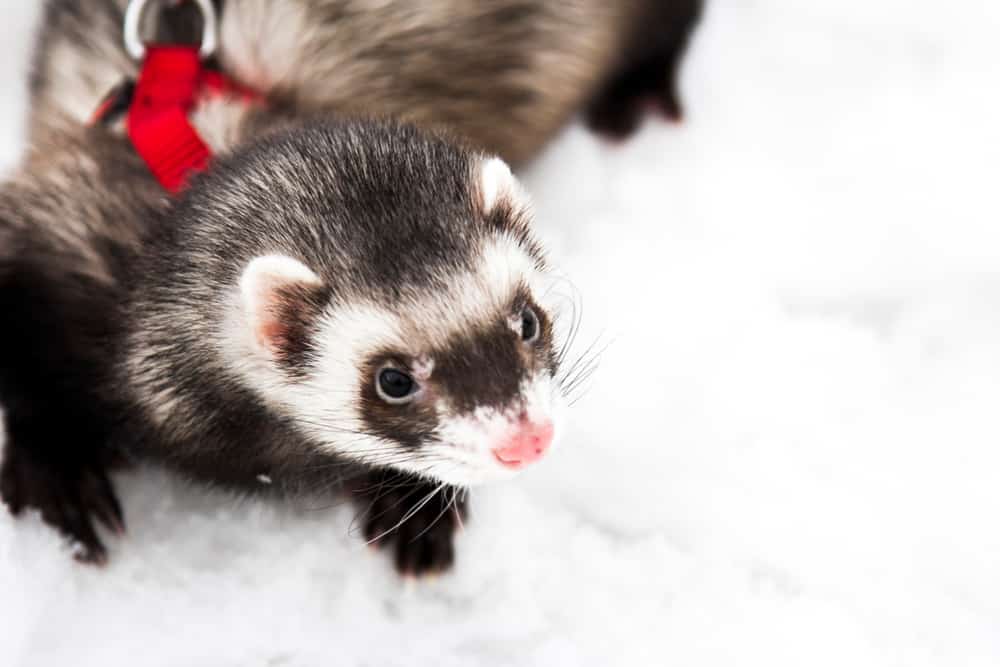 Here's a look at some of the questions readers most frequently ask about pet air purifiers.
What's the Best Placement for an Air Purifier?
It's important to place air purifiers on flat, solid surfaces, so they don't tip over. They also need to be placed far enough from walls and other obstructions that they are able to pull in the air in order to filter it easily. This varies by product, but a good rule is to place the air purifier no less than 15 inches from a wall.
Do Air Purifiers Help With Pet Hair?
Yes, most air purifiers today offer several levels of air filtration that can remove even very fine particles from the air, including things like pet hair, which is visible to the naked eye, but also small particles like dust, dander, or even mold.
Can Air Purifiers Alleviate Allergies?
Scientific research has indicated that the use of air purifiers can improve the lives of people who deal with allergies. For example, a 2017 study on a group of children in California found that indoor air purifiers significantly reduced symptoms of asthma and nasal allergies.
Do You Need an Air Purifier in Every Room?
It's generally best to use air purifiers only in rooms that are actively occupied, particularly in cases of units that lack timer functionality that will shut them off at a set time. There are many options for air purifiers that are small and inexpensive enough that several units could be purchased and placed around the home, but whether this is possible will depend on your budget.
Air purifiers shouldn't be placed in bathrooms, as the moist air inside spaces like that can cause mold and bacteria to grow inside the air purifier, which can be a health hazard and shorten the lifespan of the product.
If they are far enough away from cooking appliances, air purifiers can help reduce odors if they're placed in a kitchen.
How Many Hours per Day Should You Run an Air Purifier?
The short answer to this is you should run an air purifier for as many hours as you want. The longer answer, though, is more complicated, as it depends on the size of the unit, where it's placed, and how loud it is.
A large unit that's very loud may be disturbing, and running it on a lower speed for a longer length of time may be less irritating. Air purifiers are manufactured to be able to run for a long time, though, so it's safe to run an air purifier for 10-12 hours during the daytime.
Can an Air Purifier Run All Night?
Yes, in most cases, air purifiers are designed to operate for hours and hours at a time, and many users leave on their air purifiers all night in their bedrooms. If you want to have an air purifier in your bedroom, there are a few things to keep in mind.
The first is to ensure you have enough room to place the unit far enough away from a wall that it does not overheat. The second is to consider a unit that has a timer that will shut off after a couple of hours. That's because any electronic device that runs when you're asleep is a fire risk.
Are Air Purifiers Harmful to Pets?
Air purifiers function by engaging a motor and fan that suck air in and blow it back out once it's been filtered. So, there is typically some noticeable airflow around an air purifier, particularly when it's set to a high speed. But this airflow is not very high, and it's not strong enough to cause any damage to your or your pets.
That said, pets and children can easily tip over or even disengage an air purifier (if it doesn't have a lock), so you should still monitor animals and children around an air purifier, at least for a time. Dogs and cats (cats, mostly, if we're honest) are notorious troublemakers, so you'll need to be sure they won't knock the unit over or otherwise try to cause havoc.

How Can I Get Rid of Cat and Dog Hair?
We'll assume you already know about vacuuming, but there are a few other ways of reducing the amount of pet hair in your home:
Brush and bathe your pets often.
If they shed an unusual amount, take them to the vet.
Don't make sudden changes to their food, as this can exacerbate shedding.
Use lightly damp towels to clean floors and walls.
Use an air purifier.
Wash and change your bedding and your pet's bedding regularly.
Get an automatic vacuum robot like a Roomba.
Don't wear shoes in the house.
Change the air filter in your furnace regularly and be sure it includes HEPA filtration.
Clean the crevasses of all furniture during your regular cleaning sessions.
Keep clothes and throw blankets off the floor and inaccessible to pets.
Can I Move an Air Purifier From Room to Room?
Aside from units that might be heavy or too bulky to pick up and move, there's no reason you can't move an air purifier from one room to another. In fact, many units are designed to be very portable, though if you find that you need air purifiers in more than one room, consider purchasing a second unit for convenience's sake.
How Long Does It Take an Air Purifier to Clean a Room?
Products have varying rates of air purification, though generally, the larger the unit, the more quickly it can clean the air in a particular space. However, small units can be incredibly efficient in small spaces. The size and capacity of the unit, fan speed, and room size all are factors in how long it takes an air purifier to clean the air inside a given room, and this varies from as little as 30-45 minutes to several hours.
Final Thoughts
Most of us spend the vast majority of every day inside our homes, and that has only grown with the pandemic, as millions of people are now working from home. That means we're breathing in the air inside the home for about double the hours that we were a year ago.
If you've noticed the air quality in your home is a bit lacking, an air purifier is an excellent use of widely available technology that can make your home a much more pleasant place.