The 10 Best Dehydrated Dog Foods in 2023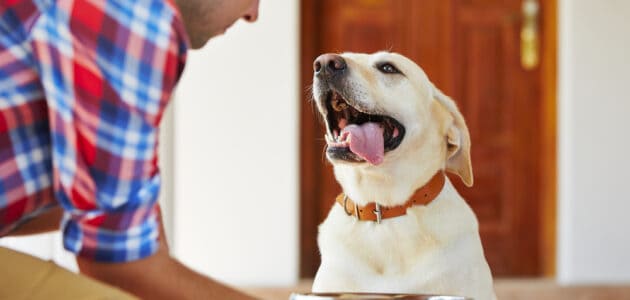 Our dogs deserve the best when it comes to nutrition and quality food. We want our canine pals to be with us for the long haul, so to ensure they stay in optimum health we need to feed them well. While the most common types of foods are dried kibble or canned meat, there are many dehydrated options that are healthy, and above all, tasty!
While dehydrated foods provide many benefits, choosing the right kind can be challenging if you're new to this style. To help you out, we've compiled our top 10 favorite dehydrated dog foods and what benefits they provide.
What You Need to Know About Dehydrated Dog Food
Dehydrated dog food comes in a variety of sizes and formats (and tastes!) and they also vary depending on ingredient quality. Below we've provided information about what dehydrated dog food is and how to select the best kind for your pet.

What Is Dehydrated Dog Food?
Dehydrated dog food is minimally processed food that has had the moisture removed. Drying retains the nutritional quality of the ingredients while also preserving their flavors and aromas, making it highly palatable. Therefore, dehydrated food is nutrient-dense and similar to raw food, but without the moisture.
Types of Dehydrated Dog Food
While 'dehydrated' is an umbrella term for food that's been dried, there are differences in preparation that are worth mentioning.
Air-Dried
Air-dried food is made by — you guessed it—circulating air to slowly dry out the food. This method retains the nutrients due to the gentle processing involved.
Freeze-Dried
With freeze-dried food, all the moisture is removed once the ingredients are frozen. This involves a strong vacuum with a slightly raised temperature that causes the water to evaporate.
Dehydrated
Dehydrated food is exposed to a gentle heat to extract moisture. This heat processing is done at low temperatures to maintain the nutrients in the ingredients.
What to Look for in Dehydrated Dog Food
In general, the nutrient quality that results from the three dehydrated methods is the same. There are also other things to consider when choosing this food type ranging from quality to convenience.
Ingredient Quality
Many dehydrated foods contain an abundant list of wholesome ingredients. Be on the lookout for natural and organic vegetables and grains, as well as meat that is grass-fed or free-range. It's also worth looking for foods that have an array of vitamins, minerals, probiotics, and even taurine, which is good for eye and heart health.
We explain more about the primary ingredients in dehydrated dog foods and their benefits at the bottom of this article.
Health Benefits
It's no secret that nutrient-dense food provides health benefits for your pooch. A power-packed meal will leave your dog feeling fuller which helps with weight maintenance. Be sure to check the ingredients for the percentages of protein, fat, fiber, and moisture in the product since dogs require adequate protein, vitamins, minerals, and fats for energy and strong health.
More detail about the health benefits of dehydrated dog food can be found at the end of this article.
Ease of Preparation
Another benefit of dehydrated food is convenience. Dehydrated food is lightweight and easy to prepare since you only need to add warm water. While pouring kibble out of a box is certainly the fastest method, dehydrated food only takes a few minutes.
However, some dehydrated food can take longer in terms of rehydration time, so be sure to read the instructions before making your purchase. Another thing to look out for is the moisture content as it will give you an idea of how dry the product is.
Having briefly covered the benefits of dehydrated dog food, let's review the best ones available and why we like them.
Top 10 Best Dehydrated Dog Foods 2023
Guide to Buying the Best Dehydrated Dog Food
Buying the right dehydrated dog food can take careful planning, especially if your dog has special needs. While many of the dehydrated dog foods on the market provide high-quality products, there are several elements to consider, such as your dog's type, the ingredient quality, and the health benefits.
Why Buy Dehydrated Dog Food?
With the convenience of both kibble and canned food, you may be wondering why you would switch to dehydrated dog food. To determine whether this type is best for your pooch, consider whether high nutritional value is important (or needed). For example, is your dog lacking in energy? Do they need to lose weight? If so, dehydrated food is an excellent option because its high nutrient quality can help with these issues.
The Difference Between Raw, Kibble, Canned, and Dehydrated
Dog food can be prepared in many ways, but there are differences in quality and nutrients. Therefore, choosing the right dehydrated food requires knowing how it's prepared so that you can make informed decisions.
Raw
Raw food certainly has its benefits from a nutrient standpoint, since it gives you autonomy over the contents of your dog's meal. After all, nothing beats preparing your dog a healthy home-cooked meal with your loving hands. However, the downside of raw is that it can be expensive and require a lot of prep time. You also run the risk of contamination from pathogens like salmonella or E. coli.
Kibble
Kibble is one of the most popular dog food types on the market and is made by mixing wet and dry ingredients to form a dough. This is then cooked at high temperatures and cut into bite-sized pieces. While kibble can be good for your pup's teeth due to its hardness, this type of grub often contains very little nutrients because it is highly processed. Commercial kibble can also contain fillers, additives, and preservatives which further reduces its nutrition.
Canned
Dogs love wet food, so another popular food is canned meat. While this is an effective and immediate source of protein, some canned foods contain as much as 75% water, which lessens the overall nutrient density. Canned food can also be expensive, especially if you need to feed your dog lots of it to make up for the high amounts of water.
Dehydrated
Dehydrated food, on the other hand, marries the best of convenience, nutrition, and quality. Many brands use high-quality natural ingredients, and most of the nutrition is maintained during the drying process. Dehydrated food also removes the risk of pathogen contamination as the drying process kills these bugs off.
What Kind of Dehydrated Food Do You Need?
If you've decided to go the dehydrated route, you'll then need to choose which kind. As mentioned at the beginning of this article, this food type can be air-dried, freeze-dried, or dehydrated. While there are only slight differences in nutrient quality among these three methods, you may want to experiment and see if your dog notices any difference.
Can Any Dog Eat Dehydrated Dog Food?
Another thing to consider is your dog's type. While the convenience and nutrition are bonuses to you, in the end, it's your canine pal who needs to be on board. Below we cover a few of the characteristics to consider when it comes to pairing dehydrated food with your pet.
Puppies
Like human babies, puppies need an abundance of nutrition to help them grow into healthy, strong adults. Generally, puppies will benefit from the high nutrient density of dehydrated food, but it's best to check the label to see whether the formulation is age specific. It's also worth checking the percentages of protein, fat, and fiber to see if it meets your growing puppy's needs.
Adults
Adult dogs will have varying nutritional needs, but dehydrated food is a good way to help them maintain immunity, a healthy weight, and energy stores into their senior years. Again, check the nutritional profile of the food to ensure it meets your dog's requirements.
Seniors
Senior dogs can also benefit from dehydrated food, especially because its softness makes it easier to digest. Dogs in their golden years can require additional nourishment as they age and vets often advise that they eat foods that are lower in calories and higher in fiber and protein.
Picky Eaters
One of the main benefits of dehydrated dog food is that it retains much of the taste, aroma, and flavor of the original ingredients. This makes dehydrated food a highly palatable choice for dogs compared to its more processed counterparts. However, while dehydrated food may have great aromas, you may need to do some trial and error to see what flavors your dog prefers.
Dogs With Allergies
Like humans, dogs can have allergies to grains, vegetables, or meat proteins. Some dehydrated foods are gluten- and grain-free, so it's worth considering these if your pooch is sensitive. Dehydrated food is usually all-natural without fillers or preservatives, so it is a better option for dogs with sensitivities. That said, it's best to talk with your vet and read the ingredients when it comes to allergies.

Ingredient Quality of Dehydrated Dog Food
Ingredient quality makes a huge difference to the taste, aroma, and palatability of dehydrated food. Many manufacturers aim for natural ingredients, but they do vary in terms of the amounts of meat, fruit, vegetables, grains, and supplements that are included. Below is a list of some of the most common ingredients in dehydrated food and what to look out for.
Real Meat
Dogs are notorious meat lovers. And if your canine pal is especially partial to it, look for foods that contain decent amounts, especially ones that are responsibly sourced and grass-fed. One way to assess the meat quantity of the product is to read the first five ingredients.
Meat quality is also important for protein intake because it is essential for healthy cells, tissues, organs, hormones, and antibodies. However, some vets argue that dogs need a balance of both plant-based and meat-based protein. A good product for this is I and love and you's Food Topper which uses turkey and split peas for protein.
Grains & Seeds
Most dehydrated foods contain a mix of grains such as oats, barley, spelt, and rice, as well as seeds such as flaxseed and sunflower seed. These provide fiber, carbohydrates, and oils to make a complete meal for your dog. However, for those with sensitivities or grain allergies, look for foods that are gluten-free and grain-free. Most brands also stay away from known allergens such as corn, soy, and wheat.
Fruits & Vegetables
Dehydrated dog foods usually contain a decent mix of fruits and vegetables which add additional palatability. Popular ingredients are bananas, papayas, cranberries, blueberries, sweet potatoes, peas, celery, broccoli, carrots, and kale. Fruit and vegetables provide a host of vitamins and minerals, especially as the drying process retains much of the nutrients.
Human-Grade Ingredients
Something you will often see on a dehydrated dog food label is 'human-grade.' This means all the ingredients are safe for human consumption and they have met federal and packaging regulations. While it seems strange to have anything but 'human-grade' quality, the truth is that many commercial brands contain additives or fillers which are not safe for humans.
Naturally Sourced
In terms of quality and nutrition, it's also worth ensuring that some or all of the ingredients are natural and responsibly sourced. This includes free-range and grass-fed meat, and organic fruits and vegetables. This is important for ensuring your pooch gets the very best in natural and nutrient-rich food.
What to Avoid
And finally, when choosing dehydrated food, you'll want to ensure that the product doesn't contain any nasties. Our research has shown that most dehydrated food manufacturers avoid these, but if in doubt, make sure the food is non-GMO, and doesn't contain fillers, additives, preservatives, hormones, or artificial flavors.

Health Benefits of Dehydrated Dog Food
Another feature to consider when buying dehydrated dog food is the health benefits. After all, you want your pooch to be profiting from this new food choice in terms of improved well-being.
Digestion
Digestion can be enhanced in dogs through increased fiber and probiotics. Dehydrated food often contains good amounts of fiber, especially if its fruit and vegetable contents are high. Some producers also add probiotics, which gives your dog healthy gut bacteria. K9's Freeze-Dried Food Booster, for example, is full of digestive enzymes and probiotics.
Healthy Fur & Coat
An intake of oils and fats will help your dog's coat stay shiny and healthy. When assessing a dehydrated dog food with good fat content, check the nutritional analysis as the product will provide the percentage. Stella & Chewy's Freeze-Dried Patties and Primal's Freeze-Dried Nuggets, for instance, have high amounts of fat because they contain organ meat and bone marrow.
Weight Loss
Dogs can put on weight through a combination of poor diet, overfeeding, and lack of exercise. When it comes to dehydrated dog food, one of its primary benefits is nutrient density, meaning that it helps with satiety. Many commercial foods contain fillers, sugars, and other additives that can be less satiating and cause your pet to gain weight.
Making Your Choice
So, now that you have become familiar with the benefits and types of dehydrated dog food, it's time to make your choice. This will come down to a few additional considerations, which we outline below.
Price
Dehydrated food is slightly expensive and comparable to higher-end kibble. However, another thing to consider is how much food you get. Most producers indicate how many pounds of food you get per bag, and it's worth doing the math as some foods tend to go farther for your buck than others.
For example, we found that Honest Kitchen comes in at the best value, producing 40 lbs. of dog food out of a 10lb. bag.
Type
As we mentioned earlier, dehydrated food is prepared by air-drying, freeze-drying, or dehydrating. While the consistency and quality of these methods are similar, they all vary in terms of ingredient proportion, and how they cut up the components. You also want to decide what you want in terms of protein, fat, and fiber content, or if you want the product to be gluten-free.
Convenience
Overall, dehydrated dog food is simple and practical to prepare, but there are slight differences. Some foods require breaking into pieces before adding water. Others require more rehydration time, so again, you'll need to decide how convenient you need your dehydrated food to be.
Final Thoughts
Dehydrated dog foods are an excellent option for those seeking healthy, natural, and nutrient-dense meals for their pet. The gentle processing that dehydrated food goes through means that it retains its original aroma and taste while keeping the vitamins, minerals, and proteins that your dog needs intact. Dehydrated dog food is also easy to prepare, making it an all-around good choice for convenience and well-being.
While choosing the best dehydrated dog food can be challenging, there is no shortage of options to play with. Equipping yourself with knowledge about how the food is made, what ingredients it should contain, and what health benefits it provides can help you make an informed decision about what product is best for your pooch. Have fun exploring!