The 10 Best CO2 Diffusers in 2023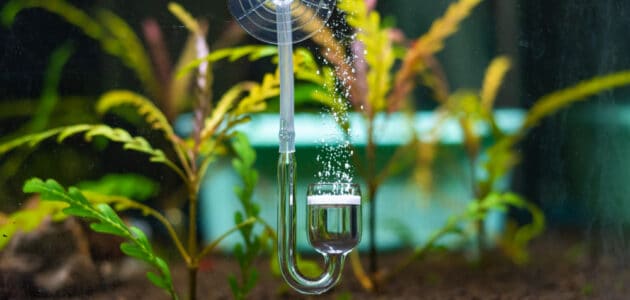 If you dream of creating a lush, paradise-like aquarium setup, then you've probably realized that the carbon dioxide –something that's critical to the growth of plants– isn't usually supplied in adequate amounts by your resident aquarium critters. Like so many others before you, you may have realized that you need a reliable CO2 diffuser to truly make your tank bloom.
But with all the different products out there, it's no surprise that finding the best CO2 diffuser can be difficult.
That's where we come in. In this article, we're going to tell you all the details you need to know to become a well-informed –and hopefully satisfied– buyer of the best CO2 diffusers that money can buy this year.
Key Factors to Consider in Buying a CO2 Diffuser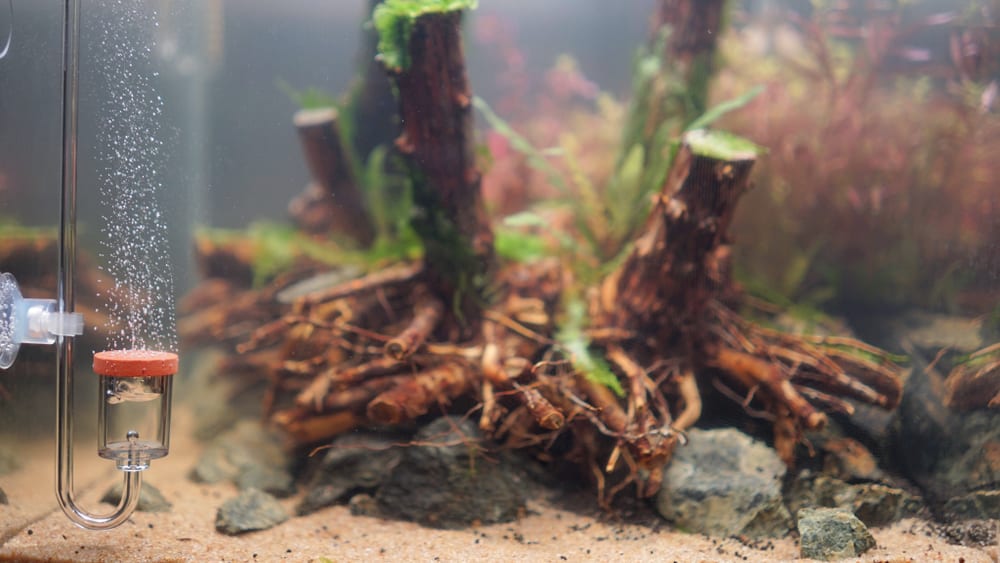 Let's face it, fishkeeping isn't a cheap hobby. This is especially true when it comes to buying specialized items like CO2 diffusers. It makes perfect sense for you to do some research first to make sure that what you're buying suits your personal preferences, the unique needs of your tank, and most importantly, your wallet.
Here are the things that you need to know to make your decision!
Type of Diffuser
There are several kinds of diffusers, each with its own merits. Some types are suited for larger aquariums, while some have a lower output and are okay for smaller volumes. Some have premium features and attachments, while some are basic.
Regardless, you have to assess which type of diffuser is best suited for your setup. To help you with this, we discuss the different diffuser types in more detail further down in this guide. Ceramic diffusers comprise the bulk of our product list, as these are the most popular variety, and are best suited for use in your home aquarium.
Material and Make
When choosing your CO2 diffuser, make sure that the material used is suitable for your budget and your setup.
CO2 diffusers are usually made from either steel or glass. Steel is very sturdy and durable, but it possesses a mirror-like surface sheen when placed in the tank. Glass diffusers, like the Yagote CO2 Glass Diffuser and Jardli Pollen Glass Diffuser, in contrast, tend to be less durable, but they blend well into whatever tank setup you may have.
If you want a good middle ground between the two, you can always opt for resin glass designs, like the Starside Aquarium CO2 Diffuser. Resin glass is more durable compared to normal glass, and it does not sacrifice the aesthetics of your tank. However, it tends to cost more than the other two options.
But once again, if you don't care about aesthetics and want to keep things cheap and functional, a stainless steel diffuser, like the Fibst CO2 Diffuser is the best option for you.
Ease of Use
Most carbon dioxide diffusers are easy to maintain. Some versions come in ceramic discs and only need bleaching agents and water to get rid of mineral build-up and discoloration. Others, like the Fibst CO2 Diffuser, go a step further and require the disc to be replaced after a certain period, saving you the hassle of cleaning and maintaining an old one.
Of course, there are some that are quite difficult to set up. Most of these are those that come with complicated accessories that let you control every aspect of the carbon dioxide input to your tank.
Compatibility
Before you commit to a carbon dioxide diffuser, you should first determine whether or not it's compatible with the volume of your tank.
The size and volume of the aquarium that a diffuser can handle are usually indicated by the ceramic disc's size. Generally, the larger the disk, the larger the capacity. A diameter of 2 inches or more typically means that it can manage 70-gallons of water, with the scale going up or down from there.
Make sure that the CO2 diffuser you're buying is well-suited to the volume and dimensions of your aquarium. Otherwise, you're just going to end up wasting money on a diffuser that can't cater to the needs of your aquarium. Some products, like the NilocG Aquatics In-Line Diffuser, have a variable diffusion rate, which makes them suitable for any size of tank.
Extra Features
A CO2 diffuser is merely one part of a system that functions to pump additional carbon dioxide into your aquarium.
When shopping around for a diffuser, consider buying packages that come with the rest of the equipment needed for it to work as a complete system, such as the Yosoo U-Shape DIY CO2 Diffuser. Such deals are often more cost-effective than buying individual items one by one.
Keep in mind that the more features and accessories that a product has, the pricier it tends to be. If you have to stick to a budget, include in your checklist only the most basic, tried-and-tested features that you actually need.
Top 10 Best CO2 Diffusers 2023
The Ultimate Guide to CO2 Diffusers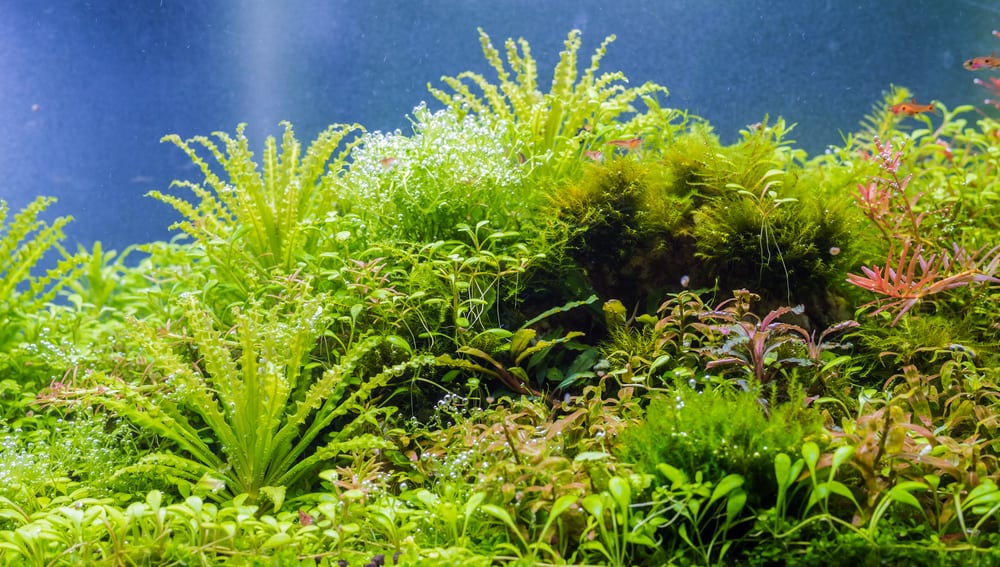 If you've reached this far, you probably already know that choosing the perfect CO2 diffuser for your aquarium is serious business.
To say it simply, that green, vibrant paradise you've always envisioned for your aquarium relies upon choosing this little piece of equipment.
In the next sections, you'll find everything that you need to know about CO2 diffusers when shopping for this essential item for your tank.
What Is a CO2 Diffuser?
Just as humans need oxygen to survive, plants too can't live without carbon dioxide. Usually, aquarium plants get their carbon dioxide from the creatures that live in the aquarium, such as fishes or invertebrates.
However, this amount of CO2 is usually just enough to get by, but not enough for plants to flourish and bloom to their full potential. When this happens, you'll notice little to no growth in your aquarium plants, even though you feel like you have a lot of fishes around.
If you really want your plants to increase their growth potential, you need to have at least one of two things: high amounts of light or high amounts of CO2. This is how high-maintenance, high-intensity planted tanks can achieve such lush and vibrant environments.
To increase the amount of CO2 gas dissolved in the aquarium system, you need a carbon dioxide diffuser, also known as CO2 diffusers.
CO2 diffusers increase the surface area of water that is exposed to the gas. This is done by passing the gas through the diffuser's ceramic disc, which dissolves the CO2 into very small particles, making it easier to dissolve into water. Once the CO2 dissolves, plants can easily use it to speed up the photosynthesis process.

Types of CO2 Diffusers
There are several types of CO2 diffusers in the market, each one built for a different purpose. You have to at least know a bit about each type to know which one suits your aquarium setup best.
Ceramic Diffuser
Ceramic diffusers, typically with bodies made of either glass or stainless steel, are more easily available and are much cheaper compared to CO2 reactors. They're called ceramic diffusers since they have a ceramic disk in the middle.
This type of diffuser is submerged in the aquarium and secured to the glass walls of the tank with suction cups. It produces very small bubbles that slowly rise through the ceramic circles. Due to its size, it's the preferred option for small to medium-sized aquariums and is perhaps the most common type in the market right now. In fact, most of the diffusers featured on our list are classified under this type.
In-Line Diffuser
In-line diffusers are hooked up to the filter's output, straight into the aquarium. Due to this, an in-line diffuser tends to be more efficient than other types.
A special property of an inline diffuser is that the carbon dioxide entering your aquarium has already dissolved into water from the outflow of the filter, making it easier for plants to absorb and thus, produces less wasted gas.
Airstone Diffuser
As its name suggests, this type of diffuser utilizes a common aquarium air stone. But instead of oxygen, it's carbon dioxide that passes through the stone.
However, the porous nature of the airstone means that it creates large bubbles, which rise faster into the surface and are more difficult for the water to absorb. Due to this, most aquarists consider an airstone diffuser a waste of time. It should only be considered an option when you really need a diffuser but all you have at the moment is an airstone.
Ladder Diffuser
Made for smaller aquariums, ladder diffusers get their name from their ladder-like appearance. This type of diffuser works by passing CO2 through a ladder-like contraption made of plastic that effectively atomizes and exposes the CO2 to the water level.
They're quite efficient and don't need frequent cleaning, but they're also much bigger than the more popular ceramic diffuser and, subjectively speaking, don't look as nice inside the tank. Therefore, we didn't think it was worthwhile to include any ladder diffusers on this list.
Reactor
A reactor is one of the priciest types of diffusers that one can buy right now. It's capable of very high amounts of carbon dioxide output into the tank. We chose not to include any reactor diffusers on this list, because these units are commonly used only for very large fish tanks.
Maintaining Your CO2 Diffuser
Although most CO2 diffusers are typically low-maintenance, you still do need to take care of them properly if you want to get your money's worth.
First off: Installation
There are a variety of ways that you can install a CO2 diffuser in your tank. For some, you can secure them to the glass wall with suction cups. Others can simply be placed on the aquarium floor, and yet others are hooked up on external tubes that run to the tank. Usually, this aspect of CO2 diffusers varies per brand. It's up to you to determine the most convenient and cost-effective setup for your specific circumstances.
Second: Maintenance
Every once in a while, you need to do some cleaning to ensure that your diffuser is always working in tiptop shape. Cleaning it once a month, or every time there are noticeable discolorations, should be enough to keep it pristine.
For instance, if you have a ceramic diffuser, the ceramic disks where the CO2 bubbles come out will have to be cleaned or even changed after some time. The body of the diffuser itself and even the membrane may also acquire some discoloration because of exposure to algae and minerals in the water. To clean it up, simply take the diffuser out of the aquarium and wipe it with a 1:1 water and chlorine solution to remove the dirt and debris stuck on its surface.
Be sure to thoroughly rinse it before putting it back in your tank, as you don't want to pollute your water with whatever chemical that you used to clean your diffuser. Lastly, always check the product manual, as the exact kind of maintenance a diffuser needs will depend on its type and even brand.
What Is a Bubble Counter and Do I Need One?
A bubble counter is a device that lets you count the number of CO2 bubbles that go into your tank for a set period. It will tell you exactly how much CO2 you have in your tank, allowing you to have better control over your aquarium's environment.
Some diffuser kits, like Yagote's or Yosoo's, include bubble counters in the package. But if you're buying one separately, then you might be wondering if you even need one in the first place.
If you're the type of person who likes full control and wants to bring out the maximum potential of your underwater paradise, then a bubble counter will definitely help you get closer to your goal. After all, you can use the data given by the bubble counter to better plan your CO2 arrangements.
However, there's nothing wrong if you choose not to get a bubble counter. Some planted tank enthusiasts don't want the added stress of closely monitoring the gasses that their plants can use for food –and that's perfectly acceptable, too.
Buying the Best CO2 Diffusers
And there you have it –everything you need to know to buy the best carbon dioxide diffuser for your planted aquarium needs! Remember to keep in mind all the considerations we listed above when choosing the best CO2 diffuser for your aquarium. Not only will your plants grow more beautifully, but your fish will also be much happier in their healthier environment.