280+ Cool Dog Names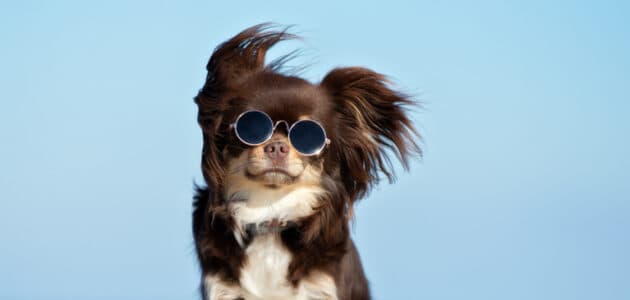 As Juliet once pondered, "What's in a name?" For most people, it's a lot. We all know how important it is to choose an awesome moniker for your new furbaby. While we may be stuck with boring human names, the sky is the limit for our dogs.
You can give your dog the coolest name you can possibly think of and nobody will bat an eye, even if it sounds like it came from an obscure fantasy novel (or it actually did). Of course, what's cool and what isn't is completely subjective. Luckily, we have hundreds of names to choose from, so the odds of finding a cool name you connect with are pretty good.
Food Names to Salivate Over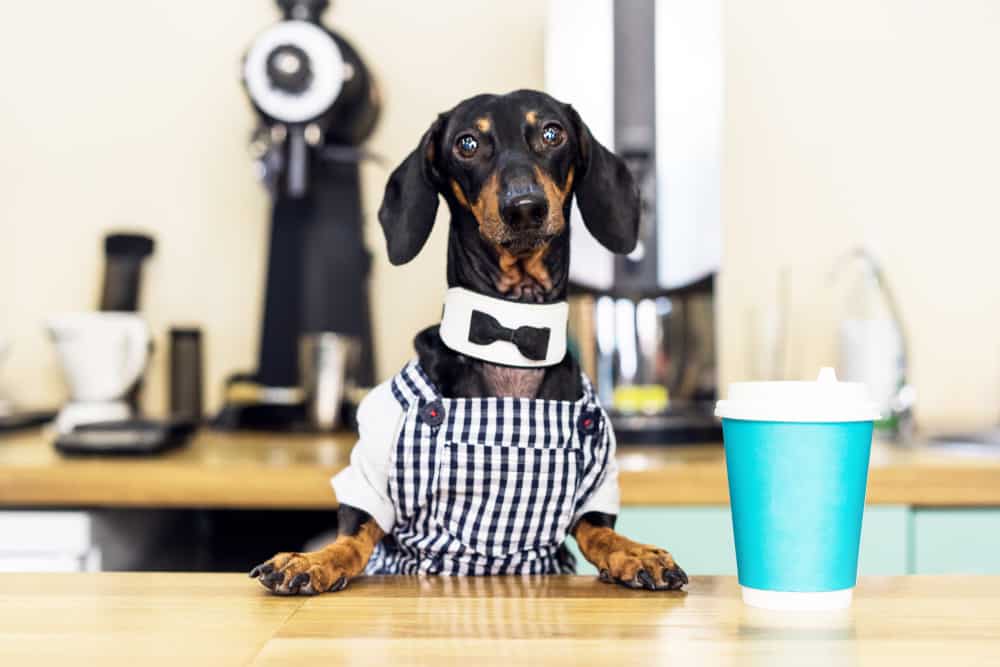 You may think food names are more cutesy than cool, but there are actually a number of names that sound pretty suave. Take a look.
Bailey
Brandy
Chai
Espresso
Gin
Henessy
Jäger: As in Jägermeister.
Jameson
Kona: A Hawaiian coffee bean.
Merlot
Pepper
Porter
Rum
Saffron
Salsa
Schnapps
Spice
Tequila
Whiskey
Wrigley: Like the gum.
Military and Weapon-Themed Names
For some reason, we humans find danger pretty cool — at least, we like the idea of it; most of us have natural fear responses in the face of legitimate danger. Still, we love a good action movie full of intense fights. Therefore, we've come up with some names based on weaponry and military status.
Apache
Blade
Captain
Chakram: A circular throwing weapon.
Colonel
Colt
Flyssa: A bladed weapon of the Kabyle peoples in Algeria.
Garand
General
Gunner
Knuckles
Kris: An asymmetrical dagger.
Kunai: Japanese throwing knives.
Major
Marshall
Maxim
Pistol
Sergeant
Uzi
Warden
Winchester
Names Inspired by Cool-Sounding Places
It's somewhat common to name children after cities and countries, so why not a dog? Here is a list of some places that just so happen to have awesome names.
Avalon: A mythical island from Arthurian legend.
Bronx
Cairo
Cali
Cayman
Corsica
Dallas
Dixie
Denver
Humboldt
Joplin
London
Marbella
Memphis
Milan
Montana
Nairobi
Paris
Paxton
Raleigh
Rio
Roma
Sicily
Sydney
Tex
York
Names Inspired by the Coolest Fictional Characters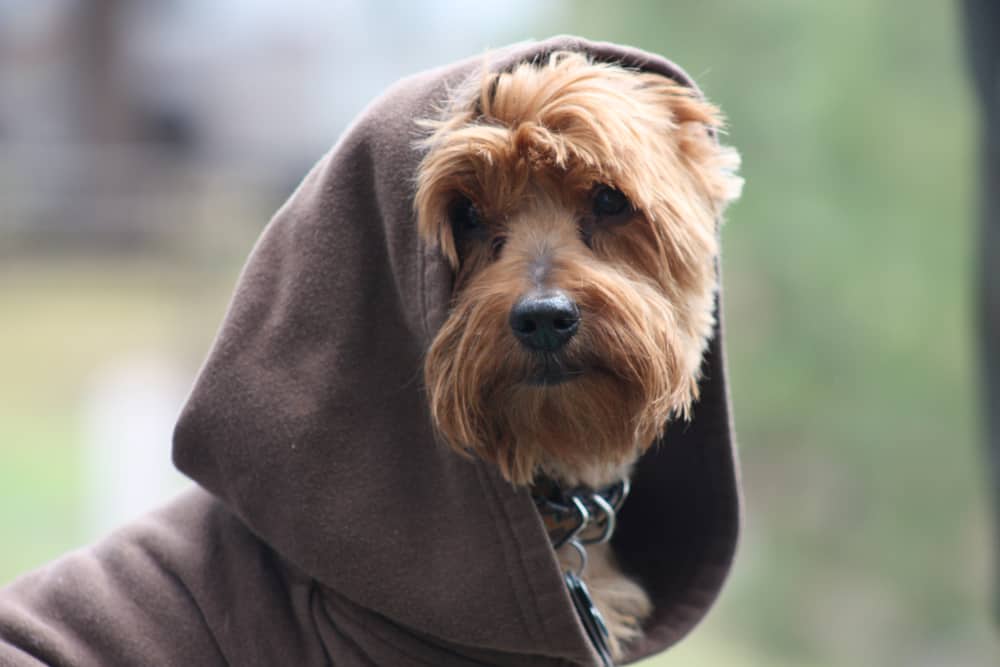 There's probably nothing cooler than a badass hero or heroine from a TV show, movie, or novel. These names are inspired by some of the coolest characters fiction has to offer.
Anakin: Star Wars
Arya: Game of Thrones
Bellatrix: Harry Potter
Bond: James Bond
Buffy: Buffy the Vampire Slayer
Cara: as in Cara Dune from The Mandalorian
Cersei: Game of Thrones
Dexter: Dexter
Din: Din Djarin from The Mandalorian
Erza: Fairy Tail
Kaneki: Tokyo Ghoul
Katniss: The Hunger Games
Khan: Star Trek
Leia: Star Wars
Max / Maximus: Gladiator
Mikasa: Attack on Titan
Mystique: X-Men
Nymeria: the name of Arya Stark's wolf from Game of Thrones
Obi: Obi Wan Kenobi from Star Wars
Othello: Othello
Rocky: Rocky
Starbuck: Moby Dick
Trinity: The Matrix
Xena: Xena: Warrior Princess
Yennefer: The Witcher
Cool Names From Mythology
Mythology has a lot of powerful characters. After all, it's all about gods, goddesses, and fantastical creatures. A lot of the names are unique, sound cool and evoke an ancient past.
We do recommend you look these mythological figures up though; these characters don't always have the best moral compasses, and you may not want to name your dog after a jealous or philandering god or goddess.
Ajax
Apollo
Athena
Atlas
Aries
Freya
Gaia
Hera
Loki
Medusa
Nyx
Odin
Styx
Thanos
Thor
Venus
Zeus
Cool Names for Male Puppies
These names don't have a theme, they just sounded super cool to us. While they are traditionally considered male names, you're perfectly welcome to choose one of these names for a female dog if it strikes your fancy.
Ace
Amon
Archer
Axel
Bandit
Bane
Bolt
Bowie
Bruto
Butch
Caesar
Chance
Chase
Chaz
Cisco
Cobra
Connor
Cooper
Cypher
Dre
Duke
Duron
Escobar
Ezekiel/Zeke
Finn
Gambit
Garcia
Harley
Hendrix
Holt
Hux
Jace
Jaden
Jasper
Jax
Jet
Kaden
Kai
Kal
Kalix
Kendrick
King
Knox
Leo
Lex
Mac
Maverick
Ranger
Rex
Riggs
Ryder
Tanner
Tex
Timber
Tux
Tyson
Wizard
Wyatt
Xander
Xavier
Zane
Cool Names for Female Dogs
We just saw some of the snazziest names for male dogs, so here they are for females. Again, though these names are traditionally feminine, there's nothing wrong with using them for male dogs.
Adira
Avril
Azra
Banshee
Blair
Blondie
Britt
Camilla
Chanel
Cleo
Damia
Denna
Dotty
Dove
Elektra
Eva
Evita
Foxy
Freesia
Frida
Harper
India
Ingrid
Ivy
Jag
Jinx
Jude
Kaia/Kaya
Kassia
Kendra
Koda
Lalida
Lana
Leda
Lexi
Lita
Liv
Mika
Millicent
Misty
Morgana
Myra
Nala
Natalia
Nessie
Neva
Pearl
Piper
Portia
Raven
Roxy
Scarlett
Shiva
Talia
Teela
Trix/Trixie
Ursa
Valerie
Valkyrie
Velda
Vida
Vixen
Yve
Zephrine
Zelda
The Coolest Unisex Dog Names
When it comes to these names, sex doesn't matter. They're not tied to any gender and will work perfectly for any dog!
Ash
Aspen
Blaze
Chaos
Comet
Domino
Echo
Enigma
Flare
Fury
Ghost
Indie
Jazz/Jazzy
Justice
Marley
Maze
Mercury
Midnight
Mystery
Neo
Ninja
Oakley
Onyx
Oracle
Phantom
Phoenix
Poison
Rebel
Remy
Rigby
Riley
Ripley
River
Rogue
Rumor
Rusty
Sable
Sandy
Sage
Shadow
Sky
Smokey
Specter
Spirit
Storm
Sunset
Thunder
Venom
Struggling? Here's How to Choose a Name
We've offered you hundreds of names to choose from, and while some of you may have connected with one right away, others may be considering a few options. So how do you go about picking the best name for your pup? Here are some tips.
1. Make It Personal
While some people might think it's funny to name their dog something like "dog" or "puppy" or "mutt," these aren't great choices. Your dog is meant to be a member of the family, so not giving them a proper name suggests that you may not see them as a living, breathing, thinking animal with feelings (yes, dogs do have emotions).
2. Remember That a Name Is Just a Name
Don't expect your dog to live up to his name. You're here looking at cool names, but your dog may turn out to be clumsy instead of suave, and that's okay. Problems occur when people name their dogs something like "Chaos" and then see the dog as more mischievous than she actually is, all because there's this perception that the dog is living up to her name.
3. Pick a Name With Two or More Syllables
Animal behaviorist Patricia McConnell found that dogs are more likely to come to short sing-song pitches that rise in tone than to long, low pitches that drop in tone. If you've had a dog before, you may have noticed that your stern "you're in trouble" voice is similar to the latter.
Modern dog training practices tell us that we don't want our dogs thinking they're in trouble when we call them because then they're going to be less likely to obey when we do. That said, it's much easier to apply the sing-song tone to a name that has two syllables or more.
Think about calling 'Cha-os!' versus 'Du-uke!' The second is just a bit more awkward. Of course, if you've found a single-syllable name that you're really attached to, don't let this stop you from choosing it. Though many of us do call our dogs using their names (or at least use this sing-song tactic to get their attention), it's still important to teach them a strong "come now" call.
The Coolest Pooch in the Park
Your puppy might just be the coolest pooch in the park after you've chosen a slick name from our list. We've given you plenty of options to mull over, so we hope it won't be too difficult to pick a favorite.
Remember to choose a name that feels personal, don't expect your dog to live up to that name, and consider names with two or more syllables that are easier to call out. Whichever name you decide upon, we know your puppy is going to be well-loved since you took the time to sort through hundreds of names just to find the perfect one.