220 Cute Mouse Names for Your Tiny Companion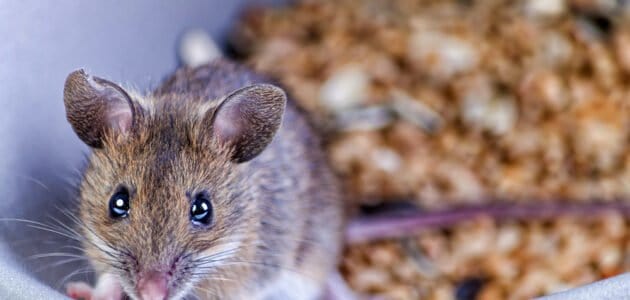 Though mice don't make for awesome sidekicks in real life as they do in movies like Cinderella, they are fun to keep as pets. Part of the joy of keeping any pet is just watching it partake in its favorite activities. For mice, these include things like running and climbing.
Of course, it's also fun to watch mice just because they're so adorable. There seems to be this universal rule that humans will find small things cute, and mice are some of the smallest animals out there. Just look at their teeny faces and big ears!
Such adorable little fuzzballs deserve to have names just as cute. Therefore, we've put together a long list of cute names for cute mice. We've separated the names by category, so it'll be easy to find a name you vibe with. Once you've chosen the perfect name, check out our fun facts about mice.
Cute Mice Names Inspired by Yummy Foods
When you think of cream puffs or beans, you probably don't think they're cute. However, when you think about naming your pet after one of these foods, suddenly the words become something adorable. For whatever reason, humans enjoy naming pets (including mice) after food.
We even use food names like cupcake, honey, sweet pea, and pumpkin to show affection. If you're looking for a cute name that expresses your love for your pet mouse, then a food name is perfect.
Apricot
Banana
Basil
Beans
Berry
Blueberry
Butterball
Butterscotch
Caramel
Cashew
Chip
Chowder
Cinnamon
Cocoa
Cookie
Cream Puff
Cupcake
Espresso
Ginger
Hazelnut
Honey
Kiwi
Latte
Mango
Marshmallow
Marzipan
Mocha
Muffin
Mushroom
Nutmeg
Olive
Oreo
Peach
Peanut
Pecan
Pepper
Pickles
Pretzel
Pumpkin
Ruffles
Sherbet
Skittles
Smarties
Strawberry
Strudel
Toffee
Twinkie
Walnut
Flower Names for Your Pretty Mouse
When coming up with name ideas for this article, we were reminded of a children's book about a mouse named Chrysanthemum. Thus, we realized that flower names would be a great choice for a pet mouse.
Flower names sound pretty and cute at the same time. Not only that, but flowers bring us positive feelings, just like our pets do.
Amaryllis
Anemone
Begonia
Bloom
Blossom
Bluebell
Buttercup
Calluna
Camellia
Canna
Chrysanthemum
Clover
Daffodil
Dahlia
Daisy
Flora
Flower
Freesia
Heath
Holly
Hyacinth
Iris
Jasmine
Lavender
Lilac
Lily
Lotus
Magnolia
Mallow
Marigold
Peony
Petal
Petunia
Poppy
Rose/Rosie
Sage
Snowdrop
Tulip
Violet
Zinnia
Punny and Cute Names for Mice
For whatever reason, we have this belief that mice adore cheese. However, this stereotype isn't really true. Mice are not especially picky eaters, so they may eat cheese if it's available. However, it's a myth that they are crazy about it, and mice will often choose other foods offered over cheese.
That said, we couldn't help but include cheese-inspired names on this list; they're just too punny to leave out. Of course, we also have a number of other silly names for those who prefer to give their pets funny monikers.
Anonymouse
Big Cheese
Brie
Catnip
Danger Mouse
Feta
Gouda
Julius Cheesar
Kraft
Merkt
Mini
Mouse code (Morse code)
Mouserella (Mozzarella)
Nibbles
Peewee
Pipsqueak
Sargento
Shorty
Squirt
Titan
Velveeta
Cute Names for Male Mice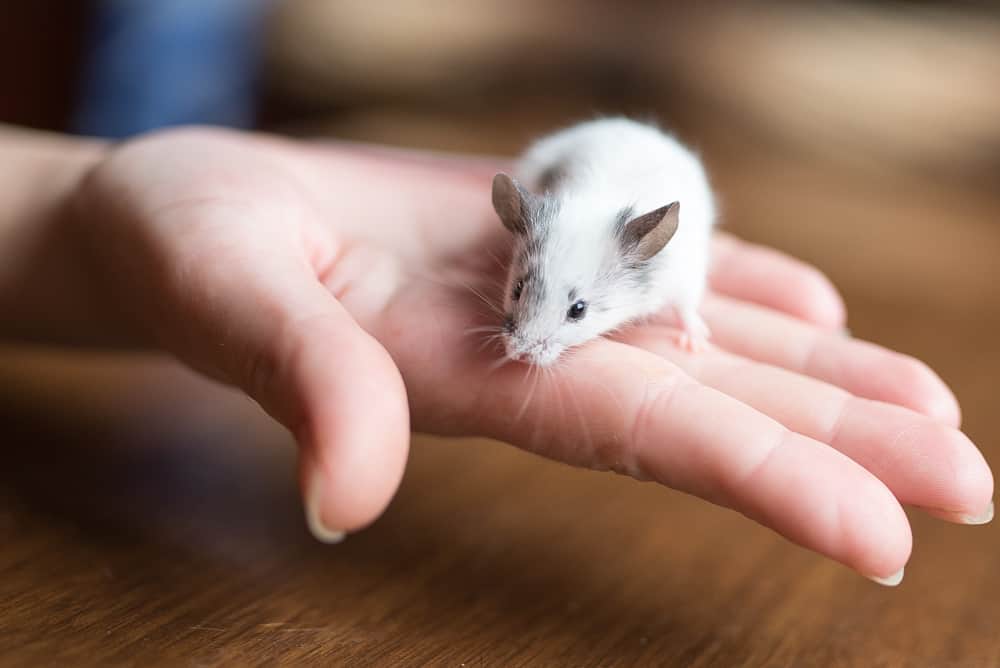 While it's great to name your pet after a food, flower, or something silly, sometimes you just want a normal but cute name. That's what you'll find in this list: adorable names for male mice. Of course, these names can also be used on lady mice, too!
Albert
Alfie
Algernon
Beau
Benji
Bert
Blue
Bobby
Bubba
Buster
Cooper
Ernie
Finn
Frankie
Fritz
Georgie
Gus
Hank
Hudson
Hughie
Jamie
Kenny
Lemmy
Marvin
Milo
Niko
Oliver
Otto
Peter
Ralph
Remy
Rudy
Sammy
Shiloh
Stuart
Timmy/Timothy
Toby
Tucker
Wesley
Cute Names for Female Mice
This list contains some of the cutest names for female mice that don't fit into any particular category or theme. Many of them are "human" names. Though these names are traditionally female, feel free to use them for male mice, too.
Amelia
Angelina
Arabella
Bebe
Bella
Coco
Crystal
Daisy Mae
Daphne
Dolly
Dove
Duchess
Gemma
Heidi
Jewel
Lacey
Layla
Lily Belle
Lola
Luna
Maisy
Maribel
May
Melody
Miffy
Misha
Opal
Pearl
Penny
Perla
Phoebe
Piper
Princess
Ruby
Sapphire
Scarlet
Summer
Tina
Tink
Unisex Cute Mouse Names
These names are great for any mouse, regardless of their sex. Our personal favorites are Freckles, Pebbles, and Boots.
Angel
Bitsy
Boots
Bubbles
Buttons
Cotton
Darling
Ditty
Dot
Dream
Fifi
Fizz
Freckles
Hopscotch
Juniper
Kermit
Marbles
Mittens
Nellie
Nugget
Patches
Pebbles
Poco
Polka Dot
Puff
Silky
Squeak
Starry
Sunny
Sweetie
Teddy Bear
Whiskers
Wiggles
Mice Facts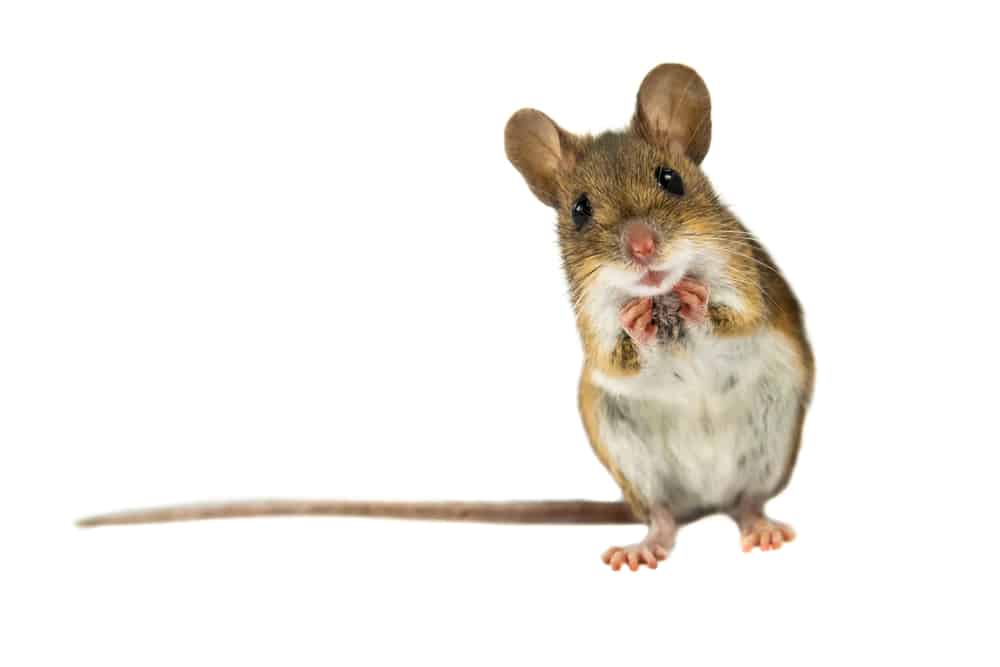 How much do you know about mice? We hope these mice facts will be able to teach both first-time and veteran mice owners something new.
1. Mice Are Omnivores
Mice enjoy eating fruits, seeds, and grains. However, they'll eat just about anything they can get their hands on, including meat. In fact, they'll even resort to cannibalism when food is scarce. If you're housing more than one mouse together, be sure that both are getting enough to eat!
2. Mice Can Survive Multiple Scorpion Bites
We just explained that mice will eat almost anything, and that includes scorpions. If a mouse decides that it wants to snack on a scorpion, it won't give up, even if it gets bitten multiple times.
3. Mice Can Be Big
We commonly think of mice as tiny, about the size of a golf ball. However, some can be up to 7 inches big. For comparison, this is akin to a large baked potato!
4. Mice Can Sense Temperature With Their Whiskers
Okay, so mice aren't like the weathermen you see on TV; they can't forecast the weather. But they can use their whiskers to feel changes in temperature. Not only that, but they can also use their whiskers to sense alterations in ground terrain.
5. Mice Are Athletic
Mice are great swimmers, climbers, and jumpers. They can jump about 18 inches into the air. That's quite high for an animal of their size!
Cute Names for Little Companions
Mice are teeny and adorable. They are nocturnal, so they're great pets for people who work during the day (which is most of us). Not only that, but they're one of the most affordable pets you can own. They don't cost much to buy or keep.
Though mice aren't as people-friendly as other common house pets, like dogs, they can still be handled if they're socialized to people from a young age. It's fun to hold them and feed them from the palm of your hand. They're also a joy to watch in their cage as they love to run and climb.
These adorable little companions deserve to have a name just as cute as they are. Luckily, there are tons of cute names to choose from. We're sure that you've found the perfect name for your sweet mouse.