280+ Girl Horse Names for Frisky Fillies and Mature Mares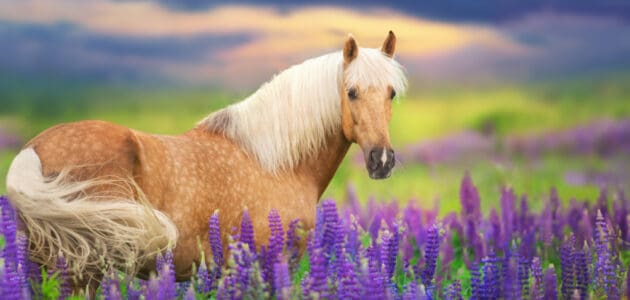 Once upon a time, having a horse was a huge asset. Horses could be used for farming, transporting heavy objects, and travel. Now, horses are kept mainly by hobbyists as modern technology has made the need for workhorses obsolete.
Though their role has changed, horses still bring a lot of good into our lives and are one of the animals many children dream of having as a pet. Riding a horse is an incredible feeling; not only is it fun, but there's something special about being able to trust and communicate with animals outside of our own species.
Of course, if you're here to look for a name for your beautiful girl horse, you probably already know all of this! To help you pick the perfect name for your horse, we've divided our article into categories. We have lists of cute names, food names, flower names, funny names, cool names, color names, and more.
Cute Girl Horse Names
One of the fun things about owning a horse is being able to "dress" her up. You can dress up the mane and tail with braids and other hairstyles. You can even put ornaments in the hair such as flowers. In this sense, you can make your horse look very cute and pretty. If you enjoy styling your horse's mane and tail, then perhaps a cute name is the right vibe for you.
Arabella
Bebe
Bella
Bindi
Clara
Coral
Crystal
Daisy Mae
Daphne
Dolly
Dove
Duchess
Ellie
Fancy
Giselle
Gracie
Jewel
Kiki
Ladybug
Layla
Lily Belle
Lola
Lulu
Luna
Maribel
May
Melody
Mia
Penny
Pippy
Princess
Queenie
Sadie
Scarlet
Summer
Tallulah
Tink
Vivi
Food Names to Salivate Over
Speaking of adorable names, food names are also pretty cute. They're a great choice if you want to name your horse after the color of its coat (check out our color names). There are even some food names that sound cool and edgy, like Bacardi. Whatever vibe you're going for, you might be able to find it in the name of a food!
Apple
Bacardi
Butterscotch
Caramel
Cherry
Chowder
Cinnamon
Cocoa
Cookie
Cream Puff
Cupcake
Ginger
Guava
Hazelnut
Honey
Kiwi
Latte
Marshmallow
Marzipan
Mocha
Muffin
Nutmeg
Oreo
Peach
Peanut
Pepper
Skittles
Strawberry
Strudel
Sugar
Toffee
Vanilla
Flower Names for Pretty Ponies
You can put flowers in your horse's mane, and you can also name her after a flower. We tend to have a lot of positive feelings about flowers: they're beautiful, fragrant, and bright. We know you love your horse, so giving her a name that evokes such positive feelings is a great option.
Amaryllis
Anemone
Begonia
Bellflower
Bloom
Blossom
Bluebell
Buttercup
Calla
Camellia
Chrysanthemum
Clary
Clover
Cornflower
Daffodil
Dahlia
Daisy
Dandelion
Flora
Flower
Freesia
Holly
Honeysuckle
Hyacinth
Hydrangea
Iris
Ivy
Jasmine
Lavender
Lilac
Lily
Lobelia
Lotus
Magnolia
Mallow
Marigold
Peony
Petal
Petunia
Poppy
Primrose
Rose/Rosie
Snowdrop
Sweet Pea
Tulip
Violet
Zinnia
Funny Names for Funny Fillies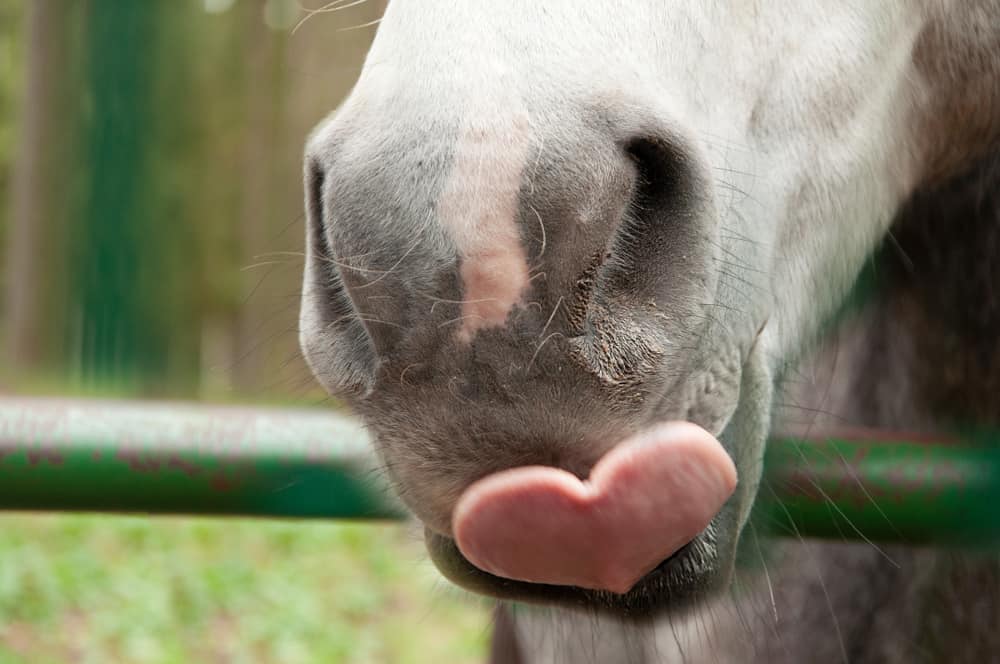 Horses can have a lot of personality and be pretty silly at times. If your horse is goofy, then why not pick one of these punny names for her?
Alanis Mare-issette
Britney Spurs
Chatters
Dappleganger
Hay Girl Hay
Hermioneigh
Justine Thyme
Lucy Fur
Maple Stirrup
Minnie Scule
My Little Pony
Neigh Sayer
Night Mare
Penny Loafer
Pony Tail
Reya Sunshine
Shoe Crew
Tater Trot
Tina Hay
Cool Girl Names for Horses
Horses are pretty amazing creatures that are a huge part of humanity's history. Before modern technology, it was horses that expedited farming processes, provided a method of travel, and even served in wars. For all of that, we think horses are pretty cool and deserve a name to match.
Alexia
Avia
Carmilla
Damia
Dancer
Denna
Eclipse
Frida
Ingrid
Kaya
Morgana
Myst
Nikita
Rebel
Roxy
Rumor
Sapphire
Shiva
Sierra
Storm
Sundance
Symphony
Talia
Tara
Twilight
Victory
Whisper
Color Names for Horses With Fabulous Coats and Manes

Horses come in several different colors, many of which have their own terms like bay and dun. However, we've decided to sort these colors into general color categories since colors like bay and chestnut are simply shades of the color brown. If you'd like to give your horse a name inspired by its coat color, then this is the list for you.
Black:
Charcoal
Crow
Ebony
Jet
Night/Midnight
Noir
Obsidian
Onyx
Raven
Sable
Grey:
Ash
Cloud
Dove
Fog
Graphite
Gunmetal
Iron
Pebble
Pepper
Pewter
Silver
Slate
Sterling
White:
Abalone
Alabaster
Chiffon
Coconut
Cotton
Cream
Diamond
Domino (for a horse with black markings)
Frost
Ivory
Lace/Lacey
Opal
Pearl
Porcelain
Quartz
Snow
Vanilla
Brown:
Adobe
Autumn
Bronze
Brunette
Cedar
Cider
Cinnamon
Clay
Copper
Hickory
Kit Kat
Penny
Rust
Sienna
Spice
Syrup
Tawny
Umber
Walnut
Tan:
Biscotti
Blondie
Brass
Citrine
Dandelion
Dijon
Fawn
Granola
Oats
Parchment
Sand Dollar
Sandy
Seashell
Shortbread
Taupe
Tortilla
Tuscan
Twinkie
Spotted:
Calico (Callie)
Checkers
Chocolate Chip
Chroma
Confetti
Freckles
Jasper
Jigsaw
Kaleidoscope
Mosaic
Patches
Polka Dot
Polycolor
Prisma
Speckles
Spot
Stipple
More Girl Horse Names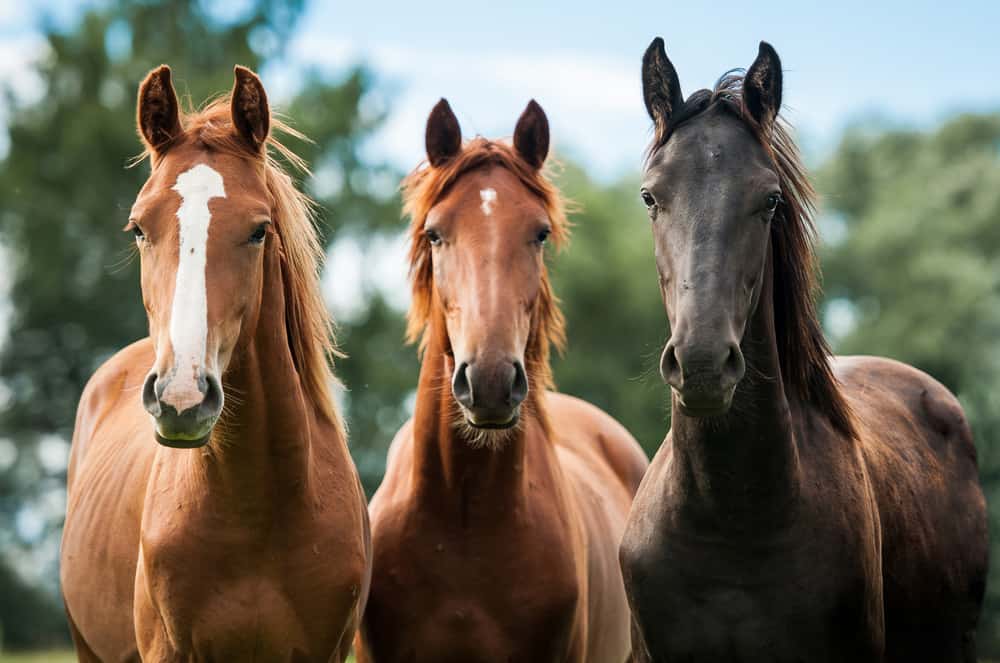 Still haven't found what you're looking for? Here are even more names for female horses:
Avril
Breeze
Catalina
Cerise
Charm
Cheyenne
Crystal
Dawn
Diva
Faith
Garnet
Gloria
Gypsy
Hope
India
Lady
Legacy
Lexi
Magic
Misty
Nala
Opal
Peridot
Savannah
Spirit
Star
Starlight
Sunrise
Sunset
Tifa
Treasure
Willow
Spectacular Names for Spectacular Horses
Naming your horse is very exciting, especially because there's a lot of freedom with what you can choose. After all, the racehorses at the Kentucky Derby certainly have some interesting and even crazy names thanks to the rules that determine what's acceptable and what isn't (over 60,000 names get rejected every year).
Even if your horse is not a racehorse, the popularity of races like the Kentucky Derby has cleared the way for all horse owners to choose eccentric, ridiculous, and spectacular names. Whether you're looking for something unique or would prefer to keep it simple, we hope you've found the perfect name for your female horse.