215 Cute Hedgehog Names for Your Prickly Potato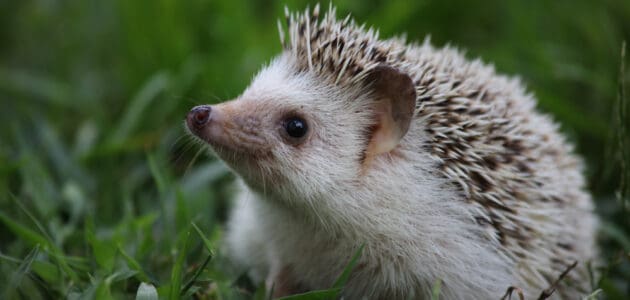 Even though hedgehogs are covered in spines, they're still super adorable. Their button eyes and the way their little snoots poke out are almost too cute to handle. It makes sense to want to give these adorable prickle-balls a name to match their looks, and we've got plenty for you to choose from!
Not only that, but we'll also be providing some information on hedgehogs to help you decide if a hedgehog is the right pet for you. Though these pets don't need as much space as dogs or cats, they need more care than you might expect and therefore are just as big of a responsibility. This article will help you choose a super cute name for your hedgehog as well as prepare you to be a hedgehog parent.
Delicious Names for Adorable Hedgehogs
For whatever reason, the names of food are super cute when applied to animals. Of course, it's also not uncommon for people to give their significant others pet names like sugar or honey. Similarly, parents will address their children using words like sweet pea or (again) honey.
For a super cute name that also expresses your affection for your hedgehog, why not pick a favorite food?
Alfredo
Beans
Berry
Biscuit
Blueberry
Butterball
Butterscotch
Caramel
Cheese Nip
Chowder
Cinnamon
Cocoa
Cookie
Cream Puff
Cupcake
Fudge
Ginger
Hazelnut
Honey
Kiwi
Latte
Marshmallow
Marzipan
Mocha
Mochi
Muffin
Nutmeg
Olive
Oreo
Peach
Peanut
Pecan
Pepper
Pickles
Potato
Pretzel
Pudding
Pumpkin
Ruffles
Sherbet
Skittles
Snickers
Strawberry
Strudel
Sugar
Sweet Pea
Tater Tot
Toffee
Twinkie
Waffles
Cute Hedgehog Names Inspired by Flowers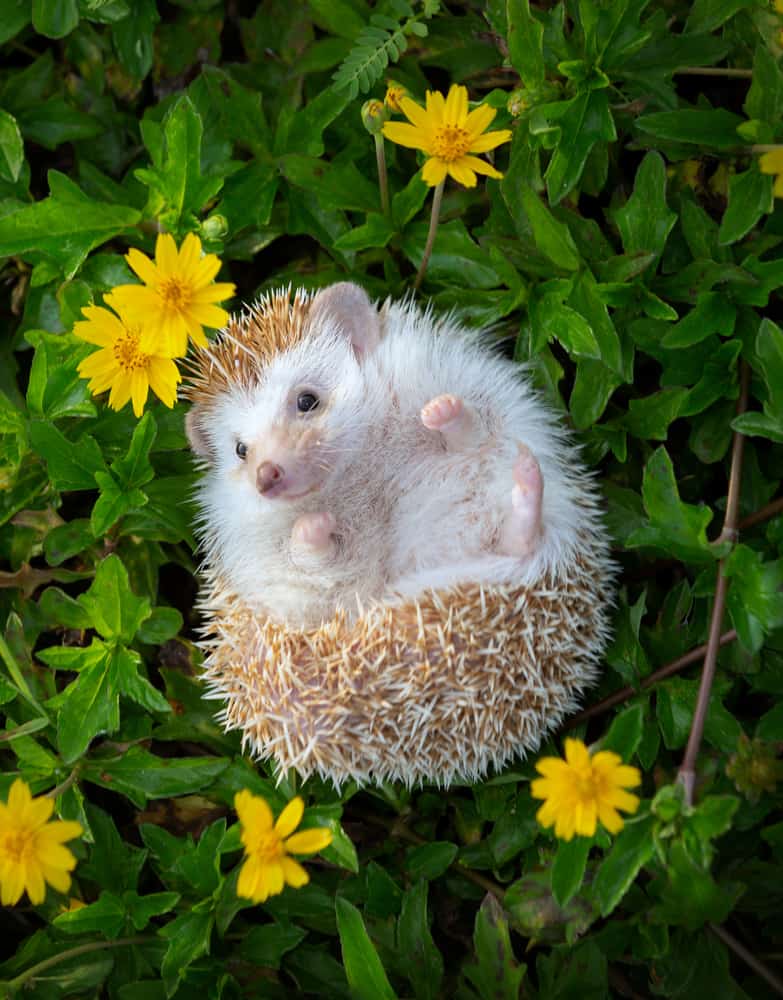 Flowers are gorgeous in and of themselves, and they brighten up their surroundings, bringing joy. Not only that, but their names are often as cute and pretty as they are. We know your hedgehog also brings you joy, so why not name it after a flower?
Begonia
Bloom
Blossom
Buttercup
Canna
Chrysanthemum
Clover
Daffodil
Dahlia
Daisy
Flora
Flower
Freesia
Holly
Iris
Jasmine
Lavender
Lilac
Lily
Magnolia
Mallow
Marigold
Orchid
Peony
Petal
Petunia
Poppy
Primrose
Rose/Rosie
Tulip
Violet
Precious Gemstone Names for Precious Hedgehogs
As rare and beautiful as gemstones are, they'll never be as precious to you as your hedgehog. Still, they are referred to as precious (and semi-precious) stones, so why not name your hedgehog after one to symbolize that they are your most valuable treasure?
Amber
Amethyst
Beryl
Crystal
Diamond
Emerald
Galena
Gem/Gemma
Jade
Jasper
Jet
Jewel
Lazuli
Mica
Opal
Pearl
Peridot
Ruby
Sapphire
Punny and Cute Hedgehog Names
If you're looking for a clever, funny name, then look no further. We have a number of cute, silly, and punny names for hedgehogs that are sure to make anyone smile. Our personal favorite is Hedgegar Allen Poke.
Brillo
Bruce Quillis
Bumper
Caboodle
Cactus
Hedgegar Allen Poke
/Mrs. Pricklepants
Needles
Nibbles
Pin Cushion
Pip Squeak
Pokeahontas
Pokey
Porcupine
Prickles
Quill
i.am
Quilliam
Quilly Wonka
Sonic
Spike
Thistle
Urchin
Cute Names for Male Hedgehogs
If you're looking for a cute name but aren't so interested in themes like food, flowers, gemstones, or silliness, then here are some general male names that we think sound pretty cute.
Though these names are traditionally masculine, don't be afraid to use them for female hedgehogs, too.
Alfie
Archie
Blue
Bobby
Brisby
Cooper
Ernie
Finn
Frankie
Georgie
Gizmo
Gus
Harry
Herbert
Hudson
Jamie
Leo
Manny
Milo
Niko
Oliver
Patrick
Peter
Remy
Rudy
Rufus
Sammy
Skipper
Thumper
Timmy/Timothy
Toby
Wesley
Woody
Cute Names for Female Hedgehogs
Just as with the previous section on male names, these are cute names for female hedgehogs that don't have any particular theme.
Again, though, these are traditionally feminine names, you're welcome to use them for male hedgehogs, too.
Amy Rose
Arabella
Bella
Blondie
Daisy Mae
Daphne
Dolly
Dove
Duchess
Gabby
Gracie
Layla
Lily Belle
Lola
Luna
Maribel
Melody
Miffy
Muffy
Penny
Pinky
Piper
Pippie
Pixie
Princess
Selena
Sophie
Summer
Tallulah
Tink
Zoey
Adorable Unisex Hedgehog Names
This list includes names that would be perfect for any hedgehog regardless of sex. Our favorites are Pine Cone, Pebbles, and Buttons.
Angel
Baby
Beebo
Boo
Bubbles
Bugs
Buttons
Dot
Fifi
Fizz
Happy
Hoglet
Hopscotch
Juniper
Kermit
Marbles
Mittens
Nugget
Pebbles
Pine Cone
Poco
Polka Dot
Precious
Puff
Snuffles
Sweetie
Teacup
Teddy Bear
Is a Hedgehog Right for You?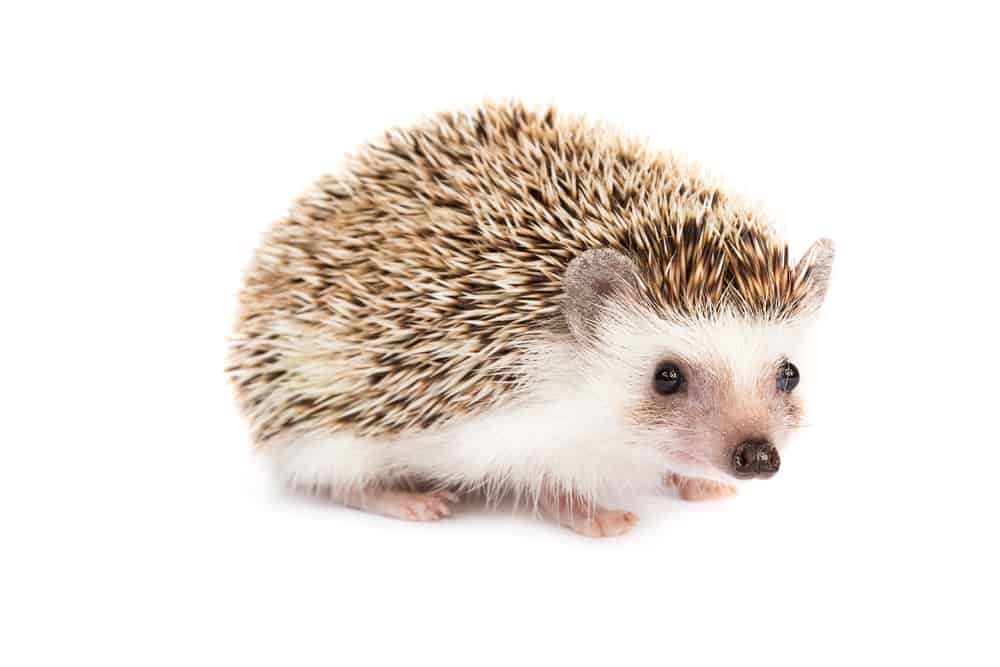 Hedgehogs are not very common pets, especially when compared to dogs or cats. As cute as they are, they require a fair bit of care and are not as friendly or social as other domesticated animals.
They certainly aren't the type of pet that you'll caress and cuddle (though you probably already knew that).
What Are Hedgehogs Like?
Hedgehogs are not very social animals like dogs or cats. Hedgehogs that are handled a lot as babies are tolerant of handling and less fearful. They are more likely to allow you to pick them up and carry them around. Otherwise, it is not uncommon for hedgehogs to get scared and roll up into a prickly ball.
Because they are not social, they prefer to live solitarily. In fact, hedgehogs will often fight with one another outside of mating season, so it's best to keep them apart.
Hedgehogs are nocturnal, so you can expect them to be active at night and sleepy during the day. They enjoy romping around a room or running on a wheel in their cage. This is the best way for them to get exercise since they don't enjoy playing with toys.
Environment
Hedgehogs are kept in cages with flat (not wired) bottoms that are a minimum of 2' x 3'. Because hedgehogs love activities such as running and climbing, cages should have a wheel for them to run on. The wheel can't be wired though, or it may hurt their feet. There should also be an area in the cage where a hedgehog can hide.
It's important that the environment hedgehogs are kept in be both warm and clean. The proper temperature should be between 70 and 85 degrees Fahrenheit. Because hedgehogs are susceptible to skin infections, urine and feces must be removed from the environment daily and the whole cage cleaned with soap and water weekly.
Diet
Hedgehogs are insectivores, though they can also eat some fruits and vegetables. They should mainly be fed hedgehog-specific food blends or insects bought from the pet store. Because they are nocturnal, they mainly eat at night. Fresh water should be available to them 24/7.
Should You Get a Hedgehog?
If you're happy to have a cute pet that you don't need to cuddle and you're capable of cleaning their cage daily, then a hedgehog may be a great choice for you. You'll also have to be chill around insects as these are a major part of their diet.
The joy of owning a hedgehog is really about the joy of caring for a being other than yourself. That, and they can be pretty fun to watch since they are quite active.
Cute Pet, Big Responsibility
Hedgehogs aren't the most common or popular of house pets, but that doesn't make them any less cute. Their snoots look super boopable (although try to resist the urge; many hedgehogs will get scared by a boop), and their eyes are like little buttons. They deserve to have a name that matches their adorable looks.
While it's exciting to bring home any pet, hedgehogs require a certain type of owner. They may not be the best choice for children because they are easily scared and aren't the cuddly type. They also need to be cleaned up after daily to prevent skin infections.
If you're happy with caring for a pet that doesn't enjoy interaction as much as you do but is super fun to watch, then a hedgehog would be a great choice for you.