160+ Racehorse Names for Your Dashing Steed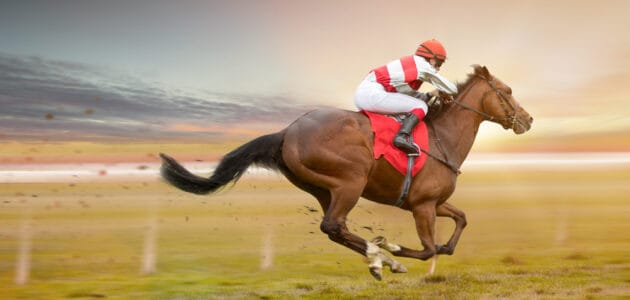 Horse racing is a sport that has been a part of our history for thousands of years. It has taken shape in many forms and gained popularity in many civilizations. Today, horse racing has captured the hearts of millions across the world. It has brought with it unforgettable moments, from Man o' War's one loss that actually became a testament to his greatness to Secretariat winning the Triple Crown races in record-breaking times.
Whether you intend to make history with your own soon-to-be racehorse, or simply want to pay tribute to your love for the track, you're sure to find a racehorse-inspired name here that takes first place in your heart.
We've taken inspiration from famous racehorses, iconic racetracks, and remarkable jockeys. Below, we also go over how to come up with a completely original racehorse moniker, as well as how to get it officially registered.
Famous Racehorses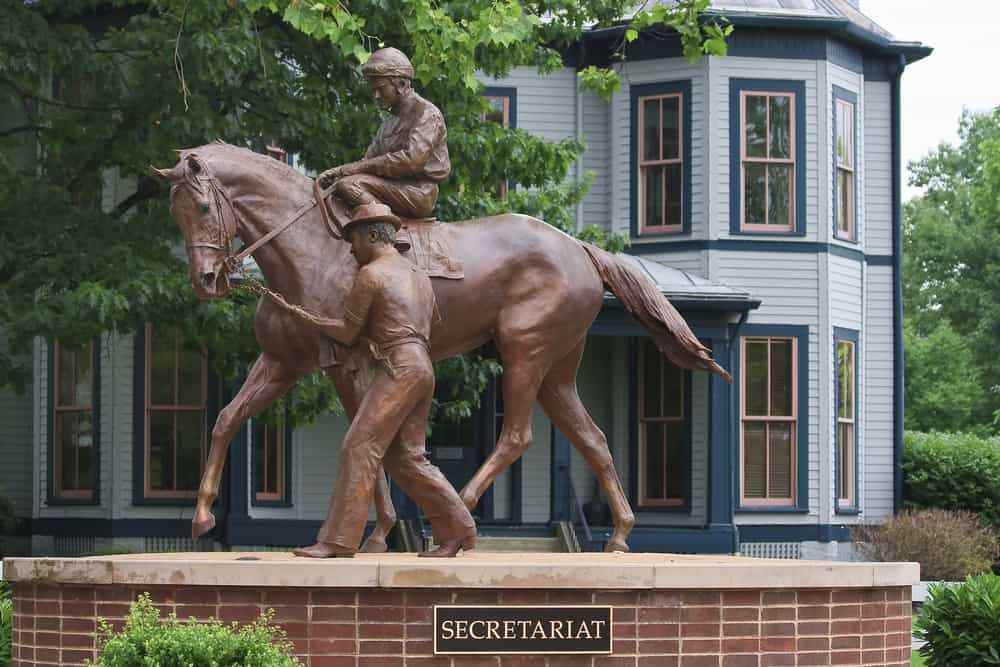 There are plenty of racehorses that have made history for their prowess on the track, with many being so famous they've become household names even outside of the horse racing community.
Arkle: Arkle won three Cheltenham Gold Cups and achieved a sensational Timeform rating of 212.
Black Caviar: Australian Thoroughbred mare that won all 25 races she partook in.
Brigadier Gerard: British Thoroughbred racehorse who won almost all of his races, considered the "British Horse of The Century."
Citation: Won 16 consecutive stakes races and eighth winner of the Triple Crown. He was also the first racehorse in history to amass one million dollars in winnings.
Eclipse: Eclipse was an unbeaten racehorse from the 18th He brought about the phrase "Eclipse first and the rest nowhere" and eventually retired due to the lack of competition.
Flying Fox: A British Thoroughbred racehorse, 1899 English Triple Crown winner.
Flyingbolt: Despite being fairly unknown, Flyingbolt is considered to be one of the greatest steeplechasers of all time.
Frankel: Famous for being unbeaten, as well as the highest-rated Flat horse. In the 2,000 Guineas, his performance was called "one of the greatest displays on a British racecourse."
Hurricane Fly: Previous world record holder for most Group 1 races won, and the first horse in over three decades to win the Champion Hurdle title twice.
Kelso: Kelso defeated more champions than any other racehorse in the 20th century and was voted "Horse of the Year" five times.
Kincsem: Kincsem possesses the greatest unbeaten record in racehorse history, winning all 54 of her races.
Makybe Diva: First (and only) racehorse to win the Melbourne Cup three times.
Man o' War: Man o' War consistently set record times and won 20 of his 21 races. His one loss is seen as a symbol of his greatness; despite having an extremely poor start, he came in second place to Upset, and was only behind by a half-length! Man o' War went on to beat Upset multiple times.
Nearco: Considered to be "one of the greatest racehorses of the Twentieth Century," Nearco won all 14 races he participated in.
Nijinsky: Widely regarded as the best flat racehorse of the 20th century in Europe.
Phar Lap: Phar Lap was the third highest stakes-winner of his time, and with an impressive rating of 141, he is the highest-rated racehorse in Australian history.
Red Rum: Champion Thoroughbred steeplechaser who won the Grand National three times.
Ruthless: Ruthless was the first winner of the Belmont Stakes.
Sea The Stars: Winner of the 2,000 Guineas, the Eclipse Stakes, and the Derby.
Seabiscuit: Famous underdog racehorse that went on to achieve great success and warmed the hearts of millions during the Great Depression. He even won against Triple Crown winner, War Admiral.
Secretariat: Secretariat is one of the greatest racehorses of all time (if not the greatest). He won several prestigious races and set numerous world records. He is also the ninth winner of the Triple Crown, and won each race at record speed.
War Admiral: Fourth Triple Crown winner and horse of the year in 1937.
Winning Brew: Fastest racehorse in the world, according to the Guinness World Records.
Zippy Chippy: If you want a racehorse name for the sake of irony (your steed is the slowest on the field), name them after Zippy Chippy, the world's worst racehorse. Despite his best attempts, Zippy Chippy lost 100 races consecutively. He just wasn't made for the racing world.
Names Based on Popular Racecourses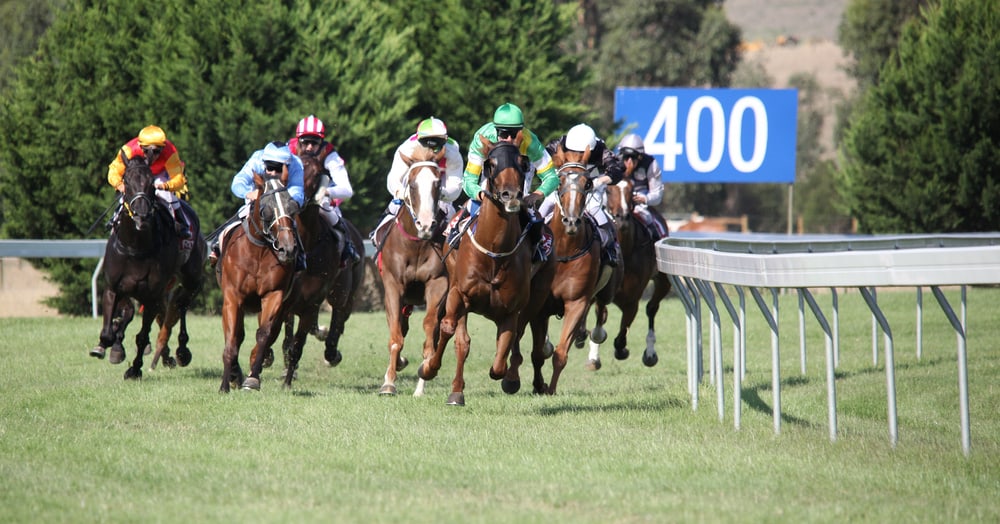 There's nothing more exhilarating than watching a horse race take place in person. The screen simply can't capture the energy and rush. Up close, you can feel the extraordinary speed as the horses fly straight past you, their nostrils flaring, eyes focused, hooves thundering.
If you've been lucky enough to visit a racecourse, it's likely one of your most treasured experiences. Honor your horse (and your fond memories) by naming them after one of these famous racetracks.
Aintree: After Aintree Racecourse, renowned for hosting the Grand National steeplechase.
Ascot: After Ascot Racecourse, famous for the Royal Ascot.
Belmont: After Belmont
Churchill: After Churchill Downs, which hosts one of the most famous races: the Kentucky Derby.
Epsom: After Epsom Downs Racecourse, where the Epsom Derby takes place.
Flemington: Flemington Racecourse hosts the prestigious Melbourne Cup.
Laurel: After Laurel Park.
Lone Star: After Lone Star Park.
Longchamp: After Longchamp Racecourse.
Meydan: After Meydan Racecourse, hosts the Dubai World Cup.
Monmouth: After Monmouth Park, held the Breeders' Cup in 2007.
Pimlico: After Pimlico Racecourse, hosts the Preakness Stakes.
Ruidoso Down: Holds the All American Futurity.
Santa Anita: After Santa Anita Santa Anita Park has held the Breeders' Cup 10 times.
Saratoga: The racecourse where Man o' War experienced his only defeat.
Woodbine: Holds the Queen's Plate, Canada's most renowned race.
Names Inspired by Famous Jockeys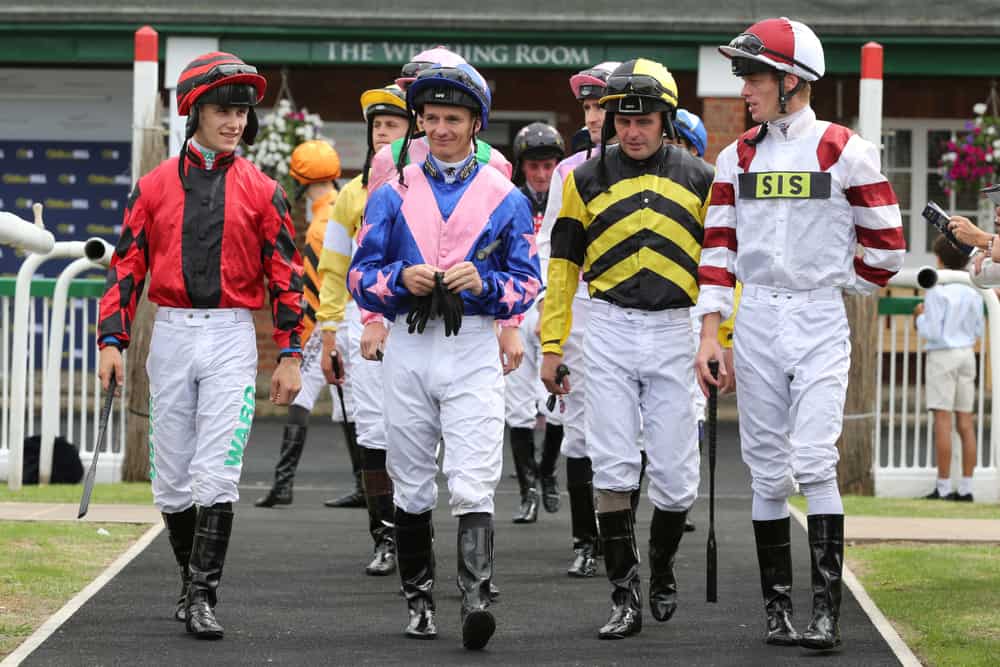 There are plenty of jockeys that have gone down in history for their skill and accomplishments. Many of these famous jockeys also have monikers that would make for interesting horse names.
AP McCoy: Was Champion Jockey for 20 consecutive years.
Arcaro: After Eddie Arcaro, the only jockey to win the U.S. Triple Crown more than once.
Baze: After Russell Baze. With nearly 13,000 wins, Baze has won the most races in American history.
Cauthen: Steve Cauthen is the youngest jockey ever to win the U.S. Triple Crown. He is also the first jockey to gain over six million dollars in winnings in a single year.
Dettori: After Frankie Dettori, a three-time Champion Jockey. Dettori is renowned for riding all of the winners on 1996's British Champions' Day.
Laffit: After Laffit Pincay Jr., one of the greatest flat racing jockeys of all time. Over 9,000 wins.
Longden: After Johnny Longden, a talented jockey that won over 6,000 Thoroughbred races, including the Triple Crown. Longden was nicknamed "The Pumper" thanks to his unique riding style.
Piggott: Lester Piggott won the Epsom Derby nine times and is an 11-time champion jockey.
Red Pollard: Seabiscuit's longtime jockey.
Rosie: After Rosie Napravnik, horse racing jockey that won the Kentucky Oaks twice.
Ruby: After Ruby Walsh, one of the most prolific winners in jump racing history.
Shoemaker: Bill Shoemaker won the Kentucky Derby four times and rode over 8,000 winning horses.
Turcotte: After Ron Turcotte, rider of Secretariat.
Racehorse Names Meaning Swift, Powerful and Resilient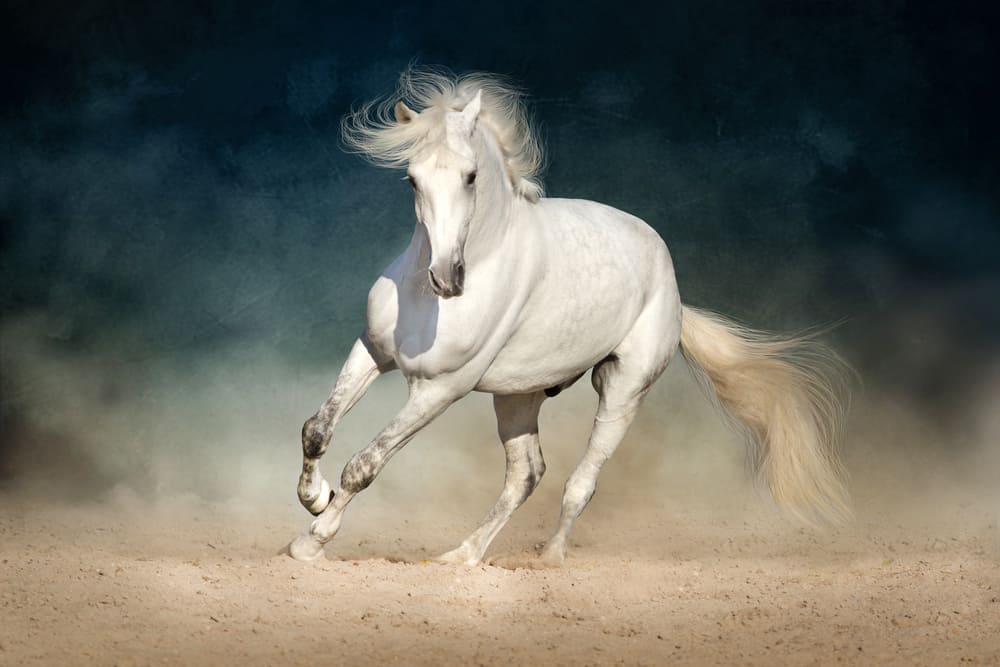 Swiftness, resilience, and power are traits all great racehorses possess. The names below connote these same qualities in some way or another.
Aelin: Meaning swift and strong.
Alaric: Meaning powerful ruler of all.
Althea: Meaning healer.
Andrea: Meaning strong.
Archibald: Meaning bold.
Archie: Meaning bold and brave.
Arlo: Meaning resilient, fortified hill.
Armani: Meaning warrior.
Aslan: From The Chronicles of Narnia.
Asva: Meaning swift.
Black Beauty: From Black Beauty.
Black Stallion: From The Black Stallion.
Blizzard
Boas: Meaning swift.
Bolt
Bruiser
Champion
Cyclone
Daenerys: From Game of Thrones.
Dante: Meaning enduring.
Darren: Meaning great one.
Dashing
Diesel
Durand: Meaning enduring.
Dustin: Meaning brave fighter.
Ekon: Meaning strong.
Emer: Meaning swift.
Enzi: Meaning powerful.
Etana: Meaning firm, strong one.
Ethan: Meaning enduring and strong.
Evardo: Meaning brave.
Everett: Meaning brave.
Flash
Fleta: Meaning swift.
Gale: After the strong wind.
Geralt: From The Witcher.
Hartmann: Meaning bold and brave.
Hecarim: From League of Legends.
Hurricane
Isa: Meaning strong-willed.
Iyara: Meaning swift one.
Javas: Meaning quick, fast.
Joey: From War Horse.
Kane: Meaning warrior.
Kenzo: Meaning strong.
Kohana: Meaning swift.
Leo: Meaning Lion.
Lightning
Magna: Meaning strong.
Marcella: Meaning warlike, warrior, and strong.
Maude: Meaning mighty battler.
Nakoa: Meaning brave one.
Namir: Meaning leopard.
Raghu: Meaning swift.
Ragnar: Meaning warrior.
Rapid
Rapidash: From Pokémon.
Sheriff
Sisu: Meaning resilient and determined.
Spirit: From Spirit: Stallion of the Cimarron.
Steadfast
Supersonic
Supreme
Swift Wind: From She-Ra and the Princesses of Power.
Thunder
Valerie: Meaning fierce and brave.
Windblown
Yayu: Meaning swift horse.
Coming Up With Your Own Racehorse Name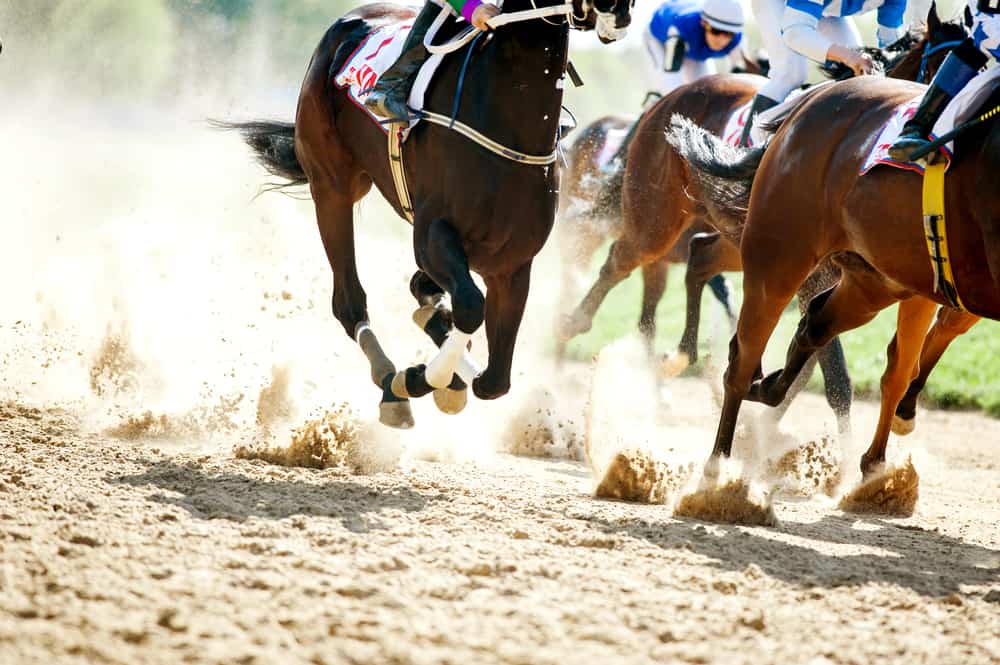 If you intend to actually enter races with your horse, you'll need an entirely unique moniker that stands apart from the rest. Of course, finding inspiration for your steed's race name can be a challenge – if you don't know where to start.
One great source of inspiration is your horse's lineage. You could name them after their sire, but give the name your own special twist. For example, if their sire was called "Dazzling Star," you could name them "Starry Eyed." Another source of inspiration is your own life and personal experiences. Your hometown, childhood nicknames, and favorite pastimes can all bring forth ideas for your horse's moniker.
We also recommend browsing the Jockey Club's recently released names since you'll find a wealth of inspiration there as well.
Before you begin brainstorming, though, make sure you're familiar with the breed association's regulations for names. Every association has various rules you have to adhere to if you're hoping to get your horse's name approved. For example, following the Jockey Club rulebook, the name cannot contain more than 18 characters or be similar in pronunciation to another registered name.
Once you've settled on a name that (to your knowledge) follows all the rules, check with the breed association to find out if it's available. If it is, you can then submit it for approval.
Below, you'll find some unique racehorse name ideas to further help prompt your creativity.
Ace of Spades
Berserker
Blackbeard
Blade of Odin
Bombardier
Bounty Hunter
Conquest
Dark Blade
Dark Fire
Depth Charge
Dream Catcher
Endless Tempest
Eternal Flame
Excalibur
Exiled from Void
Fireballin'
Flying Phoenix
Free Verse
Gone Rogue
HighwayHorse
Iron Maiden
Jackpot
Jitterbug
Kryptonite
Lady FastHooves
Loose Cannon
Merrylegs
Moonshine
Moving Thunder
Picasso
Quickbolt
Quickfire
Race the Moon
Racing Gamble
Radiant Sun
Rapid Sparks
Royal Chance
Spartan Princess
Speedy Houdini
Star Forger
Star of Orion
Storm's Fury
Striking Serpent
Time Shatterer
Trickster
Wandering Fire
Wild Sniper
Winter Solstice
Xena's Steed
Finding a "Winning" Racehorse Name
Finding the perfect name for your steed can feel as difficult as sprinting a marathon; not only does it have to be a moniker that captures their spirit, but it also has to complement their looks.
Luckily, the world of horse racing offers plenty of inspiration, so you're sure to find a "winning" name here that suits your horse in every way.