200+ Spanish Dog Names for Your Perrito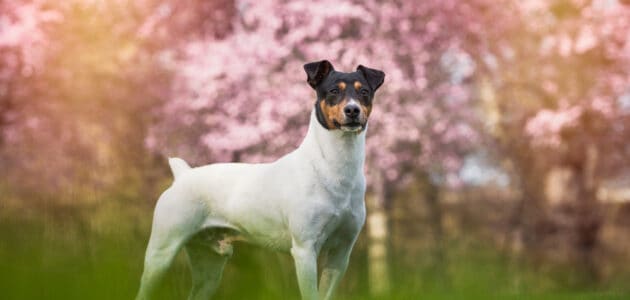 There are about 20 countries that have Spanish as their national language, and in the Americas alone there are over 470 million Spanish speakers. Whether Spanish is part of your culture or you just love the language, you may be interested in giving your dog a lovely Spanish name.
This would be an especially great choice if you're adopting a Spanish breed, but you can give any dog a Spanish name regardless of its roots.
The Basics of Español
If you've never taken a Spanish class before, we recommend you look up the pronunciation of the names you're interested in. However, we'll give you some of the basics.
First of all, the Spanish language ascribes feminine and masculine status to nouns. This means that any adjectives that describe those nouns have both feminine and masculine forms. Similarly, there are both male and female versions of certain names. So, if you see any names in our list with a "/o," that means that the masculine version ends with o.
For instance, Benita and Benito are the female and male versions of the same name. Chico is the word for boy whereas chica is the word for girl. You're probably starting to see a pattern. Now, you'll know which ending (o or a) to choose for names that can be masculine or feminine based on your preference.
Finally, understand that a double L usually makes a y sound, just like in the word tortilla. Even non-Spanish speakers know that it's tor-ti-ya and not tor-till-uh.
With that out of the way, it's time to look through our list of Spanish names! We've separated them all by theme and have provided the meaning of each name so that you can be sure to find one that is perfect for your puppy.
Food-Inspired Spanish Dog Names
We may find it odd to name a child after a food item, but for some reason, it's super cute when it comes to dogs. There are some great food-inspired Spanish names that sound cute, silly, and even lovely.
Asado – The South American Spanish term for a barbecue
Avellana – Hazel
Burrito
Canela – Caramel
Castaña/o – Chestnut
Dulce – Sweet
Bombón – Marshmallow
Churro – A fried dough twist covered in cinnamon sugar
Chorizo – A type of spicy sausage (this would be a funny name for a wiener dog!)
Empanada
Fabiola – Bean
Frijoles – Refried beans
Galleta – Cookie
Leche – Milk
Maní – Peanut
Margarita
Mora – Blackberry
Nacho
Pimiento/a – Pepper
Pisto – Spanish ratatouille
Regaliz – Licorice
Taco
Taquito – A crispy rolled taco
Tobasco
Tortilla
Cute Spanish Names for Dogs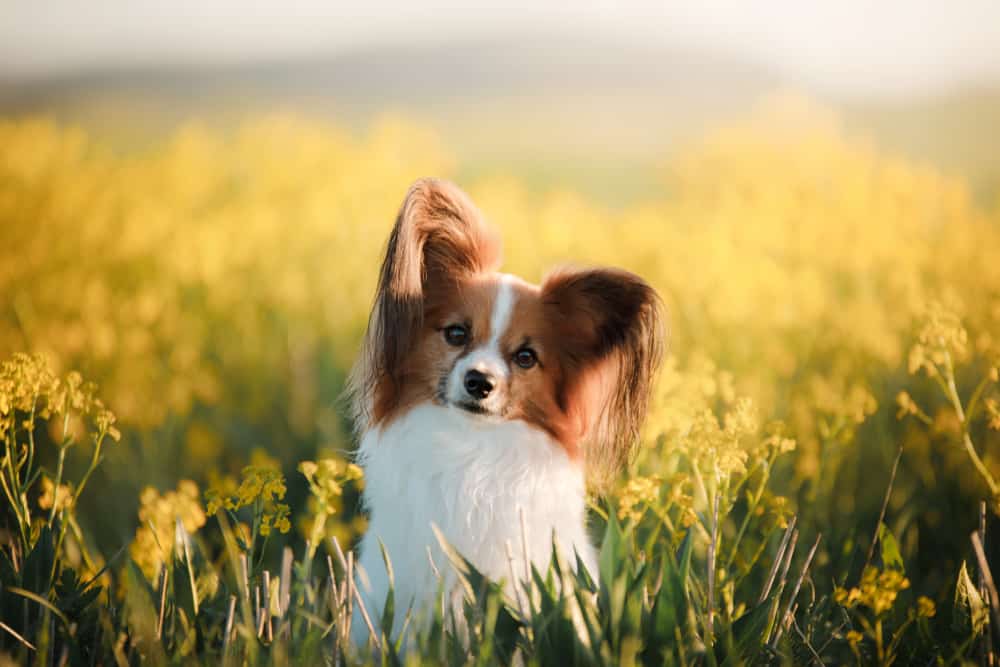 Dogs are adorable so why shouldn't they have a name to match? Here are some precious names for the cutest pups.
Benita/o – Blessed
Besos – Kisses
Carlito – Little Carlos
Catalina – Pure
Chiquita/o – Tiny one
Chula/o – Cutie
Conejita/o – Little bunny
Corazón – Heart
Feliz – Happy
Mariposa – Butterfly
Pablo – Small
Paz – Peaceful
Paula – Small and petite
Pepita – Nugget
Pequeño/a – Little
Pollita/o – Chick
Querida – Dear one
Tia – Princess
Funny Spanish Dog Names
One of the best things about naming a dog is that anything goes. This means you can even pick a silly name that would be ridiculous for a human but somehow works for a dog. These Spanish names either sound funny or have a chuckle-worthy meaning. 
Albondiga – Meatball
Bandido – Bandit
Bebe – Baby
Canijo – Stumpy
Cesar – Having long, thick hair (this would be a punny name for long-haired breeds!)
Chaparra/o – Shorty
Descarada/o – Sassy
Fabio – Bean grower
Gorda/o – Fat
Gordita/o – Chubby
Grande – Big
Loca/o – Crazy
Mullida/o – Fluffy
Perrito – Puppy
Perro – Dog
Risa – Laughter
Tonta/o – Silly
Torpe – Clumsy
Names Inspired by Spanish Cities
If you love to travel, perhaps the name of a beautiful Spanish city would be the perfect choice for your perro (that's Spanish for "dog").
Almería
Burgos
Cádiz
Córdoba
Coruña
Cuenca
Lugo
Madrid
Marbella
Melilla
Murcia
Palma
Ronda
Toledo
Valencia
Vigo
Cool Spanish Names for Even Cooler Dogs
It doesn't matter what language you're using, almost everyone is a sucker for a cool name. We've compiled some names that we think sound cool as well as names that have cool meanings.
Alejandra/o – Protector and defender of humankind
Alfonso – Ready for battle
Arlo – Strong
Arturo – Courageous
Aurora – The dawn
Azura – Sky blue color
Balta – An ax
Beatriz – Brings joy
Damian – One who conquers and tames
Emilio – Challenger and winner
Esmerelda – Emerald
Eugenia – Regal
Fiera/o – Fierce
Fuego – Fire
Geraldo – Rules by the spear
Gloria – Glorious
Isidora – Strong and beautiful gift
Juliana – Forever young
Leon – Lion
Leonardo – Bold like a lion
Luisa – Warrior
Pantera – Panther
Rebelde – Rebel
Toro – Bull
Ximena – One who hears
The Best Spanish Names for Male Dogs
Here are some Spanish names that are traditionally considered masculine. If you'd like, you can definitely use them on a female dog, but remember that there may already be a female version with an "a" ending.
Adolfo – Noble wolf
Adriano – From the Adriatic Sea
Agusto – Venerated
Almo – Soul
Antonio – Praiseworthy; priceless
Bartolo – Child of the farmer
Benito – Blessed
Carlos – Free man
Chico – Boy
Coqueto – Flirtatious
Cristóbal – Follower of Christ
Diego – Passionate
Domingo – Sunday
Eduardo – Wealthy defender
Enrique – Head of the household
Ernesto – Sincere and determined
Esteban – Wearing a victory crown
Eugenio – Born into high society
Fausto – Lucky
Federico – peaceful warrior
Felipe – Lover of horses
Fernando – Bold voyager
Francisco – Free one
Goyo – Watchful
Hector – Unyielding
Hermoso – Handsome
Hernando – Adventurer
Inigo – Fiery; also, Inigo Montoya from The Princess Bride
Javier – New house
Joaquin – Established by god
Jorge – A farmer
José – Joseph
Juan – God is gracious
Lorenzo – From where the laurel trees grow
Manuel – God is with us
Marco – Warlike
Mateo – A gift from god
Miguel – Closest to god
Oso – Bear
Pablo – Paul
Paco – Free
Pedro – Dependable
Ricardo – A powerful ruler
Rodrigo – A famous ruler
Sebastián – Revered, respected, and adored
Vincente – Victorious conqueror
The Best Spanish Names for Female Dogs
Spanish names for ladies are so pretty! Here are some lovely names that are traditionally feminine. Once again, you're free to mix things up and use these for male dogs, too; your dog won't know the difference, anyway!
Allegra – Joyful
Alma – Soul
Alondra – A lark
Amaya – Beautiful night rain
Ana – Gracious
Bella – Beautiful
Bonita (Boni for short) – Pretty
Brisa – Breeze
Carina – Beloved
Cecilia – Blind
Chica – Girl
Clara – Clear and bright
Consuela – Comfort
Coqueta – Flirtatious
Dahlia – A type of flower
Elena – Splendor
Elisa – Devoted to god
Emilia – Emily
Esperanza – Hope
Estrella – Star
Eva – Life
Frida – Peace
Gabriela – God is strength
Gitana – Gypsy
Isabel – One who loves god
Juana – God is merciful
Laura – Crowned in laurels
Leticia – Joy and happiness
Lola – Sorrows
Lucia – Full of light
Luna – Moon
María – Mary
Marina – From the sea
Marisol – The sun and the sea
Milagros (Mila) – Miracle
Paloma – Dove
Perla – Pearl
Ramona – Wise protector
Reina – Queen
Rosa – Rose
Selena – The moon
Sierra – From the mountains
Sofia – Having great wisdom
The Best Unisex Spanish Names for Any Dog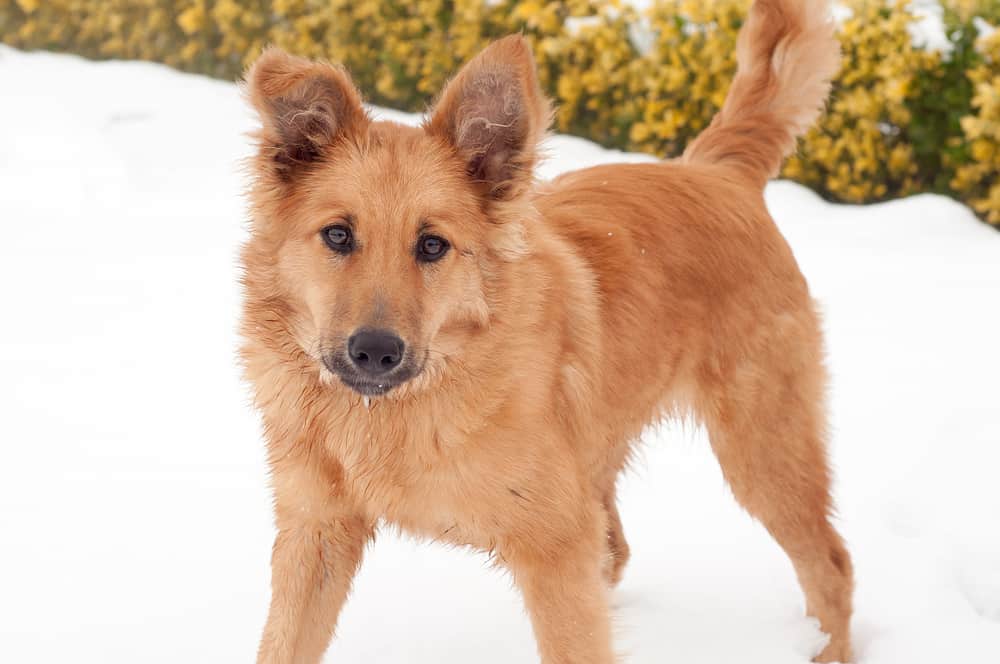 Finally, we have some wonderful Spanish words that make the perfect unisex names.
Amiga/o – Friend
Amor – Love
Chispa – Spark
Cielo – Sky
Cruz – The cross
Cuervo – Raven
Diablo/a – Devil
Diablito/a – Little devil
Ensueño – Dream
Loba/o – Wolf
Luz – Light
Noche – Night
Ocaso – Twilight
Oro – Gold
Roja/o – Red
Santana – Saintly
Soleada/o – Sunny
Uno – One
Zorro – Fox
How to Choose a Name
Some of you may have gone through this list and already know what you want to name your dog, but others may be feeling a little overwhelmed. We humans tend to have an easier time making a choice when there are fewer options. Don't get discouraged! Instead, take the following into consideration.
Pick a Name With Two Syllables
According to renowned animal behaviorist Patricia McConnell, dogs are more likely to come to short sounds that rise in pitch. For this reason, two-syllable names work especially well. Think of that sing-song voice you use to call your dog and you'll see that it's much easier to call Zor-ro than Lu-uz.
Don't Expect Your Dog to Act Like Its Name
If you're choosing a name because you hope your dog will become like that name, then you may want to reconsider. As Juliet expresses in the famous Shakespeare play when she says, "What's in a name," a name is just a name and does not change the essence of a being.
Lola is an adorable-sounding name, but it means "sorrow." How many dogs named Lola (or people, for that matter), do you know that are totally depressed? It's definitely nice to have a name with a meaning you connect with, but don't expect your dog to live up to that name. You may name your dog something that means "protector," but she may turn out to be a total coward instead!
The Furbaby With the Fuego Nombre
We hope you've found a Spanish name for your dog that is totally fuego. If not, that's okay, too. Sometimes, it takes a few days before you can settle on something.
Whatever you decide, we know that your furbaby has a future full of love ahead of it. After all, only a loving parent would spend time going through hundreds of names on the internet!