The 10 Best Aquarium Canister Filters in 2023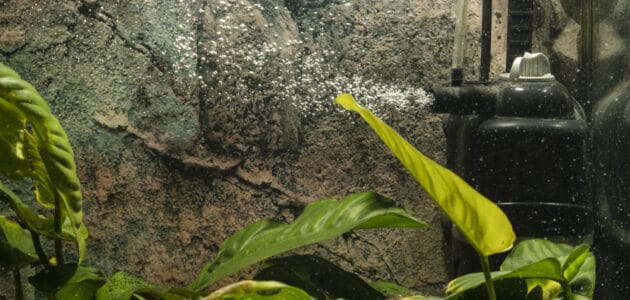 Keeping an aquarium running entails keeping it clean first and foremost, as it's not only important you have visibility, but you also want to ensure it's a healthy and hospitable environment. From fish to turtles, to monster squid, nobody wants a tank that's filled with slime and grime. This is where an aquarium canister filter comes in, ensuring the water is continuously kept crystal clear. Here we'll take a look at what filter is right for you, whether you're an amateur hobbyist or simply keeping pets for the whole family to enjoy.
What to Consider When Buying an Aquarium Canister Filter
When it comes to buying a filter, you ideally want the best fit, whether it's fish for the home or showcasing animals on commercial premises. First, we'll take a quick look at what goes into buying a filter, what makes a canister filter different than other options, and then we'll get down to reviewing the canister filters themselves.
Canister Filter Specifications
Considering your filter's capabilities is crucial, as you don't want to discover last minute that the filter's incapable of keeping up with the tank's demands. That's why knowing the basic terms is essential.
Gallons per Hour
You'll find this commonly abbreviated to GPH, as it lets you know what the hourly rate of flow is on your filter and how many gallons it's capable of filtering.
Size and Weight
Pretty self-explanatory, it's still important you don't overlook this one, as space is always an issue when it comes to fitting your canister filter. Not only is it essential that you install the canister, but you must also give your fish enough room to swim around happily and the tank itself also needs to sustain the weight. There's also the case of canister or HOB, which we'll look at further down.
Separate Canister Filter Parts
Filter Media
Media is the contents of the filter itself altering the water quality, and it can be a range of different types. There are three categories; mechanical, biological, and chemical media. You'll likely need to refill this yourself, so make sure it's one that's simple enough to maintain.
Spray Bar
The spray bar works from the top of the filter, pumping water back into the tank, spraying across the surface. From this, you can maintain surface agitation, ensuring the water itself is sufficiently oxygenated.
Spillway
Like how the Spray bar works, this differs in that it acts as a waterfall, pumping the water back in from a height. These are reasonably elaborate and require more installation wise.
Extras Add-ons
Sometimes it's vital to have add-ons and extras, especially when it comes to niche fish that may require specific conditions.
Heaters: This is useful for making your fishy friends feel at home, as some are used to a more tropical climate. With a heater integrated into the filter, you can effectively set the water to whatever temperature you require.
Sterilizers: These sterilize the water when it needs to be crystal clear for some more refined tastes. Usually, this means a UV bulb is included with the filter, also adding to the overall aesthetic of the canister as a whole.
Micron Cartridge Filter: You'll find this is used for clearing debris from the tank, keeping the water polished as well as unpolluted. Many come with their own Micron rating, which you should also take into account.
Why Are You Buying a Filter?
It may seem like an obvious question, but it's one of the most important to consider before rushing off to make your purchase. Factors such as the amount of fish you're keeping, as well as their breed, needs taking into account. It could even be the case that you're planning to keep turtles, in which case you'll need a lot more space.
The size of the tank itself needs to align with the filter. Finally, there's the cost, and you do have some budget-friendly options, and it's not just the upfront cost, but efficiency as well.
Now we'll take a look at the best available canister filters you can currently buy, but we'll also go into further detail below.
Guide to Buying the Best Aquarium Canister Filters in 2021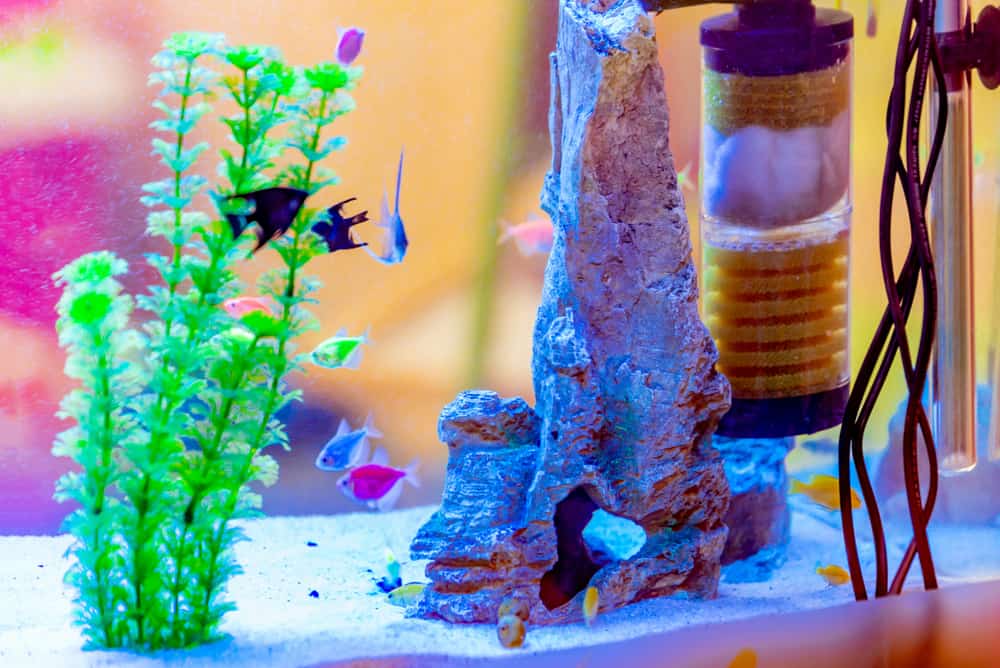 A lot goes into purchasing an aquarium canister filter, so you need to weigh all your options before committing yourself to anything. Here we'll take a closer look at the canister itself, what it means, and how you can make yours last even longer.
What Exactly Is a Canister Filter?
So, first things first, you want to familiarize yourself with the aquarium canister filter and what it can offer you. Simply put, the canister filter takes the water from the aquarium and sieves it through a series of media filters found within the pressurized canister, and then pumps it back out, either using a spillway or spray bar. The main benefit of using a canister filter as opposed to other types of aquarium filters is that canister filters often make much less noise.
The filter pumps the water from the tank, using tubes to draw the water in through the canister and back out again. There are many variations to this, with some implementing different add-ons, as we shall see, but the filter itself is the core part of it.
Filter Cleaning and Maintenance
Keeping your canister filter well maintained is essential, as you don't want it immediately breaking down, especially when the life of your fish depends on it! While there are some more in-depth video guides out there, here are some quick cleaning pointers to help get you started:
Shut Everything Off and Prepare the Area: First, turn off the filter, making sure there's no electricity on, followed by shutting off the valves and unscrewing the tubes. Then you need to transport it to an area with plenty of room, and plenty of towels, as it's going to get wet!
Remove the Housing and Insides: depending on where they are, locate and release the locks around the canister's housing on both the motor and the insides, carefully removing it and setting it aside. Let as much water drain before installing the filter and use the towels to catch any excess.
Clean the Filter: it's best to use a sink here, as you hose the filters down now. You then want to use a scrubbing pad, although an old toothbrush is ideal for the fiddly bits, and work at all that slime and algae that's been building up. Keep rinsing, as there'll be mounds of excess grime.
Remove and Clean the Impeller: This is delicate work, so you must be careful, and it's best to use a toothbrush to reach those tricky corners, removing the gunk gently. Wipe the hole, too, cleaning it with a q-tip, removing all resistance before putting it back together.
Clean the Canister: You'll need to remove the media trays here, making sure to get rid of all excess water. It's essential to work quickly now, as you could be losing vital bacteria in the oxygen. Then rinse out the inside of the canister, wiping out all the grit and grime.
Reassemble and Turn on: Fitting it all back into place, you can lock everything down, including the housing and motor, before fastening the tubes and valves, making sure not to screw too tightly. Then, turn the valves to 'on' and filling it up before plugging it in and switching it all on.
You can usually schedule cleaning the filter around your own schedule. You don't want to leave it too long, though, as not only will the fish be swimming in their filth, but you'll find yourself having to buy a whole new canister.
Practicality and Aesthetics
When it comes to how your aquarium will look, you'll have to weigh between being practical and it looking good. You may have set up a sight to behold with a fantastic spillway that wows visitors, but it's going to be difficult if you're always cleaning it out. There's also no point in having it look excellent if you're storing livestock in the back of commercial premises.
While all of this may seem obvious, you must consider what your aquarium's purpose is going to be, as this will dictate a large part of it.
Canister vs. HOB
The 'hang on back,' or HOB filter as it's more commonly known, is a filter that simply does what it says and hangs on the back of the aquarium. While canisters sit either beside or in the tank, HOBs use a small pump and a water lift tube. There are some filters that do both, but, for the most part, you'll need to decide which is best for you.
Price is usually one of the defining features, with the HOB typically being a lot cheaper. Then there's the installation and maintenance, with canisters placing a higher demand on the user. When it comes down to it, though, HOB filters are usually better for smaller personal tanks. Alternatively, canisters are more professional, giving more in the way of functionality and water quality.
Tips for Installing
Getting yourself setup, installing your canister filter, and fitting it in place is a significant part of the process. Here we'll take a brief look at that:
Start With the Manual: While this may seem obvious, this is the best place to start, as every filter will differ. You should also find installation videos online of the individual models, showing you how to fit the specific parts.
Collect the Parts Together: Lay everything out, making sure you have the room. Then take inventory, making sure nothing's missing.
Canister Assembly: First, taking the canister and opening it out, checking all the filtration media is correctly in place. This process may vary depending on the canister itself. Rinsing it out, you can clear it of any dust before fitting it together.
Placing the Canister: This needs to consider both the practical application of the filter and how it looks. Test it out, making sure it's easy to remove when necessary while also not obstructing the view, and being close enough to plug in everything.
Fitting the Hoses: There are two hoses, with one pumping water into the filter, and the other pumping it back out. You don't want to screw these too tightly, as mentioned earlier, as you'll end up causing leaks later on.
Priming and Managing the Air: Once the canister is all together, you need to make sure it's filled with water before switching it on. Most basic canisters have a self-primer you can use, but if not, you'll need to suck on the siphon hose to make sure it's filled completely.
Making Adjustments: This will include adjusting the intake screen along the bottom of the tank while ensuring the filler return tube is in the right place. You may have a spray bar, in which case you want to allow it to give good coverage of the water surface.
Take your time over each step, as it would be annoying to have to pull everything back out of the tank due to a misplaced part. You want to make sure it's working at maximum efficiency, meaning less work in the long run.
Aquarium Canister Filter FAQ
How Long Do Canister Filters Last?
It's usually the case that a good filter canister will last a long time, with some running between fifteen and twenty years on average. Obviously those of better quality will last longer, but it also depends on how well you take care of it. From the motor to the filter media, you can find new parts for it whenever necessary.
How Can I Make My Canister Filter Quieter?
If a filter is being excessively loud, it usually means there's an issue with the pump. If this is the case, take it all apart, seeing whether there's any dirt before replacing anything. It could just be that something has been sucked into the filter, which means it needs removing. You can also lower the water flow rate, as you don't place too much stress on the filter, but equally don't have it too low because this will pollute the tank.
Which Is Better, Canister Filter or Sump?
Some may choose to have a sump as opposed to a canister filter, which all depends on the user's needs. A sump filter may offer more versatility in many ways, but a canister is often more accessible. It can also come down to water coverage and the tank's layout, so plan how everything will ideally fit in place.
Can You Use a Protein Skimmer With a Canister Filter?
The protein skimmer can be useful for many reasons, most notably its ability to remove waste and excess food from the tank. Usually, many use a skimmer alongside a sump, although you can use it with a canister too, and if you have reefs, they're essential. If you do have it with a canister filter, you must make sure you clean it out regularly.
Cleaning Up
It's always important to keep in mind that your aquarium's water can never be too clean. While you don't want to overdo it as you can only depollute it so much, making sure the GPH is high is one of the best places to start. Once you have it all in place, you'll then have a happy and healthy tank, which will not only be great for you but will please your fish as well, and this is what it's really all about.