The 11 Best Automatic Fish Feeders to Buy in 2021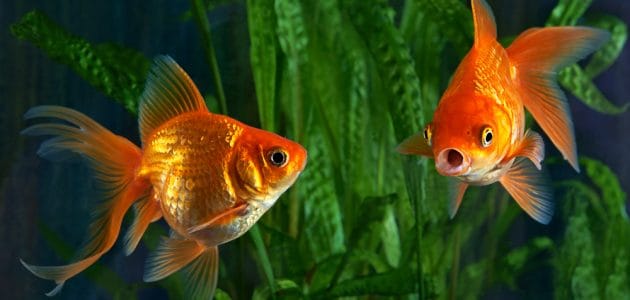 Fish are possibly the best living things you can choose to care for. They don't talk, they don't tear up furniture, and they certainly don't soil the carpet. Fish add a mesmerizing ambiance to any room, and their low maintenance nature is only rivaled by house plants.
Although low-upkeep, you still have to make sure to take care of your fish. That means that along with occasional tank maintenance, you're going to need to feed them at least once a day. Daily feeding is easy enough, but it makes spending extended time away from home a challenge.
Whether you're looking to take a vacation, prevent an aquatic uprising from over or underfeeding, or simply trying to find an excuse to get your kids to stop complaining about feeding the fish, automatic fish feeders are a great addition to your aquarium. And don't worry about doing any heavy lifting – we'll guide you through the entire process.
Do You Really Need an Automatic Fish Feeder?
Before you start swimming through the vast number of automatic fish feeders and their features that best suit your needs, you should make the most important consideration first: do you really need an automatic fish feeder?
There are a number of reasons you might want to purchase an automatic fish feeder. If you frequently travel, work a lot, or struggle with forgetting to feed your underwater friends, then an automatic fish feeder is a worthy consideration.
However, like most people, nobody will blame you for being mistrustful of a mechanical device that works on your behalf to feed your pets. Generally, automatic fish feeders are reliable. But in the off-chance that you encounter a clog or feeder malfunction and you don't catch it soon enough, your fish could be, as they say, "swimming with the fishes."
That's why, if you plan to purchase an automatic fish feeder, we recommend doing supervised testing of your feeder before installation. It will save you from future frustration and ensure your fish stay happy and healthy.
Things to Consider in an Automatic Fish Feeder
With so many automatic feeders on the market, finding the right one can be difficult. Here are some considerations you should make when finding the right automatic fish feeder for you.
Type of Fish Feeder
Okay, so you've decided that an automatic fish feeder is what you need. Now you've got to make a choice: what kind of fish feeder do you need?
This is generally dependent on a number of factors: the size of your aquarium, how many fish you're feeding, and the food you plan to use. There are four different types of automatic feeders to choose from: barrel, portion, stationary, and underwater feeders.
You can find more information on the different types of fish feeders here but they're described in brief below:
Barrel Feeder: Barrel feeders use a revolving barrel to drop food from above the tank periodically.
Portion Feeder: Portion feeders use an internal mechanism to dose and drop a hand-portioned dose of food into the tank.
Stationary Feeder: Stationary feeders are simple and push a small amount of food out of a single hole over a fixed interval.
Underwater Feeder: Underwater feeders are completely submerged and single-use, dissolving over time to release nutrients and food into the water.
Types of Food You'll Use
The type of food you plan to use with an automatic fish feeder is perhaps the most important aspect in choosing an automatic fish feeder. Generally, automatic fish feeders will work with any type of dry food. However, both the type of feeder and the food can impact the feeder's performance.
For example, particulate-sized granules typically don't play well with barrel feeders without slight modification to the feeder, while flakes can present an issue with caking and clumping due to moisture.
For recommendations and more information on how different foods work with automatic fish feeders, check out our in-depth guide on each type of fish food for your automatic feeder.
Capacity
While the type of feeder and food are important to consider, the feeder's storage capacity is an equally important consideration. Portion feeders are great for accurately dosing feedings, but have a limited capacity.
Meanwhile, barrel and stationary feeders typically have a larger capacity, making them great for holding food for longer periods. This is great if you frequently forget to feed your fish, travel a lot for work, or simply have a large tank. Capacity is typically measured in ml, and the larger the measurement, the more time you can go between change intervals.

Ventilation
Ventilation is an important feature for automatic fish feeders. Because feeders typically reside so close to open water, stray splashes and condensation from humidity can cause food inside the feeder to get wet, leading to caking, clumping, and food rot.
Power Source
Nearly every automatic fish feeder uses power to provide food for your fish. When selecting the right fish feeder for you, it's important to consider how the feeder is powered. Generally, there are 3 ways to power an automatic feeder:
External Batteries
Feeders that use external batteries typically use AA or AAA batteries. You might consider using rechargeable batteries as a happy medium between regular battery and rechargeable models, and they'll last longer as well. However, some manufacturers recommend against using rechargeable batteries.
Internal Rechargeable Batteries
Rechargeable fish feeders use an internal rechargeable battery. These usually typically work while plugged in as well, and utilize a micro-USB charging port.
Power Plug
Feeders that use a power plug as a means of powering the feeder are similar to rechargeable feeders, but have no internal batteries. This is not a common power source, and is typically reserved for higher-end feeders like the HDE Automatic Fish Feeder, which connects to WiFi and constantly needs power to operate effectively.
If you'd like even more information about what you should consider when shopping for an automatic fish feeder, please feel free to check out our more detailed considerations below.
Now that we've covered the basics, it's time to get into the best automatic fish feeders in 2021.
Top 11 Best Automatic Fish Feeders 2021
Everything You Need to Know about Automatic Fish Feeders

While we covered a lot in the beginning of this guide to help you make an informed choice, there are a few more considerations you should keep in mind. Before you pull the trigger on any one product, make sure you have all the information that will help guide you to the perfect product.

Different Types of Automatic Fish Feeders
There are 4 distinct types of automatic feeders, each with their own benefits and drawbacks.
Barrel Feeders
Barrel feeders are the most common type of fish feeders on the market. They feature an internal motor and a feeding container that rotates to dispense food to your fish. They often feature adhesive or clamps to secure them on the top or to the side of your tank.
If you have a lot of fish in a large tank, or if you're going away for extended periods of time, then a barrel feeder is probably what you want. However, barrel feeders are sometimes problematic, particularly with certain types of food, so you'll want to keep that in mind.
Portion Feeders
If you're stringent about portion control, or have a small tank with few fish, portion feeders are an optimal choice. Portion feeders work great for fish bowls and small tanks, but they're a poor choice for large tanks.
They also cannot provide feedings for as long as barrel feeders. This means if you're planning a trip lasting more than two weeks, you should consider using another type of feeder.
Stationary Feeders
Much less common than barrel feeders, stationary feeders are feeders that do not feature external moving parts. Instead, the moving parts are inside the feeder, and typically push food out of the dispenser hole.
They typically hold up against moisture better than barrel feeders, but they're not immune to moisture problems. Feeders like the Eheim Twin Automatic Feeder work with all types of food, while others like the Fish Mate P7000 Pond Fish Feeder work better with pellets and sticks.
Underwater Feeders
Underwater feeders are a unique type of feeder that don't use power or any kind of mechanical parts. Instead, they are blocks of dissolvable material with food embedded in them. Underwater feeders have distinct advantages and disadvantages over other types of feeders.
The advantages of underwater feeders are that you don't have to worry about powering them, or unreliable mechanical parts malfunctioning. They're also the easiest of all types of feeders to use, as you simply put them at the bottom of your tank and let the water do the work.
On the other hand, the main disadvantage of underwater feeders comes in the form of tank requirements. You'll need a tank that utilizes aeration and filtration, meaning they're not good for fish bowls or unfiltered tanks. You also cannot control what types of food they use, they're single-use, and water hardness can impact the rate at which the block dissolves.
A Note on Ventilation
Despite the importance of ventilation, many automatic fish feeders do not actually provide ventilation within the food chamber. In fact, only three feeders on our list offer a proper means of ventilation:
That doesn't disqualify non-ventilated options from usage, but remember to watch out for humidity and mold, cleaning periodically if you select one of the non-ventilated options available.

Consider the Type of Food You'll Use
The type of fish food you plan to fill your fish feeder with is perhaps the biggest consideration to contend with when purchasing an automatic feeder, and can using the wrong food can greatly hinder the performance of nearly any automatic device.
Flakes
Fish flakes are the most common and well-known type of fish food on the market. Even if you've never had a fish before, you've likely heard of fish flakes.
Flakes are often the cheapest and most widely available type of fish food on the market. They're optimal for top-feeding fish, and great for fish with small mouths. However, they aren't a great choice for bottom-feeders.
Of all types of fish food available, flakes are the quickest to dissolve. Because flakes quickly dissolve, they lose nutrients quickly, and can easily muck up your aquarium's water. They can also cause your fish to swallow air while feeding, potentially leading to a swim bladder disorder.
Flakes are also notoriously known as being the most finicky type of fish food for automatic fish feeders. As dry fish flakes collect moisture from stray splashes and accumulating humidity, the food can become sticky. This leads to the food caking to the storage apparatus or clumping and blocking the feeding hole, presenting a potential danger to your aquatic friends by cutting off their food supply.
Even if you pick a feeder that aptly utilizes ventilation, sticking and clumping can still present itself as a problem with flakes. For this reason, we recommend you consider switching from flakes to crisps or pellets as the best way to combat this issue, especially if you're set on the idea of using a barrel feeder.
If you'd rather stick with flakes, we recommend using a good portion feeder, such as the Fish Mate F14 Aquarium Fish Feeder, which will allow you to not only prevent clumping and sticking, but also accurately gauge each dose of food.
Crisps
Fish food crisps are chip-like pieces of fish food, similar to flakes, but in a denser form. They're often referred to as the middle ground between flakes and pellets.
Compared to flakes, they provide the benefits of floating for longer and not dissolving as quickly. This means that – unlike fish flakes – they retain nutrients longer and make for cleaner feedings. They typically float longer than pellets, thus proving favorable with smaller fish that have a hard time with pellets.
In addition to being more nutritious and cleaner for your tank than flakes, crisps are more resilient to moisture. This makes them a great alternative to flakes in an automatic feeder. You can easily break them down into smaller pieces to avoid clogging the dispenser, and you don't have to worry about clumping from the ambient humidity near the feeder.
However, crisps have two significant drawbacks compared to flakes and pellets. First, if you're a thrifty shopper, you might find crisps aren't economical enough compared to cheaper flakes and pellets. Size is another issue with crisps.
Whereas flakes are easy for your fish to eat, and pellets come in many sizes, crisps don't afford quite the same variety. Fixing this is easy enough. You can simply break the crisps into smaller pieces for smaller fish, but it means you'll spend more time prepping your feeder than simply tossing them in.
Pellets
Fish food pellets are another common type of food, found in many forms and prices. Not only are there a variety of sizes – from particulate-sized granules to large pellets for bigger fish – but there are three distinct types of pellets: floating, slow-sinking, and fast-sinking. They're great for fish of all types and sizes, from top-feeders to bottom-feeders, and have a longer shelf life than flakes.
Pellets also dissolve slower than flakes and crisps, giving everybody in your fish tank ample opportunity to gobble up the food before it dissolves. Like crisps, they also work better with most automatic feeders than flakes do, and won't clump or cake inside the feeder from humidity.
With that said, pellets have their own drawbacks compared to flakes and crisps. Fish that aren't introduced to pellets early enough in their life can show resistance to pellets. You can fix this issue by making your fish fast for a few days, but it's worth knowing if you aren't already feeding your fish pellets.
Pellet size may also impact the performance of your feeder. Large pellets can lodge themselves in the dispenser hole on some feeders, causing the feeder to clog. Small granular and particulate-sized pellets also present a risk of accidental overfeeding in some types of feeders. You can easily remedy the latter of these two issues yourself, but it's worth weighing these drawbacks.
Since different types of fish may require different types of food, you also have to be mindful of the type of pellets you're using. For example, plecos are bottom-feeding fish, while guppies are top-feeders. They mix well together in a tank, but making sure you're getting sufficient nutrition to everyone in your tank might require a combination of floating pellets and fast-sinking pellets.
While portion feeders can handle this issue easily, barrel feeders do not guarantee consistent distribution of multiple types of food. If you have a tank with a diverse community of fish with different dietary needs, you might want to consider using the Eheim Twin Automatic Feeder, or purchasing multiple feeders if you're planning to use a barrel feeder.
Setting up an Automatic Fish Feeder
Your fish feeder of choice will come with specific instructions on how to set it up. However, we have some tips and tricks to help you get the most out of your automatic feeder.

Do Supervised Tests on Your Feeder
The first rule of automatic fish feeders is test, test, test! You want to make sure that the food you choose to give your fish will play nicely with the feeder. Unless you choose a portion feeder, you're going to want to gauge how much food each feeding will provide before you attempt to install it.
To do this, simply fill the feeder and temporarily mount it to something. Using a few bowls, let the feeder dispense food into each bowl once. The more times you do this, the more you can accurately measure the feeder's consistency to make necessary adjustments.
Once you're convinced your feeder works consistently and you install it on your tank, you'll want to keep a close eye on the feeder for a few weeks. This is to not only ensure your feeder continues to work reliably, but to also guarantee clumping and clogging aren't going to cause problems.
Keep Feeders High Above the Water
If your feeder is too close to the water, stray splashes from aerators and top-feeding fish can cause serious issues. If water manages to find its way into the food dispenser, it could lead to the food clumping together, causing a blockage that can prevent food from being properly dispensed. It may also result in the food caking inside the container, and if left to sit for too long, can cause food rot or mold and bacteria growth.
To avoid this, you'll want to ensure that you place your feeder as high above the surface of the water as possible and away from bubbling areas of the water. This is one of the reasons we suggest you closely monitor your feeder for several weeks after installing it.

Barrel Feeder Overfeeding Workaround
Barrel feeders are great for convenience and hold more food than most other styles of automatic fish feeders. But if you use small granules, such as tropical fish granules, or care for a small number of fish, barrel feeders present a danger of accidental overfeeding. This isn't just an issue with specific models – it's a universal problem among barrel feeders.
Though the dispensers are adjustable, the most-closed setting on most barrel feeders leaves too much of an opening for small communities and fine foods. So how do you remedy this? By using a small piece of tape.
First, adjust the dispenser door to the smallest setting. Then, take a small piece of tape and cover part of the remaining opening (how much of the opening is up to you and your needs). Test the feeder, and adjust the tape if necessary. Increase or decrease the flow of food until your feeder dispenses the appropriate amount of food. Have patience, as it may take some trial and error.
Wrapping Up
Feeding your fish is easy. Finding the perfect automatic fish feeder – now that's a different story. However, we've made it easy to figure out how to find the right fish feeder for you. Our universal favorite? The Eheim Automatic Feeding Unit, but maybe you'd like another. Either way, your fish will thank you when they're happily fed every day, whether you're around or not.