The 8 Best Dog Whistles to Buy in 2023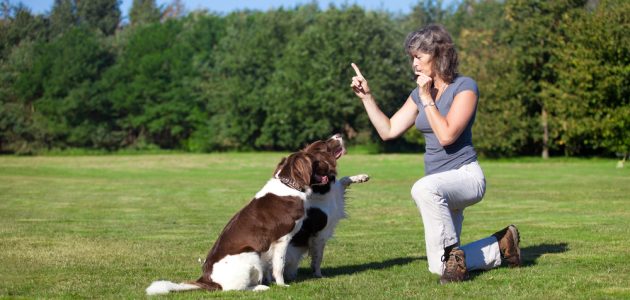 If you own a dog, chances are you've considered investing time and money into training your furry friend. After all, a little training goes a long way when it comes to cutting down on those mischievous puppy antics. A tried-and-true solution, the dog whistle, is the perfect tool to help with your pup's obedience journey.
Dog whistles can be used to teach your dog basic commands, like "sit" and "stay," or can be used for more advanced techniques, like long-distance recall. They are unique in the fact that they can issue signals over long distances and be manipulated to produce a variety of sounds that correlate with different commands.
Additionally, whistle training works with virtually any dog of any age. Even if you think you've left it a little late to start teaching your pup some manners, it's never too late to start whistle training!
It can be overwhelming to start the search for a dog whistle yourself, and that's why we're here to help. We've gathered a list of the best dog whistles around so you have all the information you need to make your decision easier. In this list, we'll break down the different types of dog whistles and what features you want to consider when buying one.
What to Consider When Buying a Dog Whistle
When choosing a dog whistle, the type of whistle, frequency, and build quality should all play an important part in your decision-making process. Additionally, you may want to consider any special features that come with the whistle, such as training booklets or a lanyard. We have factored these things into our reviews.
Type of Whistle
The way you're going to use your dog whistle has a major impact on the type of whistle you should be and the features you'll need.
Dog whistles can be made either with or without a 'pea' (sometimes called a pearl). The pea is a floating piece of cork within the whistle that moves when air is blown through. This causes variations in the pitch and creates a trilling sound.
A pea whistle is better if you are working within a closer range to your dog, or if you want to produce a greater variety of sounds.
On the other hand, a pealess whistle produces a sharper, louder sound that typically crosses a greater distance. A pealess whistle is also ideal for use in extreme cold weather; the pea in a whistle can freeze as saliva touches it in cold temperatures.
Some dog whistles are ultrasonic. Ultrasonic whistles are typically electronic and controlled via a button. They produce a sound only dogs can hear. These are best used around the house as you won't upset your neighbors with a loud noise when using it. Ultrasonic whistles are not safe for use with hard of hearing dogs or dogs younger than 6 months as it can damage their developing hearing.
Material
Most dog whistles are made with either a simple plastic or metal, though there are some more advanced types that include electronic components and LED lights.
If you plan on taking your dog camping in the wilderness or on other outdoor adventures, a metal whistle might be better to consider. Metal whistles tend to be more durable and can survive easily in extreme temperatures.
A plastic whistle is better suited for training where you don't anticipate being in rough terrain. An added bonus for plastic whistles is that they don't reflect the outdoor temperature like a metal one would. If you go hunting with a plastic whistle, it will still be comfortable to put your mouth on hours later.
Frequency
A dog's hearing ranges between the frequency of 67-65,000 Hz. They can hear higher-pitched sounds compared to a human's hearing frequency of 20-20,000 Hz.
Most humans hear best in the range of 1,000-5,000 Hz, as this is the range where human speech is centered. Almost every dog whistle will be at, or above, the 5,000 Hz frequency.
That being said, frequency is very important when deciding what kind of whistle to buy. Whistles closer to 5,000 Hz will be more audible to the human ear, while whistles above that frequency will be practically silent.
Higher-toned whistles may also work for dogs that are losing their hearing; some will be able to hear these higher sounds better than lower ones.
Every dog's hearing is unique, and some respond to training better at different frequencies. If desired, you can purchase a whistle with an adjustable frequency and take the time to figure out which one your dog works best with.
Price and Features
Price is worth considering when it comes to investing in a dog whistle. It may be tempting to spend lots of money on something advertised as top of the line, but there are many mid-range and budget options out there that will be able to suit your dog's training needs just as well.
It is also helpful to look at any extra features that might be sold with the whistle. This includes other training tools like a whistle training guide to help you get started or a lanyard to help you keep track of the whistle.
Now that you know exactly what to look for in a dog whistle, let's dive into the best dog whistles on the market today.
Top 8 Best Dog Whistles to Buy in 2023
Guide to Training With a Dog Whistle
The dog whistle has long been regarded as a valuable training tool. Since its invention in 1876, a range of different dog whistles have been developed for use. Training your dog with a whistle has a number of benefits that other training methods may not have.
Goals of Whistle Training
If you have decided to train your pup, they most likely have stolen one too many socks, or barked at a few too many squirrels. Or maybe you want to be able to trust your dog enough to let them off-leash in a dog park. Either way, it's time for your furry friend to learn some manners. The goal of whistle training is to gain command over your dog, which in turn will enhance your relationship with them.
Teach Your Dog Life Skills
Whistle training allows you to interact with your dog in a common language and better help your dog to navigate the world with you. It can also increase your bond with your dog.
Peace of Mind
When your dog is well-trained, you're never going to be worried about it running away or dragging you down the street on an exciting walk. Once trained, the dog will always answer to the sound of the whistle and follow your lead.
More Freedom
If your dog is well-trained, they can go to more places and meet more people. They will have the freedom to explore and follow you on adventures because they know how to behave and respond to your commands. Everyone loves to be around a polite dog, and a polite dog loves to meet people.
Mental Exercise
Every dog, from the smallest to the largest, needs to exercise their mind. While it may not seem like it sometimes, your dog is very smart and thrives when presented with learning challenges.
Whistle training provides an outlet for your dog to learn and work their brain at the same time. It's a recipe for a very tired pup at the end of the day!
Why Train With a Whistle
Whistle training provides a number of benefits that make it rise to the top in terms of training techniques. Once you start using a whistle to train your dog, you will be able to see for yourself how well it works.
Keep Commands Emotionless
If you are training solely using your voice, the dog can pick up on any emotions you have as you speak. For example, if you are frustrated at them, they will hear this in your commands, which can upset the dog and be a hurdle to training them properly.
Conversely, when you use a whistle to command your dog, all they hear is the sound of the whistle. It is emotionless, and the dog has an easier time understanding what you expect them to do.
Save Your Voice
Instead of spending all day speaking commands to your dog, you can save your voice by using a whistle to train. You will be able to train more frequently without damage to your voice.
If you are a long-distance from your dog, you won't have to shout to bring them back to you, you can use a whistle, like the Michael Josh Outdoor Whistle or the Acme Silent Whistle, to help you instead.
Dogs Pick Up Training Faster
The sound of a whistle is very different from the sound of a human voice. A dog is more prone to listen to this sound, and will respond well to the consistency of it.
Whistle Sound Carries
The right whistle can be used across rough terrain and in all weather conditions, including high wind. A dog can potentially pick up the sound from as far as a quarter of a mile away. This allows you to communicate across long distances with your dog, something that cannot be done if you train with other methods.
When to Start Whistle Training
While it's always better to start training early, the phrase "you can't teach an old dog new tricks" doesn't apply here!
Whistle training can be used on any dog, no matter their age or level of previous training.
Puppies especially work well with the close-up training you can offer with a dog whistle (the SportDOG Roy Gonia Whistle or Acme 210 whistle can help with this since they are both great entry-level whistles).
Even dogs who have been previously trained by voice command or an older dog who has had no experience with training before will be able to learn.
Whistle training will also work for most hard of hearing dogs since they will still be able to hear the higher frequencies.
Dog Whistle Training Tips
Many people assume that a dog will automatically know what to do when he hears the sound of a dog whistle. After all, it's called a dog whistle; it should have some kind of special dog power, right?
Unfortunately, this kind of belief is incorrect, and can lead to many disappointed dog owners. A dog whistle will only work as desired when paired with training.
Following basic training guidelines will set you and your pet up for success during your training sessions.
The Basics of Whistle Training
Before you take your dog anywhere, take time to practice with your whistle and learn how to properly use it. It will only slow your first training session down and confuse your dog if you are trying the whistle for the first time in front of them.
If you have an adjustable whistle, it would be better to work out the frequency in the same room as your dog before your training session. Watch their reaction as you adjust the whistle to see which sound works best for them.
Decide How Your Commands Will Sound
When you start your first day of training, you should have a general idea of what commands you want your dog to learn and how you want them to sound. For instance, you can settle on one short blow for "sit" and two short blows in a row for "stand."
Preparing ahead of time will allow you to be more organized and consistent with your dog. Make sure to use the same sounds for the same commands in each subsequent training session.
Of course, the variety of whistle sounds are dependent on the type of whistle you purchase. If you plan on teaching an array of commands and what different noises for each, the Shepherd Mouth Whistle is the best option for you.
If you want a more straightforward whistle for making your commands, but still want the versatility, look into an adjustable frequency whistle, like the Ortz Dog Whistle.
Where Should I Train My Dog?
The great thing about whistle training is that you can train your dog anywhere.
At home, whistle training can be used to help curb barking or to train basic "sit" and "stay" commands. The MODUS Ultrasonic is a good choice for teaching your pup basic commands around the house.
Outside, you can work on more advanced training techniques such as using the whistle to recall your dog or teaching it to leave distractions at your command.
First Training Session
It may be beneficial to start off in an enclosed area with few distractions to let your dog get the hang of whistle training before taking them to a more distraction-filled area. You want to make sure your dog understands how to listen to you no matter how excited or distracted they are.
It is also important to keep in mind what kind of whistle you have before picking a training location. If you have a whistle that tends to be loudly audible to humans, it may be a better idea to do your training outside, away from highly populated areas.
What Should I Bring to Training (Besides the Whistle)?
Dogs are usually very food-oriented animals. When starting whistle training, it is a good idea to bring their favorite snacks with you. It helps even more if these treats aren't the usual tidbits of kibble and milkbone. High-value rewards such as pieces of chicken, beef, or scrambled eggs will enhance your dog's response to whistle training.
You won't need to constantly use food as a reward; eventually when your dog gets the hang of your commands, you can eventually eliminate the treats or substitute them for a trusty belly rub.
Additionally, you should bring a leash for your dog. While it may be safe to let your dog off the leash for training in enclosed areas, you want to always have your dog on a leash when walking to and from these areas. This prevents unfortunate situations like your dog running into the road or towards a less-friendly dog.
Having a leash on hand will also help if you need a guaranteed way to gain control over your dog.
What Commands Can I Teach?
As long as you have the patience, you can teach your dog anything you want. The more popular commands are "sit," "stay," "come," and "fetch."
There are plenty of guides available (like the one that comes with the HEHUI Dog Whistle) that can suggest different commands and the best way to use your whistle in training for them.
General Whistle Training Instructions
These are general guidelines to whistle training that will work with most commands you want to teach. Tailor them for your personal use with specific whistle sounds.
Take your dog into a room or enclosed outdoor space with few distractions. When the dog is paying no attention to you, blow the whistle command you have settled on for "come". Wait until the dog comes over to you.
As soon as the dog comes to investigate, praise him and give a small piece of the high-value treat.
Repeat this sequence, waiting for the dog to not be paying attention to you before blowing the whistle again.
Eventually, the dog will learn that he will be rewarded for coming to you when he hears the whistle. There is no need to attempt to coax the dog or lure them over with voice commands. Simply use the sound of the whistle and the rewards.
Make sure to repeat this exercise until the dog gives an eager response at the sound of the whistle. This means that they have made the connection and are now expecting the reward.
You can practice this several times per training session and should strive to train your dog at least twice a week to solidify the commands.
Once your dog has mastered this in an enclosed area, you can start introducing distractions and different training spaces.
Taking Care of Your Dog Whistle
Whether your whistle is made out of plastic or metal, it is important to keep it in good shape.
A metal whistle can be cleaned by dropping it into boiling water mixed with a teaspoon of baking soda for less than 60 seconds.
You can clean a plastic whistle by soaking it in a small bowl of antiseptic mouthwash for 30 to 60 minutes before rinsing it with cool water and leaving it to fully dry.
Both types of whistles can be cleaned by soaking them in a bowl of lukewarm water mixed with a spoonful of baking soda for 60 mins. Once you are done soaking, you can rinse them with cool water and leave them to dry. This method is best if your whistle has a pea in it, because once cleaned, the pea will give the whistle a louder, fuller sound upon use.
When not using your dog whistle, it is a good idea to store it in the freezer as this will prevent bacteria from building up on it.
Final Thoughts
The dog whistle has been around for hundreds of years, a testament to its ability to properly train a variety of dogs. It is a fantastic training tool and can be useful for both beginner trainers and professionals.
While picking out a dog whistle is not the easiest task in the world, it is important to keep in mind what will work best for you and your dog. There is a plethora of options out there, all with different features and builds, so you are certain to find one that is well suited to your needs. We hope this list of the best dog whistles around makes your choice easier, and that you now have a better understanding of the best dog whistle for you. Happy training!