The 10 Best Betta Foods to Buy in 2023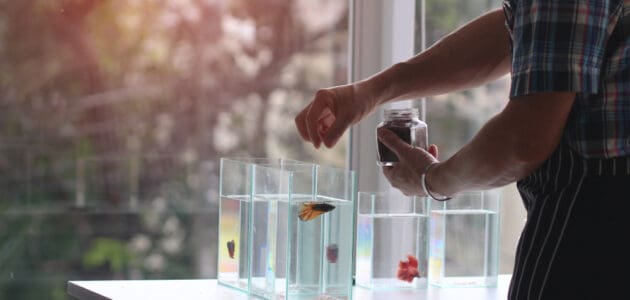 Sitting serenely in their aquarium looking out at the world, your Betta can bring a sense of tranquility quite unlike any other pet. While they may be Zen-like in their approach to life despite their violent reputations, they do feed like fighters. Of course, keeping them alive is crucial first and foremost, but the importance of a good diet plays a vital part in keeping your fish healthy and happy.
One thing affected by the food they eat is the vibrancy of their colors, but their mood and behavior are also reliant on a decent diet. Here we'll take a closer look at what that means, the food you can buy, and how you best take care of your Betta fish when feeding them.

What to Consider When Feeding Your Betta
There's a lot to take onboard when feeding your Betta, whether you're a newcomer or expert, as they can vary wildly in both tastes and requirements. So let's take a look at the basics of what you can offer your Betta fish, the best ways to feed them, and then get down to our top fish food picks.
Types of Betta Food
As it is with their human owners, Betta fish also have their own distinctive set of tastes and preferences. You must find where your Betta's lie through a process of trial and error, making sure they're comfortable all the way. That said, you should make yourself aware of the different food types and what they offer from the outset.
Pellets
As mentioned earlier, these are literal 'pellets' of condensed floating food ready for hoovering up effortlessly by the little swimmers. It's best to opt for the pellets that float the longest, although sinking pellets are an option if needs be. Occasionally Bettas prefer sinking pellets, so be sure to give these if shot if they aren't nibbling any surface food. Just make sure they contain at least 30% crude protein in them, and you should be good to go.
Flakes
One of the most popular and well-known fish foods out there, these simply sprinkle along the surface, offering straightforward convenience. You should make sure to vary these with other food sources, as they don't always cover everything when it comes to a full diet. There's also some difficulty in judging how much is required, along with them sinking if not broken up enough. They take some getting used to, so experiment a little and find the right amount for your fish by timing how much they consume in a few minutes. The label should also be able to help you here.
Live Food
If you can find your fish a regular supply of live fish food, then great. Granted, this isn't easy or convenient for most people. When you get a chance, though, make sure to give them a rare little treat, as hunting is natural to Bettas and gives them a chance to shine. You'll mostly be looking at insects, brine shrimp, Daphnia, and mosquito larvae. Just be sure to see that it's fresh, without any extra unwanted parasite infections.
You can purchase live-food from the internet, but this is relatively risky given that not only is it prone to parasites, it's also costly. If there's no other alternative and your Betta want only the best, then be sure to shop around. There are some reputable retailers out there, but you will need to do your research thoroughly.
Frozen Food
Similar to live food, except that it's frozen, meaning that it's a little easier to store. You also reduce the risk of contamination, with fewer chances of parasites, plus it has a longer lifespan. There's less nutrition in frozen than in live food, though, plus hunting isn't an option, but it's cheaper and more viable.
Freeze-Dried
Working as an even more readily available alternative to live foods or frozen foods, this is essentially the same but with all the moisture removed. Essentially you want to use these as a treat, maybe once or twice a week. They shouldn't replace regular meals though, as not only is a balanced diet vital, but they should also be something they look forward to, like fishy chocolate ice-cream!
What to Look For in Betta Food
Paying attention to the ingredients is always essential, as quality fish food is only as good as what goes into it. We'd all rather stay away from junk food, and the same goes for Betta, so what exactly should we look for in our fish food?
Ingredients to Look For
Insects And Larvae: a significant part of their natural diet, there's plenty of products out there with ingredients such as Soldier Fly larvae in them. These help to form part of a balanced diet.
Pure Meats: primarily consuming smaller, meatier animals, it's essential to remember where the Betta is on the food chain. With ingredients such as Salmon and freeze-dried/live food available, there's plenty of high-quality, high-protein meals.
Vitamins and Stimulants: this will include ProCare, along with Vitamin C and Omega, all working together to help bolster the immune system and enhance color.
Ingredients to Avoid
Low-Quality Fish Meal: don't be deceived by the name, as it's merely mass-produced meat offshoots packed together with other unknown ingredients. Although many quality products will also use this, it's likely not the best if it's central to the food. We've only included products that contain a limited amount of high-quality fish meal on our list.
Too Much Plant Food: some plant ingredients are fine, but you need to remember that Betta fish are carnivores first and foremost. With many generic foods targeted at omnivores, Betta cannot digest plants, especially in large quantities.
Unidentified Filler: this goes without saying as, similar to Fish Meal, there's plenty of ingredients simply thrown in to pad the product out. If you can't gain a clear picture of exactly what you're feeding your fish, it's best not to bother.
We'll get into how to properly feed your Betta in greater detail below, but now that you know everything to keep in mind let's get into our picks for the best products available today.
Guide to Buying the Best Betta Food in 2021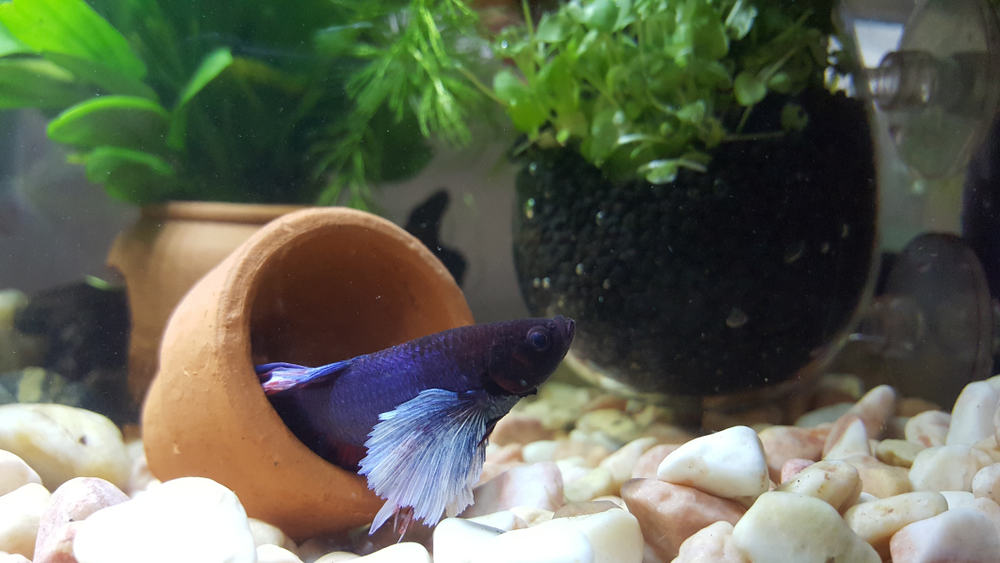 Not so difficult to care for as you may think initially, Bettas are, generally speaking, easy to look after. While we had a brief look at what caring for a Betta entailed, here we'll break it down for you.
Feeding Your Betta Fish
There's a lot more than just buying the perfect food to take into account when it comes to your Betta, so be sure to follow these guidelines.
Amount Required
Your fish will give you plenty of indicators of how much they'd like, and you'll find that it varies between fish. The food package will offer general guidelines on feeding amounts, acting as a good starting point.
Feeding Schedule
Most Betta fish require two main meals a day, just like most humans. You especially want to make sure that a strict feeding schedule is kept to while they continue to grow. If you think you'll struggle to keep things consistent, we recommend purchasing an automatic fish feeder that can be set to your Betta's preferred schedule.
Malnourished Fish
The main fear of not feeding your fish is that it will become malnourished and eventually starve. Typically a fish can go for around fourteen days without a meal, but you want to avoid putting this to the test if at all possible. A healthy fish is a happy fish!
Overfeeding Dangers
As well as driving many corny sitcom cliches, this is a crucial concern when feeding your Betta. You don't want to overfeed your fish, or anyone else's, only to see it bloating up and floating to the surface.
Maintaining Your Aquarium When Feeding
Your aquarium will also be affected by the food you use, so it's useful to lessen the impact of your fish feeding on your aquarium by keeping in mind a few factors.
Water Pollution: from flakes to pellets, some foods will break up, creating a cloudy effect, and this can pollute the water, giving it a mist and ultimately making the tank dirty.
Filter: like water pollution, you don't want to see your filter getting clogged up, and some fish foods can do this as they tend to drift over towards it. Some floating aquarium plants can act as a filter, but you'll still need a mechanical filter even if you turn your tank into an underwater garden.
Foliage and Decoration: this is more for the benefit of the Betta fish themselves, as food can be lost and hard to find among algae and ornaments, leaving it to go to waste.
Betta Fish Feeding FAQ
How Much Do Bettas Eat?
Firstly, it's important to remember that fish do not and have never regulated their appetite, regardless of what you may have heard prior. Always on the hunt for prey in the wild, they often find themselves with empty stomachs. You need to keep an eye on this, as they won't do it for you.
At the risk of sounding extremely obvious, your Betta's size will be your first indicator. One way of determining the pellet's size is by measuring them against the fish's eyeball, as not only can they see and recognize it, but they can also digest it. 5% of the fish's body weight is another useful measurement, proportioning your helpings to this size when dishing it out. Once you have an amount you think might be most suitable, go ahead and sprinkle it in, seeing how much the fish consumes in two minutes. If they're an incredibly slow muncher, increase the time to five minutes and see how they fare.
The package's directions should suffice for the most part, but you should find your feeding system as you get to know your fish better. Just remember that whatever hits the bottom of the tank, you will usually find yourself having to clear out later.
When Should I Feed My Betta?
Ideally, anywhere between two and six smaller portions spread out over a day is best. You'll need to space them out with a few hours in-between, and this will ensure maximum growth potential. When it comes to minimum amounts for Betta, though, twice daily will usually suffice.
How Long Can Betta Fish Go Without Eating?
Younger fish will undoubtedly require their daily two meals, while you can be a little more relaxed with adults. As previously mentioned, fish may be able to last a fortnight without food, but don't put this to the test. Vacations need accounting for, so be sure to call in a friend to take care of them before leaving. On the other hand, if you are going out for the evening, simply skip a meal instead of cramming it all into one.
What Dangers Are There to Overfeeding Bettas?
Two of the main conditions of overfeeding are bloating, leading to more severe conditions like 'Dropsy,' along with constipation. To help prevent this, some owners may fast their fish once a week or fortnight, although there are no conclusive studies to prove this is useful. As the name suggests, visible bloating is a clear sign the fish is unwell. Not creating much waste is another definite indicator. While constipation is common, bloating requires that you hold back from feeding until their abdomens return to normal. Blanched peas are known to alleviate constipation, and you can prepare this yourself, feeding only a small portion to the sick fish.
Feeding and Aquarium Maintenance
An important point to remember is that the Betta is primarily a surface feeder, which must be kept in mind when purchasing food and buying a tank. Lurking under the surface, they're prone to speedily nipping insects and whatever else may settle there. Products such as pellets are essential here, as ones that sink quickly are especially prone to losing in the vastness of the tank, leaving your unfortunate fish to starve. Not only that, but the food itself will break down, leaving the tank dirty and, eventually, uninhabitable.
Putting extra strain on the filter, this also means choosing a food that floats for longer while finding an aquarium with a larger surface area. You want a tank equipped for feeding -and surface area, along with foliage and decorations, is just as critical to take into account.
Fish Food for Thought
A healthy fish is a happy fish, which means being well-fed with a belly full of grub. Remembering key factors such as protein is vital, getting the balance between nourishing and what their little taste buds enjoy. Shopping around and trying out different brands is where you want to start and, by the end of it, you should be able to settle on a feeding schedule that will bring you both peace of mind.