Best Names for Hunting Dogs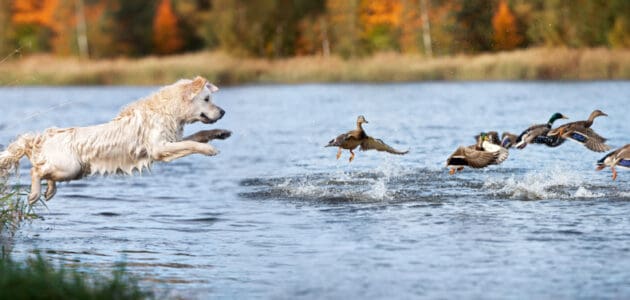 Throughout history, dogs have been used as companions and fellow workers. Across many cultures, using dogs to help hunt is extremely common. Of course, different breeds have different specialties. Even dogs we now think of as purely lapdogs were often bred with hunting in mind.
Hunting dogs make great pets. Breeds like retrievers, Spaniels, foxhounds, and beagles are some popular dogs that were bred for their hunting skills. Most hunting breeds are noted for their sociability, intelligence, and energy. This is perfect if you love to get out in the great outdoors yourself or if you have equally energetic kids.
When you make this new addition to your family, whether they're going to be a hunting companion for you or simply come from a breed that specializes in hunting, you may want to choose a name that reflects that unique skillset.
In this list, we provide you with a variety of classic and inventive names for your canine hunting companion.
Hunting Dog Names From Literature and Film
Plenty of characters in books, movies, and TV showcase hunting skills and ruggedness that you may see reflected in your pup. Names inspired by books and films are a great chance to express your love for certain franchises.
Ahab – This one's for classic lit nerds: Captain Ahab takes a starring role in the novel Moby Dick as an obsessive sea captain hunting a great white whale.
Arya – This fan favorite from Game of Thrones is a skilled fighter
Boba/Jango – For Star Wars fans, either one of this father/son bounty hunter duo could provide a quirky name for your dog.
Hawkeye – Marvel fans can take inspiration from this archer. Even better if you enjoy taking your dog bow hunting.
Huckleberry – Mark Twain's complex protagonist is a quintessential boy adventurer; it's perfect for a dog you take trekking in nature.
Katniss – Hunger Games' skilled archer.
Khaleesi – Another GOT option, this is a royal title meaning queen, and it certainly carries a tough but regal vibe.
Nikita – Luke Besson's 1990s film about a female assassin has spawned several remakes and plenty of devoted fans.
Nimrod – While commonly used ironically as an insult now, this biblical name actually means "mighty hunter" in the original Hebrew.
Remus – Harry Potter fans may choose this reference to a werewolf character
Winn Dixie – Not just a popular grocery chain, but the name of a dog in a classic children's book and film.
Xena – From the Greek word for stranger, this name became popular thanks to the 90s TV series about a warrior woman.
Hunting Dog Names From Mythology
Early human society relied on hunting as a way to supplement their diets and protect themselves from wildlife. It's no wonder, then, that most cultures around the world have mythic tales of hunters as well as gods and goddesses of the hunt that were revered. So choosing such a name for your hunting dog would be quite appropriate.
Artemis
Apollo
Athena
Bhadra
Dali
Devana
Diana
Herne
Kedes
Micoatl
Mielikki
Nodens
Pakhet
Pinga
Rudra
Sip
Skaði
Tapio
Classic Sporting Names for Hunting Dogs
Alpha
Annie
Bess
Champ
Chase
Dakota
Fletcher
Hunter
Lucky
Rebel
Remmy
Robin
Ruger
Rusty
Scout
Teddy
Winchester
Nature-Inspired Names for Hunting Dogs
Acorn
Ash – After the native European tree.
Autumn
Cedar
Clover
Colm – An Irish boys' name meaning "dove."
Daisy
Finn
Forest
Gaia – From Greek, meaning "earth mother."
Hazel
Honey
Ivy
Juniper – The juniper shrub's berries give gin its unique flavor.
Kai – This name means "ocean" in Hawaiian and is used for girls and boys.
Luna – From Latin, meaning "moon."
Mica – A common mineral that often has shimmering qualities.
Nova
Nutmeg
Poppy
Rowan – This mountain shrub blooms with red flowers each year and was considered a mythical plant by Celtic and Anglo-Saxon peoples.
Sage
Skye
Stag
Sunny
Willow
Wren
Best Proper Names for Hunting Dogs
If you prefer to think of your dog as a member of the family, no different than a human child, you might want to give them a more proper name. Choosing a name that's one to two syllables and can't be easily confused with common commands or other names in the household is the best way to make sure your dog quickly learns and continues to recognize its name.
Amelia
Bailey
Callie
Charlie
Dolly
Eddie
Jasper
Jenny
Juno
Mia
Riley
Roland
Russell
Maggie
Max
Murphy
Nick
Winston
Zoe