The 8 Best Rabbit Bedding to Buy in 2023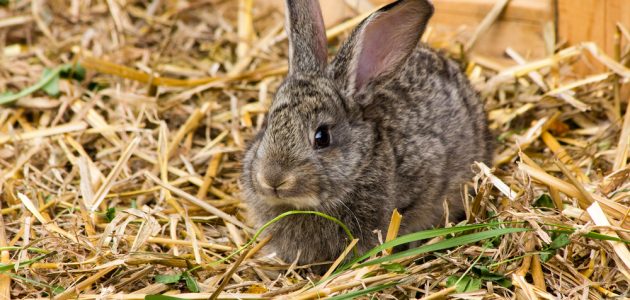 Rabbit bedding is the essential element that makes a rabbit's house a home. You don't want your rabbit to sit on a cold, bare cage or floor, so you need something to make it soft, comfortable, and safe.
Their habitat is where your rabbit is going to spend most of its time, so not only should it be a pleasant environment, but it also needs to be clean and hygienic. There are many options on the market, so it's important that you know how to decide what's best for your rabbit.
In this article, we'll show you the best rabbit bedding on the market and how to determine which one to pick for your rabbit.
Factors to Consider When Choosing Rabbit Bedding
At first glance, you might not see much of a difference between the different rabbit beddings available besides the material they're made out of. However, there are plenty of small factors you need to consider when purchasing rabbit bedding.
Absorbency
Rabbits can be potty trained to use a litter box in a specific corner of the habitat. However, even when they use this area regularly, it is certain that some of the urine will still find its way into the bedding.
The ideal rabbit bedding is highly absorbent and can last a while without being changed. You should change the bedding frequently, at least once a week, when possible. In this case, highly absorbent bedding will allow you to skip a day or two of cleaning. It'll also allow you to house more than one rabbit in a habitat or prevent your rabbits from getting wet if their water supply gets spilled or leaks.
Aroma
Rabbits have sensitive respiratory systems, and respiratory diseases are a frequent cause of death among rabbits. "Snuffles" is a term often used when talking about upper respiratory diseases. Strong aromas can upset your rabbit's nose and eventually lead to snuffles. Some light scents are okay to use, but if they're strong, they should be avoided.
Cleaning
Ideally, you'll want to find a bedding that's easy to clean. You should aim to replace the bedding at least once a week, or spot clean it regularly if you want to hold off longer than that. Avoid bedding that will get soggy and become hard to scoop up. Absorbency is important – if the bedding can hold a lot of liquid, it will be easier to clean.
Regular cleaning is required for the health of your rabbit. If your rabbit isn't potty trained or refuses to be trained, you'll need to clean their habitats frequently so it doesn't have to lay in its own waste. Ammonia from urine is another cause of respiratory diseases that rabbits are prone to suffering from.
Comfort
Rabbits like to stay warm and dry. Many rabbits like to dig holes and burrow. The bedding in your rabbit's habitat should be soft to provide warmth. You should lay up to 3 inches (7.62 centimeters) of bedding in the habitat so that they have room to burrow if they want to do so.
Adult rabbits have regulated body temperatures, but baby rabbits don't yet have the fur they need to stay warm on their own. When choosing the best rabbit bedding, take the age of your rabbit into consideration. All rabbits will appreciate the warmth, but younger rabbits will depend on your help staying warm.
Material
There are several different types of bedding out there that are made from different materials, most frequently cardboard or wood. For a full breakdown of the materials used in rabbit bedding, check out our buyer's guide below.
Some beddings are less soft than others. Some materials might also function as litter for the toilet section of the habitat. If you have trained or plan on training your rabbit to use a litter box, make sure the litter and the bedding are very different in texture to prevent confusion.
Remember that your fuzzy bunny has a personality of their own. Maybe you've seen rabbits be content on shredded paper bedding, but yours doesn't seem to like it. It's a possibility. Be sure to try out different beddings and pay close attention to how your rabbit reacts to each one. You'll soon find out which one (or ones) your rabbit prefers.
Safety
Rabbits are chewers, and that's something to remember when you're picking out bedding. Bedding, like hay and straw, is perfectly safe for your rabbit to chew on. Towels, on the other hand, aren't safe because the threads can become choking hazards, and they probably won't settle well in your rabbit's stomach.
Be sure to read the safety guidelines on the packaging of the bedding you buy. If there are any hazards about your rabbit chewing on it, then you'll need to keep that in mind once it's in your rabbit's habitat. Also, remember that strong odors can cause your rabbit to have snuffles, which can eventually lead to a bigger health issue if left unchecked.
Now that you have an idea of what to look for when you are picking out rabbit bedding, here are our top eight selections for making your rabbit a happy habitat in 2021.
Top 8 Best Rabbit Bedding 2023
Guide to Choosing the Best Rabbit Bedding
It's easy to walk into the local pet store and buy the cheapest bedding on the shelf. After all, the bedding is just toilet paper, right? It's not that simple. Rabbit bedding isn't just litter – it's what keeps your rabbit feeling safe and secure in their territory.
In the wild, rabbits like to burrow to create a safe space for themselves underground. The bedding you choose needs to help them create a safe environment that feels natural to them and will help keep them warm, especially in colder months.

Rabbit Bedding Materials
There are several options for you to choose from. Many of them are sold in pet stores or online, but some of them you can do yourself at home. Remember that not every option is a safe choice. When choosing bedding, keep your rabbit's wellbeing in mind.
Cardboard
If you're a fan of online shopping, cardboard might be a good option for you. You can buy it shredded up or you can shred it yourself. Just make sure that it's small enough that it becomes soft so your rabbit can burrow into it. Remember that bedding should be piled up to 3 inches high, so if you do it yourself, you might be shredding for a while.
Corn Cobs
This is an all-natural option that's good for the environment. Whether you buy it online or dry out your own corn cobs, you're making full use of natural ingredients, and the earth will thank you for that. Organic options are available since corn can be grown organically.
Just be aware that corn cobs aren't always the softest option. However, corn cobs can also be used as litter instead of bedding. Cardboard bedding and corn cob litter? It sounds like something a master DIY-er would be interested in.
Fleece
Fleece blankets can be a wonderfully warm bedding to use, especially if your house gets extra cold in the winter. Fleece should only be used by extra caring rabbit raisers, though – you'll have to wash them frequently.
Let's not pretend that pet owners are never lazy. Sometimes, you don't feel like picking up after your pet or cleaning their habitat. It can be okay to skip a day or two as long as it doesn't put your pet's health at risk.
But, with fleece blankets, you'll have to change it them frequently – almost every day in some cases. If you don't have the time to wash a blanket every day or don't think it's resourceful to run the washing machine all the time, then fleece bedding probably isn't the right option for you.
Hay
Hay is one of the most highly recommended bedding materials to use for rabbits. It's soft, warm, and will provide a natural outdoorsy feel to your rabbit's habitat that it will surely love. It's also perfectly safe for the nibbler to chew on. So, if your rabbit is especially peckish, hay is a great bedding to choose for them.
Similar to fleece blankets, you'll need to change out the hay pretty frequently. Daily or every other day will be best. Hay is prone to growing mold, so you'll need to make sure it isn't coming into contact with water. If your rabbit uses hay as their toilet, then you'll definitely have to change it every day.
Paper
Paper is another one of the best materials to use. It's readily available and super absorbent. If you buy it online or in the pet store, you'll find that most brands and variety are sustainably sourced, meaning that they come from recycled materials.
A newspaper is an acceptable paper source. Rabbits shouldn't eat paper bedding, and it's especially important that they don't eat newspaper since ink or traces of ink are present on each piece.
Pellets
Pellets come in the form of wood or paper. They're soft and super absorbent and readily available online or in pet stores. Paper pellets are generally made of recycled paper and will expand when they become wet. Wood pellets, on the other hand, turn to sawdust when they get wet. Wood pellets are great to use, but they're often a bigger mess than other beddings to clean up.
Straw
Straw is just like hay in that it's warm and edible. Basically, it's perfect for rabbits. How is straw different than hay? Straw is a byproduct of crops while the hay is grown specifically for the purpose of feeding animals or providing bedding for small critters. Both are viable options. The straw will also need to be changed almost daily if it becomes wet, so mold won't grow.
Wood Shavings
Wood shavings are soft and absorbent. They're not as absorbent as paper, but they will be able to keep your rabbit dry and comfortable. Most importantly, they allow for burrowing and digging.
There are safety concerns involved with wood shavings. Aspen is the safest, but red cedar is often not advised. This is because of the aromatic scent of red cedar and the phenols that are in the wood. You can read more about it in the Kaytee Red Cedar Bedding review.
It's best to use red cedar in a well-ventilated habitat since it can be aromatic. Depending on which brand you use, you might find some that are less scented than others. The wood has a natural scent, and nothing is added to it, so it might be difficult to find a low aroma red cedar.
Cost of Rabbit Bedding
One good thing about rabbit bedding is that there's something suitable for every budget. Prices will always vary, but it's almost guaranteed that you'll find something under $20. High-quality products are likely to be more expensive, as are bulk purchases.
If you want to use hay or straw, look for local farmers who are willing to sell it or find it cheap online. You can also find recyclable materials like cardboard and paper, almost anywhere. There are plenty of affordable options out there, just as there are plenty of high-quality premium options available.
When considering the price of bedding, think about potential additional uses to get the most use out of your money spent. Most rabbit bedding can be composted as long as the material says it's compostable, and your rabbit eats a vegetarian diet. If you have a garden, you can stretch your money out further by adding the used bedding to the compost pile.
Sometimes you might have leftover bedding that's clean and unused. Rabbits are sometimes picky and will force you to buy a new type of bedding when they decide they don't like theirs. Compostable bedding materials like paper or wood shavings can be added to the compost pile. Wood shavings can be added to potting soil or used as mulch in the garden.
Habitat Compatible
Most beddings will work in any type of habitat. Red cedar needs to be in a well-ventilated area since it's aromatic, so placing it underneath igloos inside the habitat isn't the best decision. Be sure to keep beddings that are prone to molding away from the toilet corner and the water corner so mold won't grow in the habitat.
Rabbit Bedding Safety
Natural products that aren't treated with harsh chemicals are best for your rabbit. Rabbits like to munch, so ideally you should use something that won't hurt them if they get adventurous with their chewing. Occasionally consuming paper and wood beddings won't hurt, but it isn't advised, either. Towels and fleece blankets are hazardous for rabbits who don't know how to stop eating everything.
If your rabbit has consumed something they shouldn't have, monitor them closely, and contact a veterinarian if they start to look or behave as if they're ill.
Cleaning Your Rabbit's Bedding
It's best to find something that's easy to clean since you'll have to remove and replace the bedding at least once a week. If you have multiple rabbits or your rabbit had a bad week, you might find yourself replacing the bedding more than once.
You might be obsessed with your rabbit – as you should be – and not mind cleaning the habitat. Caring for pets brings many people great joy. But, remember that humans run into problems. We have jobs, families, and occasional lack of motivation, all of which are factors that might hinder us from being diligent about habitat cleaning. Unless you have unlimited energy, you should pick bedding that can buy you an extra day when you're just not feeling up to it.
Final Thoughts
Providing a happy home for your rabbit is one of the most important duties of rabbit raising. There are a plethora of rabbit bedding options to choose from online, each with good and bad qualities. What matters is that you pick the right one for your rabbit.
When choosing a rabbit bedding, choose what you think will make your rabbit the happiest and healthiest. Test it out on your rabbit, and then your rabbit can choose whether or not they like what you picked out. Ultimately, they will be the one who will make the decision.