The 10 Best Reptile Thermostats to Buy in 2023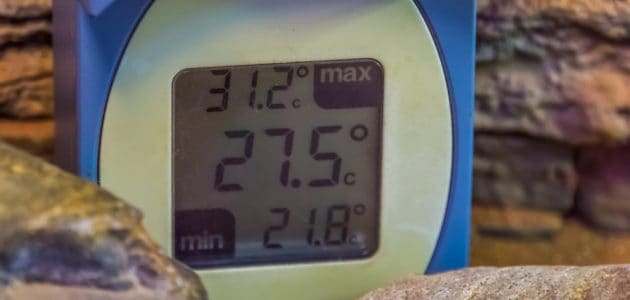 Reptiles are cold-blooded animals that need your help to stay warm. Keeping a safe and friendly enclosure is essential for your reptile's health, longevity, and breeding potential. While heat lamps can be enough to provide the heat they need, it's challenging to monitor and control how warm an enclosure is without the right thermostat.
If you're looking for the best reptile thermostat, you're in the right place. While there is a lot to be aware of, like the heating system you use, there are plenty of products to choose from. To discover which reptile thermostat fits your needs, read on.
Factors to Consider When Shopping for Reptile Thermostats
Reptile thermostats are not a simple product to shop for. There is a lot of variation, and each thermostat has a unique application. You'll need to determine which type of thermostat you need based on your heating source and a handful of other features.
Type of Thermostat
When shopping for reptile thermostats, you'll come across two major types. There are on/off thermostats and dimmer thermostats. While each thermostat performs the same task, they execute it differently.
On/off thermostats are the most common product you'll come across, and for good reason. They're simple, affordable, easier to maintain, and give you more flexibility. These thermostats regulate heat by turning lamps on or off depending on the temperature of the enclosure.
Dimmer thermostats work by adjusting the brightness and wattage output of heating lamps to maintain a continuous temperature. These thermostats only work with heating lamps because they need the lights to function. While there are a handful of these products out there, we recommend against using them.
We recommend using an on/off thermostat. In practice, they both do the same thing: get your terrarium to a specific temperature. An on/off thermostat is less expensive than a dimmer thermostat and performs the same function.
Temperature Probe
A temperature probe is a tool that measures temperature by using sensors. They're slim, needle-like tools that you'll find connected to the thermostat by a wire. When we're referring to the temperature probe length, we're looking at the size of the wire attached to the temperature probe.
The length of a temperature probe is essential for a few reasons. First and foremost, it gives you wiggle room and more flexibility when it comes to thermostat placement. For example, you'll be able to place the thermostat farther away from your reptile's enclosure if the temperature probe has a long wire.
Furthermore, it makes it easier to move the thermostat and enclosure if you need to. Heat lamps and heat mats are great, but they take up a lot of space around the enclosure. For this reason, having more probe length makes it easier to get the probe into the tank, especially if you have to work the wire around more obstacles.
Wattage
Wattage is important for any device that's using electricity. While many people look at wattage to determine how costly a reptile thermostat will be to use, there is more to it than that.
Wattage is important because it determines a thermostat's maximum electrical load. If a reptile thermostat has a maximum 1,000W load, you'll need to make sure your heating devices run at, or below, that number. Luckily, most reptile thermostats work between 1,000-1,100 watts, which is in-line with heating devices.
Temperature Range
The temperature range is one of the most important things to look at. The temperature range is the range of temperatures that a thermostat will display. For example, a thermostat might display temperatures from 40° to 220°.
Most reptiles need to be in an environment that's between 70 and 85 degrees, with basking areas over 100 degrees. So, when shopping for reptile thermostats, you'll want to make sure they're equipped to handle this range.
Price
Reptile thermostats are affordable products. While they're not expensive, the price does vary. It's based on quality and the number of things a thermostat can do. A thermostat that can cool and heat enclosures is going to be more expensive than one that only heats it. After looking at the best reptile thermostats, we've grouped each product into one of three categories:
$: Around $15
$$: Around $25
$$$: Around $35
When you keep these features and factors in mind, shopping for reptile thermostats is straightforward. We're going to take you through the ten best reptile thermostats and offer shopping tips along the way.
Top 10 Best Reptile Thermostats 2023
Everything You Need to Know About Reptile Thermostats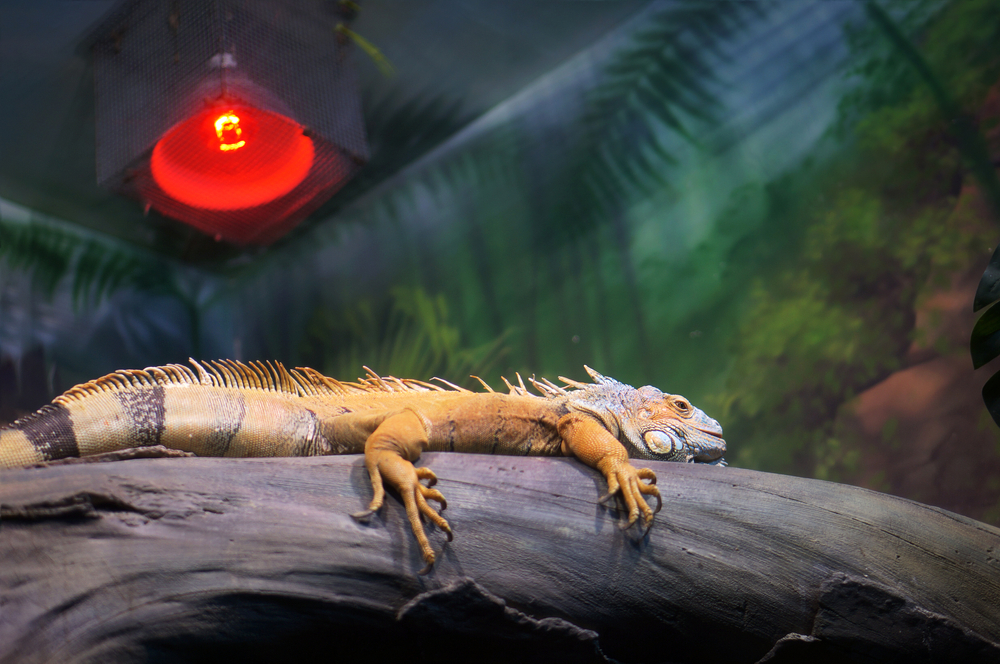 Keeping your reptiles warm and comfortable is vital to their survival. In some cases, you can wing it with heat lamps, but we recommend against doing so. Reptile Thermostats are affordable products that every reptile owner can benefit from.
Still, they're complicated products to shop for. There are a lot of things to consider, and everyone's enclosure and heating devices are different. For this reason, it's crucial to shop based on your needs. We're going to take you through everything you need to know about reptile thermostats so that you can narrow down your options.
Matching a Thermostat to Your Heater
One of the first things you should consider is the maximum load of a reptile thermostat. This is based on the heating or cooling devices that you have. The problem with wattage and heating devices is the amount of heat they generate. If a device produces more wattage, then the threshold for a reptile thermostat, you'll end up with melted parts or blown circuits.
Most reptile thermostats can handle upwards of 1,000 watts, but this varies. The wattage comes down to the heating devices that you're using. For example, heat tape requires higher wattage than a reptile heating lamp. Still, for most enclosures, a 1000 watt thermostat is more than enough.
Heat Lamps
Most reptile owners use heating lamps. While there are different bulbs, from fluorescent to halogen lamps, most heating lamps use between 50-200 watts.
Of course, if you have five lamps, you'll need a higher wattage system. Heating lamps provide heat from light bulbs, so it can take some time for heat to be generated. Also, heating lamps are used to simulate night and day in many reptile enclosures.
If you only have a few heating devices or a low wattage system, you don't need to worry about the maximum load of a reptile thermostat. This gives you more wiggle room and the ability to use low wattage systems. The benefit of low wattage systems is the low cost to run them, and they're less likely to melt or cause electrical problems.
If you have an average heat lamp system, the best reptile thermostat is the Zoo Med ReptiTemp RT-600 Digital Thermostat. The wattage is low, but it offers heating and cooling capabilities. It also includes a lot of premium features like an alarm and the ability to heat and cool enclosures.
Heating Mats
Heating mats were designed to accommodate seed germination, but they've evolved into well-rounded reptile heating products. Many reptile owners use heat mats to heat enclosures by placing the mat underneath it. This allows the heat from the mat to rise into the tank.
Most reptile thermostats work with heat mats, and a lot of products are designed for them specifically. The low wattage systems are cheap to run and offer a decent amount of heat. Still, for the best results, using heat lamps alongside a heating mat is even better.
If you have a heat mat, there are a lot of reptile thermostats you can choose from. Our favorite is the BN-Link Digital Heat Mat Thermostat Controller because it's well-made and affordable.
Heat Tape
Heat tape is a recent innovation for reptile enclosures. Heat tape is typically used for trades work, but it recently made its way into reptile habits. Heat tape is great because you can choose how much you want to use and how hot it will get. Most heat tape options can reach temperatures upwards of 130°.
The only downside to heat tape is that it uses a lot of power. On average, heat tape uses 23 watts per foot. If you are using less than 18 feet of heat tape, you don't need to worry about shopping for a high wattage thermostat.
On the other hand, if you'll be using more than 30 feet of heating tape, we recommend a product like the VIVIOHOME Digital Thermostat. While it's a simple reptile thermostat, it can handle high wattage heat tape and gives you plenty of temperature probe length to choose your desired placement location.
Understanding the Temperature Range for Reptiles
Reptile thermostats, on average, should be between 70 and 85 degrees. Some habitats also have specific areas for cooling and basking. Basking is when reptiles expose themselves to hot temperatures, usually in the morning, to boost their body temperature rapidly.
Not every reptile basks, but if your pet does, you'll need to create a separate area. Basking areas should maintain a temperature between 90-100 degrees. For this reason, reptile thermostats are necessary to maintain the right temperature.
Most reptile thermostats have a range between 40° and 120°. In most cases, that's all you need. Still, if you have an exotic reptile that needs higher temperatures, it's wise to get a reptile thermostat with a broader temperature range.
One example is the Bayite Pre-Wired Digital Outlet Thermostat. It can handle higher temperature settings and works excellent for enclosures with exotic needs.
Shopping for Accuracy
The accuracy of reptile thermostats is not always perfect. When temperature probes are used, there is still room for error built-in. Most reptile thermostats have a margin of error that's plus or minus one degree.
So, if a reptile thermostat is displaying a temperature of 100 degrees, it could be 101 or 99 degrees. Some reptile thermostats are more accurate, and others have larger margins of error. Usually, plus or minus one degree is exact enough.
Still, if you need a reptile thermostat that has excellent precision, the Zacro Digital Heat Mat Thermostat is a great choice. It's accurate to plus or minus .1 degree . This product works well for exotic reptiles or pets that need hyper-specific temperatures to survive.
Shopping for Heating and Cooling
Most reptile owners are concerned with heat, but too much heat isn't safe either. For enclosures that use intense heating devices, a cooling device is recommended. These devices work by cooling down the temperature of a section, even if heating devices are active.
If you're running a system like this, it's essential to shop for a thermostat that can handle refrigeration and heating devices. An excellent product for this is the WILLHI Digital Thermostat. It has built-in safety features to run a refrigeration system and heating devices properly.
Setting up Your Reptile Thermostat
Once you find a reptile thermostat that you like, it's time to set it up. If you've never used one before, getting everything wired up for the first time can be difficult. So, we're going to take you through a few steps to make sure you're getting the most out of your reptile thermostat.
Most reptile thermostats come with three cables. The three cables run from the reptile thermostat to different areas. The primary cable is the main cable, and it's marked as such. It has a space on the device for a three-prong plug.
The second cable is the heater cable. This cable is attached to the heating devices that you're using. While most reptile thermostats are designed with heat mats in mind, most products work with heat tape and heat lamps too.
The last wire is the temperature probe component of the device. This wire runs from the thermostat and into your enclosure. Where you put it depends on your preferences, but we always recommend placing it in the center of your enclosure for the best results.
Step 1
The first step is to read all of the instructions that come with a reptile thermostat. While they serve the same purpose, each device is different. One thermostat might be similar to another, but it's important to familiarize yourself with the product before plugging things in.
Step 2
Once you know how to use the reptile thermostat, go ahead and plug the heating device into the three-prong plug on the thermostat. Most products have three-prong cords, but if yours doesn't, you might need an adapter.
Step 3
Once you have everything plugged in, look for a place in the habitat to put the temperature probe. The probe should be somewhere in the middle of the enclosure, but you don't want it on the ground or against the glass. We recommend drilling a hole at the bottom or burying it within the bedding.
Step 4
The next thing you'll want to do is set your desired temperature. Most reptile thermostats have three bottoms on the face of the device, with up and down buttons allowing you to change the temperature.
Before doing so, make sure you brush up on your reptile's temperature needs. Study whether or not they need a basking area and what the average temperature of the enclosure should be. This information can be found in the manual that comes with the purchase of a reptile or found online here.
We also recommend looking into the heating devices that work best for that reptile. For example, a ball python is better off with a heat mat than a heating lamp. This can help you choose the right heading device and reptile thermostat to go along with it.
Step 5
Once you have everything plugged in and ready to go, it's the moment you've been waiting for. Switch on the reptile thermostat and give the enclosure a few hours for the temperature to stabilize.
While reptile thermostats are helpful, they're not always perfect and limited to one area of the enclosure. For this reason, we recommend using a thermometer alongside the reptile thermostat. Using a thermometer can help you determine the margin of error for a thermostat and give you a better idea of where to place the temperature probe.
Step 6
Once everything is working, you'll want to experiment and test the device. To do so, simply increase/decrease the temperature using up and down buttons. This will allow you to get an idea of how long temperature changes will take.
Reptile Thermostat FAQ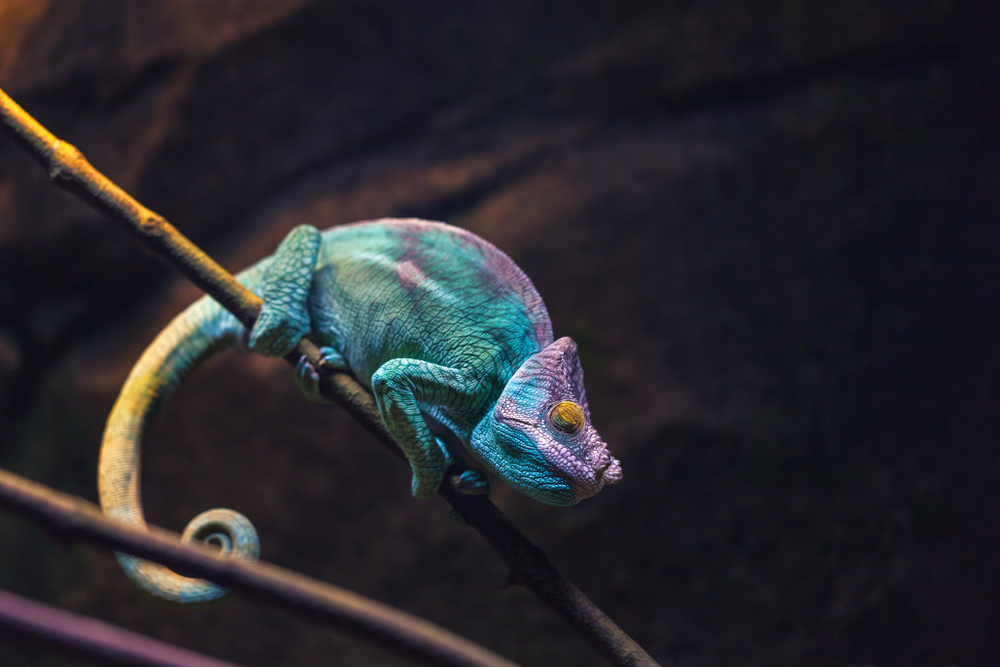 Do I Need a Reptile Thermostat?
It's possible to run a heating device without a thermostat, but that doesn't mean you should. Reptiles have particular temperature needs, including basking areas. For this reason, we always recommend using a thermostat. If you don't have one, using a thermometer until you get one is ideal.
What's the Difference Between a Rheostat and Thermostat?
Rheostats don't have a probe that measures the temperature, whereas thermostats do. The probe is necessary because thermostats regulate temperature without relying on room temperature. Plus, in most cases, thermostats give more accurate readings.
Can I Run More Than One Heater off the Same Thermostat?
Depending on the thermostat you choose, absolutely! Some devices can also run cooling units alongside heating units. What determines this is their amount of inputs. If a product has two or more three-prong outlets, you can run multiple devices.
What is a Dimmer Thermostat?
Dimmer thermostats work by controlling the brightness of heat lamps to lower the temperature. Instead of turning lights on and off, they're always on. This drives up the cost of running them, and they're expensive to begin with. For this reason, we recommend using on/off reptile thermostats.
Wrapping Up
Shopping for a reptile thermostat is not always straightforward, but it doesn't have to be complicated. It's essential to shop based on your needs and your needs alone. Ending up with the wrong reptile thermostat can lead to broken heating devices and an unhappy reptile.
Luckily, finding the best reptile thermostat is simple when you have the best products in front of you. So, take some time to consider your options before you make a decision carefully.