150+ Police Dog Names That Are Surprisingly Warm and Fuzzy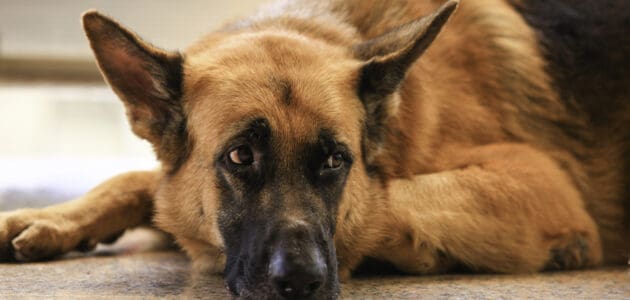 If you've been sniffing around for a police dog name that suits your canine co-pilot's personality, you've come to the right place. From standards like Gunner and Chase to delightfully tongue-in-cheek choices such as Donut and Serpico, we've got over a hundred monikers that are definitely worth a look or two. After all, any four-legged squad member is deserving of a name that exemplifies just how important their role in the police force is.
However, not just any pooch can do this job–most police dogs are specially bred to protect and serve, and therefore come from a lineage of ancestors who once served the same role. There's also a number of complicated tasks police dogs have to perform, so only a handful of breeds make the cut for the job: think bloodhounds, labrador retrievers, Dutch shepherds, Belgian malinois, and of course, the iconic German shepherds.
Whether it's sniffing out illegal substances and explosives, searching for living victims in the wake of a disaster, or locating missing people, police dogs are some of the most beloved–and valued–team members on any police force. Hopefully, you'll enjoy these names just as much as we do; we've also included some fun facts behind these names that you might find interesting, so keep reading to learn more!
Values-Based Police Dog Names
Honor
Glory
Faith
Justice
Freedom
Partner
Noble
Duty
Truth
Bravery
Position-Based Police Dog Names
Lieutenant
Rookie
Ranger
Chief
Deputy
Constable
Colonel
General
Sarge
Trooper
Sergeant
Officer
Captain
Boss
Sheriff
Action-Based Police Dog Names
Gunner
Tracker
Chase
Hunter
Copper
Warrior
Inspector
Agent
Defender
Sleuth
Sniffer
Prowler
Ranger
Recruit
Patroller
Miscellaneous Police Dog Names
Badge
K9
Pistol
Holster
Force
Blue
Baton
Siren
Vice
Sentinel
Strong Male Police Dog Names
Bear
Fang
Hulk
Ace
Bones
Rocky
Bowser
Bruiser
Hawkeye
Gator
Spike
Rex
Badger
Buddy
Crash
Bullet
Diesel
Bolt
King
Bane
Storm
Avalanche
Bomber
Hercules
Moose
Goliath
Atlas
Finn
Hawkeye
Bud
Strong Female Police Dog Names
Reina
Queenie
Harley
Echo
Layla
Athena
Diana
Pepper
Katniss
Elektra
Mercy
Jinx
Tiger
Nala
Alaska
Olympia
Raven
Liberty
Rogue
Scout
Leia
Xena
Indiana
Blizzard
Dagger
Diva
Clue
Cairo
Nora
Colt
Silly Police Dog Names
Donut
Fritter
Creamstick
Boston
Maple
Cruller
Fuzz
Bacon
Po-Po
Gum Shoe
RoboCop
Terminator
Mod
Wiggum
Barbrady
Underdog
Five-O
Snoopy
Balto
Police Dog Names Based on Movie, TV Characters, and Other Famous Figures
Serpico – Frank Serpico was the starring character in a movie with the same name, played by Al Pacino
Callahan – this name comes from Harry Callahan, the star of the Dirty Harry movies, played by Clint Eastwood
Gordon – James Gordon was the cop from the Batman series
Axel – Axel Foley was the Beverly Hills cop, played by Eddie Murphy in the hit 80s movie with the same name
Columbo – inspired by the titular character from the popular TV series of the same name
McClane – Bruce Willis played the lead role of John McClane in the Die Hard series
Benson – Law & Order fans will be familiar with this name, inspired by Olivia Benson who was played by Mariska Hargitay
Schrader – Hank Schrader was the hapless DEA agent in the HBO series Breaking Bad
Lacey – the namesake of Mary Beth Lacey, one half of the female cop duo in the 80s TV police drama Cagney & Lacey
Cagney – the other half of Cagney & Lacey, whose full name is Christine Cagney
Tango – inspired by Ray Tango, a narcotics officer played by Sylvester Stallone in the 80s movie Tango & Cash
Cash – the other half of the Tango & Cash duo played by Kurt Russel, whose full name is Gabe Cash
Starsky – from the popular 70s TV series Starsky & Hutch, whose full name is David Starsky
Hutch – from Starsky's partner Kenneth "Hutch" Hutchinson
Hoover – taken from J. Edgar Hoover, the first director of the FBI
Norris – the namesake of the iconic American actor Chuck Norris, known for his martial art movies
McNulty – named for Jimmy McNulty from The Wire, a popular American TV drama from the 2000s
Caine – from the character Horatio Caine, the star of CSI: Miami played by David Caruso
Ponch – short for Poncherello, the last name of one of the main characters in the American crime drama CHiPS
Marlowe – named after private detective Phillip Marlowe from the movie The Big Sleep, played by Humphrey Bogart
Drebin – the star cop of The Naked Gun series, played by Leslie Nielsen
Buford – the namesake of Buford T. Justice, played by Burt Reynolds in Smokey & The Bandit
Crockett – inspired by Sonny Crockett from Miami Vice, the hit NBC television series that was popular in the 1980s
Seagal – the namesake of Steven Seagal, another American actor known for his martial arts movies
Miller – named for Barney Miller, a comedy series set at the police station in Greenwich Village of New York City
Sipowicz – the namesake of character Andy Sipowicz from early 2000s TV series NYPD Blue, played by Dennis Franz
Bullitt – the same name as Lt. Frank Bullitt, the titular character from the movie Bullitt played by Steve McQueen
Fife – taken from the name of the lovable cop Barney Fife on The Andy Griffith Show
Tibbs – the name of Virgil Tibbs, a character from the drama In The Heat Of The Night, played by Sidney Poitier
Briscoe – another name inspired by a Law & Order character; this time, it's Lennie Briscoe, who was played by Jerry Orbach
Popeye – from a character named Jimmy "Popeye" Doyle, played by Gene Hackman in The French Connection
Murtaugh – inspired by Danny Glover's character Roger Murtaugh in Lethal Weapon
Riggs – another Lethal Weapon-inspired name; the character's full name is Martin Riggs, and was played by Mel Gibson
Friday – taken from Joe Friday, the name of the lead character in the iconic radio, television, and movie series Dragnet, played by Jack Webb
Peralta – the namesake of Jake Peralta, the goofy detective from comedy series Brooklyn Nine-Nine
Before You Christen Your Newest Canine Recruit…
Hopefully you've found a name you like here for your squad's new police dog–and if you're a civilian looking to give your best friend a tough, authoritative name, then there's plenty of monikers worth checking out here. As always, thanks for reading!