Wolf Names for Their Domesticated Descendants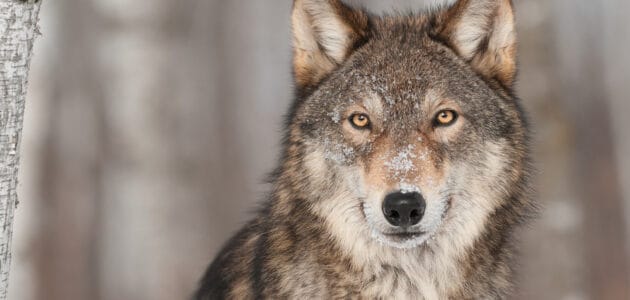 There are two widely recognized species of wolves in the world: red wolves and grey wolves, but when it comes to subspecies (like timber wolves or tundra wolves), specialists who study wolves can't agree on how many there are! Regardless of classification, wolves are the direct ancestors of dogs.
When we think of wolves, we often think of noble creatures who live in familial packs and are fantastic hunters. Their strength and capability to survive inspires us and earns our respect. It might even make us think that wolves are really cool animals!
Though you can't have a wolf as a pet, you can definitely have a dog. If you love wolves, why not give your dog a wolf-themed name? Obviously, wolves are wild animals so they don't have names like we do. However, there are plenty of names that mean "wolf," as well as names that suit their noble auras. Let's take a look.
Names That Mean "Wolf"
If you want to name your dog after wolves, why not give it a name that hits the nail right on the head? These names all have meanings relating to wolves.
Accalia – This name means "she-wolf" and has Latin origins.
Adalwolfa / Adolpha – A German name meaning "noble she-wolf."
Adalwolf – A German name meaning "noble wolf."
Adolfo – A name of Latin origin meaning "noble-wolf"
Amaruq – An Inuit word meaning "grey-wolf."
Amoux – A French name meaning "eagle wolf."
Arnou – This name also means "eagle wolf" in French.
Bardawulf – This is an English name meaning "ax wolf."
Bledig – This name has Irish origins and means "like a wolf."
Boris – This Russian name means "short wolf."
Channing – An Irish name meaning "young wolf."
Channon – This is the English version of the previous name.
Conan – This Irish name means "hound" or "wolf."
Connery – This name has Celtic origins and means "wolf farmer."
Connor – An Irish name meaning "wolf lover."
Conrí – This name has Gaelic origins and means "wolf king."
Eyolf – A Norwegian name meaning "lucky wolf."
Gonzalo – A Spanish name meaning "wolf."
Gorg – An Iranian name meaning "wolf."
Gunnolf – This Norwegian name means "fighting wolf."
Kiyaya – This is a Yakama Native American name meaning "howling wolf."
Lelou / Leloo – This is a Chinook word adapted from French that means "wolf."
Lobo – "Wolf" in Spanish and Portuguese.
Lowell – An Old French name meaning "wolf cub."
Lupo – "Wolf" in Italian.
Lupus – "Wolf" in Latin.
Nashoba – The Choctaw word for "wolf."
Odolf – "Prosperous wolf" in German.
Ookami – This is the Japanese word for "wolf."
Raff – An English name meaning "red wolf."
Rand / Randall – An Anglo-Saxon name meaning "shield wolf."
Randolph – An English name meaning "house wolf."
Raoul – An English name meaning "red wolf."
Rodolfo – This Spanish name means "famous wolf."
Rolf – "Red wolf" in the Teutonic language.
Rolo – "Famous wolf" in Teutonic.
Rudolfo – This name means "mighty wolf" in Spanish.
Ulfred – This Olde English name means "wolf of peace."
Ulmer – This name means "fame of the wolf" and is of English origin.
Ulrich – This English name means "female wolf."
Vilkas – "Wolf" in Lithuanian.
Volk – "Wolf" in Slovenian.
Wilk – "Wolf" in Polish.
Wolfgang – A German name meaning "son of the wolf."
Wolfram – This name has German origins and is a combination of the words "wolf" and "raven."
Wolfrik – A German name meaning "wolf ruler."
Woolsey – An English name meaning "victorious wolf."
Wulfgar – This name means "wolf-like spear" and has English origins.
Wulfsige – An Anglo-Saxon name meaning "victorious wolf."
Names Inspired by Fictional Characters
There are a number of characters in literature, TV and film, and video games that are wolves or have wolf-like characteristics. As such, these would make great names for those who want to name their dog something wolfy but also love the story or character the name comes from.
Akela – A wolf from The Jungle Book who is the leader of his pack.
Balto – In the animated film of the same name, Balto is half wolf, half dog.
Beowulf – The hero from the famous poem of the same name.
Ghost – Jon Snow's wolf in Game of Thrones.
Gmork – A wolf-like creature from The Neverending Story.
Grey Wind – Robb Stark's wolf in Game of Thrones.
Jacob – The second male lead in the Twilight series who transforms into a wolf.
Kodlak Whitemane – A character from the Skyrim series who is afflicted by lycanthropy.
Lady – Sansa Stark's wolf in Game of Thrones.
Maugrim – A talking wolf from The Chronicles of Narnia.
Nymeria – Arya Stark's wolf in Game of Thrones.
Padfoot – Sirius Black's nickname in Harry Potter.
Raksha – The female wolf in The Jungle Book who adopts Mowgli.
Remus Lupin – The professor who turns into a werewolf in Harry Potter.
Shaggy Dog – Rickon Stark's wolf in Game of Thrones.
Sirius – Named after a star in the Canis Major constellation, this Harry Potter character can transform into a huge, black, wolf-like dog.
Skjor – A character from the Skyrim series who can turn into a werewolf.
Summer – Bran Stark's wolf in Game of Thrones.
White Fang – A wild wolf-dog from a book of the same name.
Wolverine – A character with wolf-like claws from X-Men.
Mythological Creatures and Figures
Mythological beings, whether they be god or creature, bring to mind strength and power. As such, they fit the theme of wolf names. Perhaps one of these could be a great fit for your wolf-descended pup.
Anubis
Aphrodite
Apollo
Artemis
Athena
Cerberus
Diana
Fenrir
Freya
Gaia
Goliath
Lilith
Loki
Medusa
Morgana
Nimueh
Nymph
Nyneve
Odin
Persephone
Remus
Romulus
Shiva
Sköll
Thor
Titan
Venus
Warg
Names Inspired by the Weather
Perhaps it's because of their thick fur and ability to survive harsh winters, but many of us associate wolves with cold climates. However, there are plenty of wolves that live in North America and other areas that experience all four seasons, including hot summers!
In fact, wolves can survive in temperatures ranging from -70℉  to 120℉. Therefore, names that relate to the weather and climate (especially cold ones) are suitable if you're hoping to give your pup a wolf-like name.
Avalanche
Blizzard
Breeze
Eira – A Welsh name meaning "snow."
Flurry
Frost
Frost
Glacier
Hail
Haukea – A Hawaiian name meaning "white snow."
Ice
Iceberg
Icicle
Misty
Miyuki – A Japanese name meaning "deep snow" or "beautiful snow."
Neva – A Spanish name meaning "white snow."
Neve – A name of Irish and Latin origin meaning "snow."
Polar
Rain/Raina
Snow
Snowball
Snowflake
Storm
Tempest
Thunder
Winter
Yuki – "Snow" in Japanese.
Nature-Inspired Wolf Names
Wolves can live in mountains, forests, prairies, and even swamps. They are part of nature and spend every day in it, so why not choose a name inspired by nature?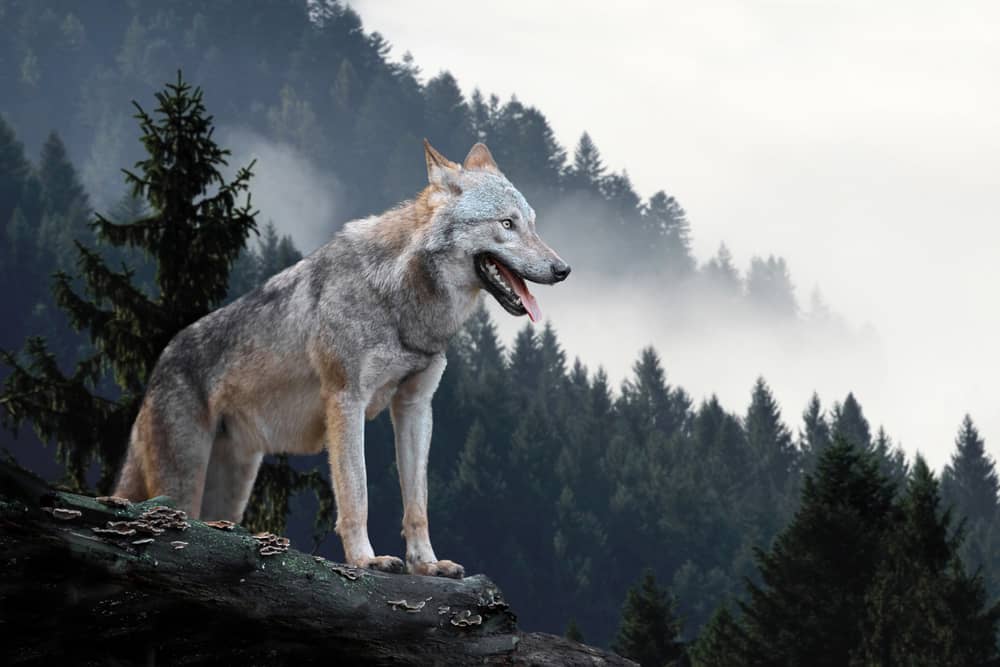 Ash
Aspen
Aurora
Bracken
Canyon
Cypress
Dawn
Dusk
Fern
Ivy
Lotus
River
Sequoia
Sky
Terra
Thorn
Timber
Tundra
Violet
Willow
Yama – "Mountain" in Japanese.
Precious Stone Names for Precious Pups
Stones, whether they be precious or not, are beautiful and tough just like wolves. They also make lovely names for both people and animals alike.
Amber
Amethyst
Boulder
Diamond
Emerald
Jade
Jasper
Onyx
Opal
Pebble
Ruby
Sapphire
Stone
Topaz
Names Based on Wolf Habitats
These names are based on places where wolves are known to live.
Alaska
Alpine
Arctic/Arctica
Cheyenne
Dakota
Everest
Juneau
Klondike
Kodiak
Montana
Niagara
Siberia
Sierra
Yukon
Cool Names for Cool Canines
If wolves did have names, they would probably be cool names. You may not have a wolf to name, but your dog is part of the canine family, too! Check out these slick names.
Axel
Bandit
Beast
Blitz
Claw
Commander
Drift
Echo
Fang
General
Mace
Magnum
Nikita
Nomad
Reina – "Queen" in Spanish.
Rogue
Shadow
Thief
Viggo
Whisper
Xena
Xerxes
Yda
Ysale
Yvane
Unisex Wolf Names for Dogs
These are some unisex names we think would suit wolves and dogs wonderfully.
Alpha
Baron
Blitz
Blue
Bolt
Charcoal
Cinder
Clarke
Cobalt
Copper
Echo
Gauntlet
Gray
Gunpowder
Indigo
Ink
Kasper
Midnight
Moon
Night
Noir
North
Outlaw
Pewter
Platinum
Predator
Quicksilver
Rae
Raven
Roan
Rogue
Rune
Sabre
Saga
Sage
Scar
Scout
Shaman
Silver
Smoke
Spirit
Stalker
Star
Stardust
Stark
Steele
Sterling
Summit
Swift
Totem
Twilight
Wolf Names for Male Dogs
These names are traditionally masculine, but it's 2023. If you love one of these names but have a female pup, go ahead and use it anyway!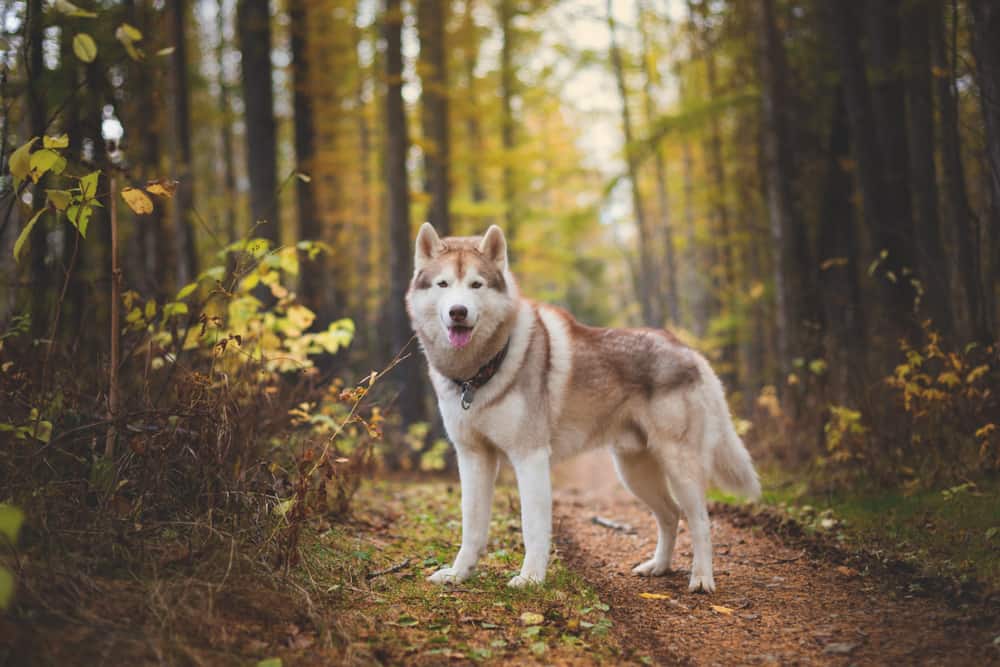 Aaryn
Adolphus
Amarok
Anton
Apache
Asher
Brute/Brutus
Caesar
Cayden
Chase
Czar
Devil
Dixon
Duke
Fang
Finn
Flint
Gregor
Griffin
Gunner
Holo
Hugo
Hunter
Inigo
Jet
Kai
Keanu
Kiba
King
Knight
Kylo
Lance
Largo
Leo
Leonidas
Lincoln
Lobo
Napolean
Nyko
Pharoah
Rocky
Roman
Sebastian
Seiko
Sheriff
Sparta/Spartan
Thorin
Torak
Troy
Tsar
Vlad
Warlock
Zion
Wolf Names for Female Dogs
Like we said before, it's 2023. Even though these names are traditionally feminine, you can totally use them for male canines, too.
Alexa
Anika
Anya
Arcadia
Arya
Ava
Belle
Blair
Bree
Buffy
Cami/Camilla
Destiny
Diva
Ebony
Eva
Fantasia
Genesis
Heather
Helena
Ivory
Izzy
Kadee
Kali
Kiba
Kieko
Kiki
Koda
Kona
Leda
Leia
Lexa
Luna
Maiden
Masha
Maya
Meiko
Mikumi
Milah
Mystic
Nia
Nina
Niylah
Nova
Octavia
Olga
Pepper
Petra
Queen
Sabrina
Serafina
Shaba
Sibi
Taika
Una
Winona
Witch
Zalia
Zara
Zelda
Zena
Zuma
Naming Your Canis Familiaris After a Canis Lupus
Though modern wolves (Canis lupus) are nothing like dogs (Canis familiaris), we owe their ancestors for being brave and resourceful enough to work together with humans, allowing them to evolve into something entirely new. Now, we get to live every day with the most amazing and loving companions: dogs.
If you love wolves, think they're cool, or simply want to honor your dog's ancestry, naming your dog something wolfy can be a great option. We hope you were able to find the perfect name for your little miracle of evolution.