200+ Husky Dog Name Ideas Perfect for Your Big Softie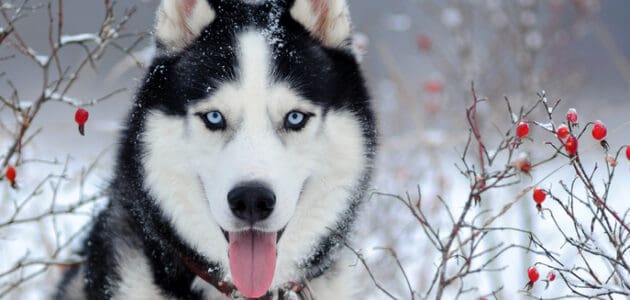 Huskies are well-known for their striking eyes, intelligence and boundless energy. Of course, they're also infamous for their mischievous nature, stubbornness and ability to wake the whole neighborhood up with their howls!
Looking after a Husky is a lot of hard work, frustrating at times, but ultimately, a rewarding experience. It's impossible not to fall in love with their friendly temperament and the antics they get up to – even if they drive you crazy on a daily basis.
If the latest addition to your family is a Husky, you'll want a name that pays tribute to their noble heritage or lovable personality in some way or another. Luckily, we've made finding the perfect name easy. Today, we've created a list of over 200 Husky dog names, so you'll definitely be inspired and discover one fitting for your vocal howler.
Our Top Husky Dog Names
We'll start off with a collection of some of the most popular Husky dog names, as well as our personal favorites.
Top Female Names
Astra: Meaning star.
Athena: Greek goddess of warfare and craft.
Aurora: After the Aurora Borealis. Aurora is also the name of the Roman goddess of dawn.
Celeste: Meaning heavenly.
Elsa: After the icy queen in
Layla: Meaning night.
Luna: Meaning moon.
Mishka
Misty
Nala: After the brave lion heroine in The Lion King.
Nova
Sasha: Meaning helper of mankind – an apt name for any Husky considering their sled dog heritage.
Sky
Snowy
Solstice
Willow
Xena: From Xena: Warrior Princess.
Top Male Names
Ajax: Meaning earth.
Apollo: God of the sun, poetry, healing and prophecy.
Ares: Greek god of warfare.
Bear
Bolt
Buddy
Comet
Cooper
Dasher
Fang
Hunter
Maverick: Meaning independent; an ideal name for a Husky, because they love getting their own way!
Max: Meaning the greatest.
Odin: Norse god of wisdom, war and poetry.
Racer: A name inspired by what Huskies excel at: sled dog racing.
Rocky
Thor: Hammer-wielding Norse god of thunder, storms and lightning.
Yukon
Yuzuru: After one of the greatest figure skaters in the world.
Husky Names Inspired by Cold Climates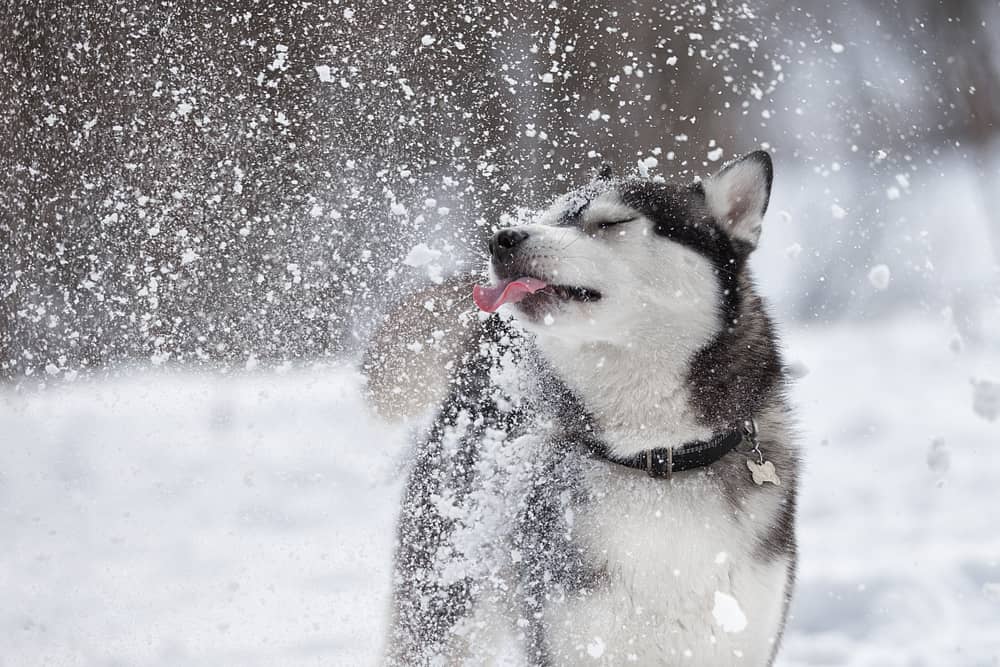 Giving your furry friend a cold climate-inspired name couldn't be more apt – able to withstand sub-zero temperatures as low as -60°F, and heavy snow blizzards, Huskies are built for cold climates.
Alpine
Avalanche
Blizzard: If your excitable Husky pup loves nothing more than jumping about in the snow, calling them Blizzard is the surefire way to honor their energetic nature.
Chilly
Eira: Meaning "snow" in Welsh.
Flurry
Frosty
Frozen
Glacier
Gusty
Icicle
Icy
Igloo
Lichen: Just like your Husky pup, Lichens are able to withstand sub-zero temperatures.
Lupus: Latin for "wolf." Wolves thrive in cold climates too, and Huskies are renowned for their resemblance to wolves!
Mittens
Neve: Meaning snow.
North
Olwen: Meaning white footprint.
Pine
Polar
Snowball
Snowflake: A name perfect for a gentle pooch.
Spruce
Stormy
Summit
Tempest: Meaning a ferocious storm.
Tundra
Winter
Yuki: "Snow" in Japanese.
Husky Names Based on Places
Huskies originated thousands of years ago in Siberia, where they were bred and developed by the Chukchi people to be a sled dog capable of traveling for long periods of time while carrying heavy load. Later in the 20th century, they were brought over to Alaska, where they quickly became famous for their sled dog racing prowess.
Pay homage to your pup's origin with these Siberian and Alaskan place names.
Anchorage: The biggest city in Alaska, famous for its many cultural sites. Alaska's Iditarod Trail Sled Dog Race usually begins here.
Baikal: Lake Baikal is the deepest lake in the world, located in Siberia.
Chara: After the famous Chara sands, located in Siberia.
Chilkoot: After the Chilkoot Trail. The trail was a key transportation route in the Klondike Gold Rush.
Coldfoot: One of the best places in Alaska (and the world) to see the northern lights.
Denali: After Denali National Park and Preserve, as well as the mountain.
Ergaki: Renowned mountain range in Siberia.
Homer: Small Alaskan city, nicknamed the "Halibut Fishing Capital of the World." It has also been named one of the happiest seaside towns in the United States – a perfect name for a joyful Husky pooch!
Irkutsk: Siberian city, home to the Epiphany Cathedral.
Juneau: Alaska's capital city.
Katmai: After Katmai National Park and Preserve, famous for grizzly bears.
Kenai: Coastal Alaskan city with beautiful scenery.
Ketchikan: This Alaskan city has long been considered the salmon capital of the world.
Kodiak: After Kodiak Island, named the "Emerald Isle" after its beautiful green nature.
Nome: Alaska's Iditarod Trail Sled Dog Race typically finishes in Nome.
Novo: After Novosibirsk, the capital of Siberia.
Stolby: After Stolby National Park.
Tomsk: Siberian city famous for its wooden architecture.
Valdez: Picturesque coastal Alaskan city surrounded by mountains.
Wrangell: After Wrangell-St. Elias National Park, the largest national park in America, located in Alaska. Ideal for an extra-large Husky dog!
Cute Husky Dog Names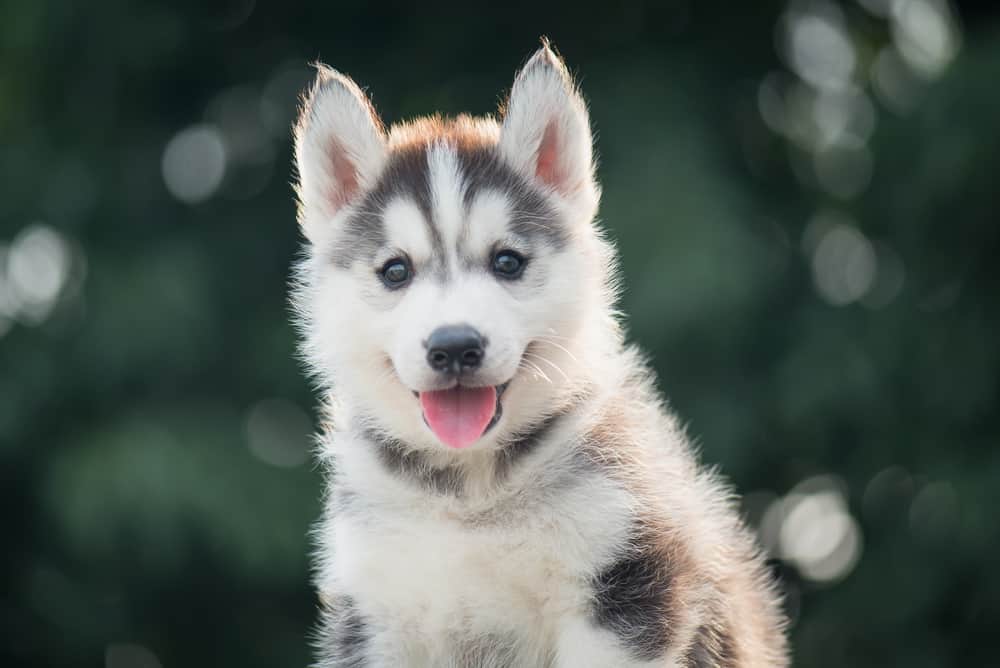 While Huskies may have a wolf-like appearance, their personality is anything but wolf-like; they are gentle, affectionate and extremely friendly (even toward kids and strangers!). Honor your big softie with one of these adorable names.
Alfie
Archie: Meaning brave.
Bella: Meaning beautiful.
Biscuits
Boots
Cuddles: Perfect name if your Husky loves nothing more than snuggling beside you.
Daisy
Faith
Glimmer
Iggy: Adorable nickname for Igloo.
Jasmine
Leo: Latin for "Lion."
Lily
Lola
Lulu
Nimbus: After the fluffy, dark cloud.
Oso: Meaning "bear" in Spanish.
Otis: Meaning wealthy.
Panda
Smudge
Snowdrop
Timber
Tucker
Funny Husky Dog Names
The Husky is one of the friendliest dog breeds in the world. However, they're also known for being one of the most stubborn and mischievous! If your Husky pup can't help but get up to no good, a chuckle-worthy name will pay tribute to their playful (and equally hilarious) personality.
Bandit
Banshee: A creature renowned for her screeching – fitting for a noisy, howling Husky.
Chief: Since your playful, independent Husky pup is sure to act like they own the couch.
Dumbledore: From Harry Potter.
Gandalf: From The Lord of the Rings.
Havoc
Houdini: Illusionist famous for escape acts – just like Huskies!
Jack Frost
Loki: The trickster god, apt name for any mischievous Husky.
Mammoth
Olaf: The funny snowman in
Puck: The impish fairy.
Rebel
Trouble
Vixen: Meaning fox; perfect name for a sly and cunning Husky.
Wampa: The ice beast from Star Wars.
Wolverine: From X-Men.
Yeti: The ape-human snow monster (aka the Abominable Snowman).
Zorro: After the impossible to catch legendary character, Zorro.
Famous Husky Names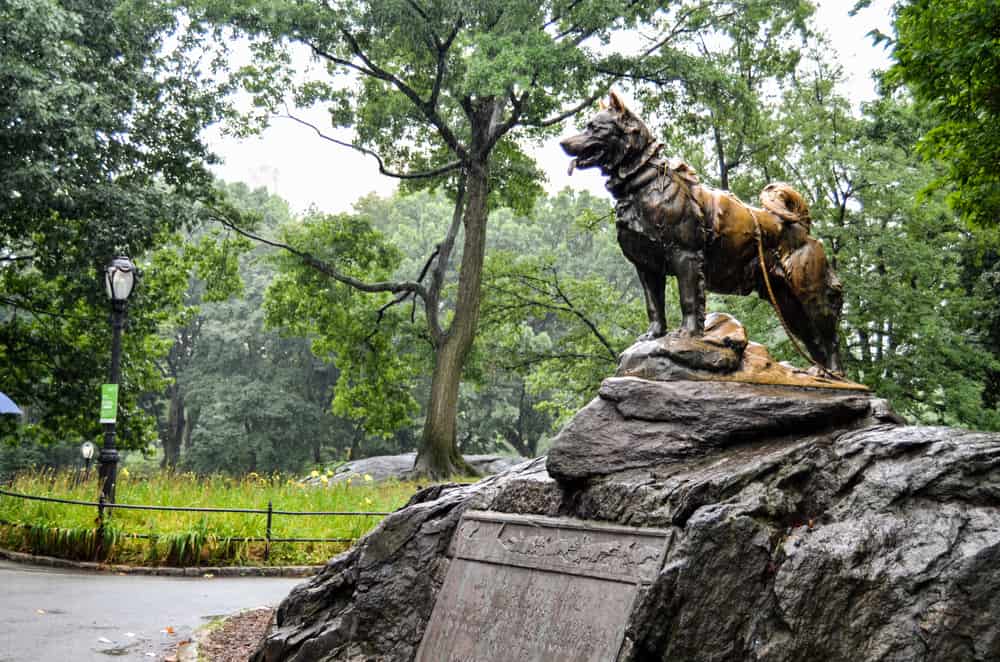 Huskie have been making history for decades, whether as heroic sled dogs or lovable movie characters. These names all pay tribute to famous Huskies across the world and screen.
Balto, Fritz, Togo: Famous Huskies of the "Great Race of Mercy."
Charlie: Able to pull a 3,142 pound sledge, Charlie the Husky was considered the strongest dog alive in 1963.
Demon, Diesel, Duchess, Mack, Scooper, Sniff, Yodel: From Snow Dogs.
Dewey, Max, Maya, Old Jack, Shorty, Truman: Brave and heroic Huskies featured in Eight Below.
Jiro, Taro: Against the odds, Huskies Jiro and Taro managed to survive alone in Antarctica for nearly a year.
Laika: Laika was the first animal to orbit the Earth. She was also part Husky!
Shasta: From Snow Buddies.
Husky Names Based on Coat
White, black and white, red, gray – Huskies coats come in several hues. Honor your Husky's beautiful appearance with these coat-inspired names.
Affogato: Brown and white Italian dessert.
Barley
Baster: Nickname for Alabaster, the pale mineral.
Bean
Bianca: Meaning "white" in Italian.
Blanche: Meaning "white" in French.
Chalkie: Cute way of saying Chalk.
Charcoal
Checkers: After the game.
Coconut
Domino
Eclipse
Hazel
Honey
Jet
Light
Midnight
Mocha
Orca
Oreo
Paprika
Penguin
Pepper
Saffron: Vibrant red spice.
Sandy
Shadow
Shiro: "White" in Japanese.
Starlight
Tiger: Fitting name for a fierce, red Husky!
Turnip
Husky Names Based on Eye Color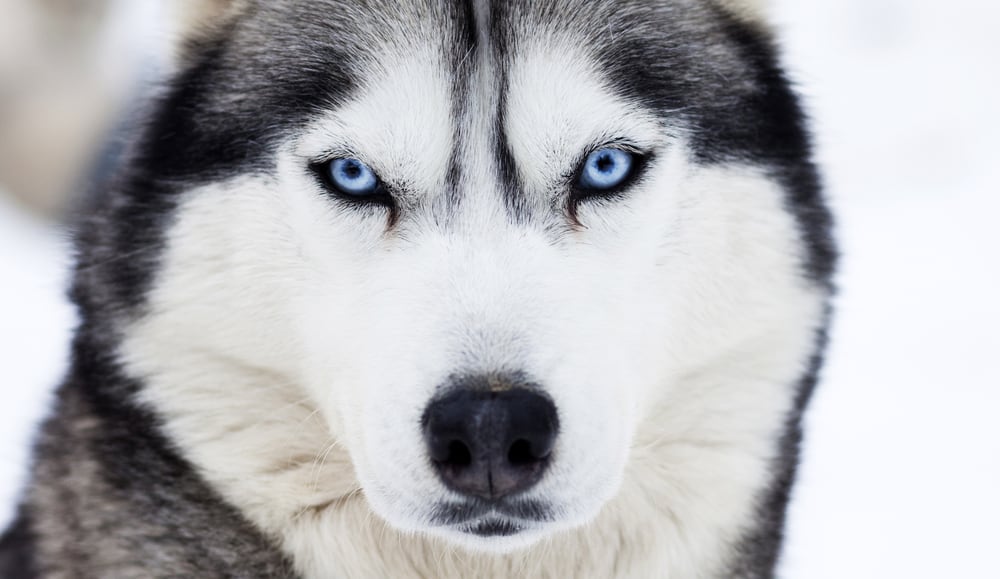 Huskies are famous for their striking eyes and unwavering gaze, so it should come as no surprise that this can serve as name inspiration. That said, be aware that your Husky pup's eyes may change color over time. Usually, you'll only truly know their permanent eye hue when they're about 16 weeks old.
For this reason, we recommend only giving your Husky a name based on their eye color if they're older than 16 weeks. Otherwise, your pup might be stuck with a name that's not exactly befitting!
Blue Eyes
Azure
Bluebell: After the flower.
Capri: A deep blue shade.
Cobalt
Cyan
Indigo
Navy
Neptune: After the blue planet.
Ocean
Sapphire: Blue gemstone associated with wisdom and purity.
Teal
Umi: Meaning "sea" in Japanese.
Brown Eyes
Amber: After the vibrant, brown gemstone.
Bagel
Brandy
Brownie
Bruno: Meaning brown.
Chestnut
Choco: Nickname for chocolate.
Ember
Milo: The chocolate beverage.
Moose
Muffin
Nutmeg
Rusty
Taffy
Umber: Reddish-brown hue.
Bi-Colored and Parti-Colored Eyes
Catra: Character with bi-colored eyes from She-Ra and the Princesses of Power.
Chimera
Chromia: Nickname for heterochromia.
Double
Gemini: Zodiac sign associated with duality.
Gwen: Champion that has heterochromia in the game League of Legends.
Jekyll: After Dr. Jekyll and Mr. Hyde, a character with a two-sided personality.
Marbles: Marbles come in a wide array of beautiful colors.
Mila: After Mila Kunis, a celebrity who has heterochromia.
Mystique
Neapolitan: After the tri-colored ice-cream.
Opal: Beautiful multi-colored gemstone, associated with love.
Prism
Warlock: Bi-colored eyes look magical, after all!
Yuna: After the character with bi-colored eyes from Final Fantasy X.
Green
While exceptionally rare, and not part of the AKC breed standard, some Huskies do have green eyes.
Cyan
Fern
Ivy: The climbing plant, symbolizes eternity and lasting affection.
Jade: Green gemstone called the "stone of heaven."
Juniper: Deep green hue.
Nori: Dried seaweed.
Olive
Pickle
Sage
Inuit Husky Names
As we mentioned earlier, the Husky breed has its roots in both Siberia and Alaska. If you're not keen on place names, you might prefer to honor your Husky pup's heritage with these interesting and meaningful Inuit-inspired names. You're sure to find one here which reflect your pup's individual personality.
Ahnah: Meaning "wise woman."
Akiak: Meaning "brave."
Amka: Meaning "friendly spirit."
Aputik: Meaning "snow."
Igaluk: Lunar deity.
Kaskae: Meaning "chief."
Kayuh: Meaning "mountain."
Maguyuk: Meaning "howler."
Malina: Solar deity.
Miki: Meaning "little."
Nanuq: Meaning "polar bear."
Noatak: Meaning "inland river."
Pukiq: Meaning "smart."
Qana: Meaning "falling snow."
Qannik: Meaning "snowflake."
Siku: Meaning "ice."
Silla: Spirit of the sky.
Suka: Meaning "fast."
Unalaq: Meaning "west wind."
Yura: Meaning "beautiful."
Naming Your Big Softie
Picking a name for your Siberian Husky is no easy task. It has to roll off the tongue, match your Husky's temperament, heritage or attributes, and be a name you'll love forever.
It should also be a name your Husky can easily distinguish from other words or commands – since Huskies are renowned for their stubbornness and independent nature, you'll want to make training as smooth sailing as possible.
While our list has given you tons of options to think about, if you haven't discovered a name on our list that strikes your fancy, why not browse our other dog name lists for more inspiration? From cool dog names to badass dog names, your options are limitless.
When you've come to a decision, make sure to get your pup's name and details engraved on their tag as soon as possible. You should also consider investing in a smart tracker once they're older. After all, Huskies are notorious escape artists!