The 10 Best Dog Pools to Keep Your Dog Cool in 2022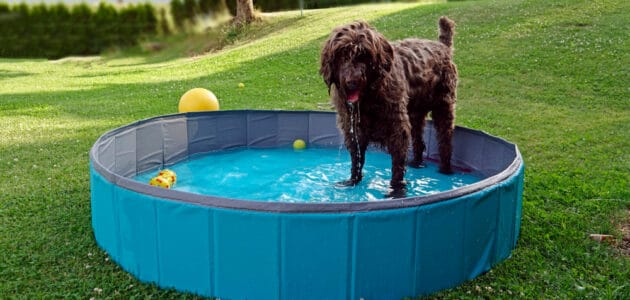 For your dog, staying cool under the hot summer sun is more than just a relieving experience. It's life-saving. Dogs are particularly prone to overheating (and its ill-effects), as they can't regulate their body temperature as well as we can.
That's why it's important you ensure your beloved companion always has a way to cool themselves off whenever they're playing outside. While giving your dog access to a water bowl and shade will go a long way, a dog pool will allow them to cool off easily and quickly, and it'll also provide a space where they can have some fun water play!
What You Need to Know About Dog Pools
Today, we've compiled a list of the best dog pools available on the market. But first, to make sure you don't feel like a fish out of water, we'll explain the most vital information you need to know about dog pools.
Types of Dog Pools
Just like dogs, there are various types of dog pools. The main types are foldable, inflatable, and one-piece.
One-Piece Pool
Usually metal-framed or made of sturdy hard plastic, a one-piece pool is the most durable type, making it an ideal option for dogs that love to chew, scratch, or play roughly. However, a one-piece pool is bulky and it doesn't fold up, so it's not the easiest to store. It's also on the expensive side.
Foldable Pool
A foldable pool's sides are basically individual yet connected sturdy panels that can be folded up, allowing for easy storage. It's also effortless to set up a foldable pool – you simply "unfold" the sides and add water.
Typically, each panel contains a piece of thick board; medium-density fiberboard (MDF) or high-density fiberboard (HDF). This gives this pool greater durability than an inflatable pool, which relies on air.
Inflatable Pool
An inflatable pool is made up of air, making it exceptionally lightweight, and as it can be deflated and made compact, it's very convenient to store no matter its size. Although easy on the budget, an inflatable pool is not as durable as a one-piece or foldable pool; an energetic dog would have no trouble puncturing it. Inflatable pools come in a wide array of colors, shapes, and styles.
Factors to Consider in a Dog Pool
We'll now go over the vital features you need to think about when purchasing a pool for your pooch.
Durability
A dog pool with poor durability won't be able to withstand a playful pup's nails, teeth and energy. If your dog is a hardcore chewer, you'll certainly need to invest in a pool with exceptional durability.
Material
Dog pools are typically made from polyvinyl chloride (PVC), mainly due to the fact that PVC is waterproof, reasonably tough and low-maintenance. That said, some dog pools forgo PVC entirely, instead opting for materials like polyethylene.
Size
When buying a dog pool, you need to ensure it's size-appropriate for your four-legged friend – a German Shepherd won't be able to cool off or even make a splash in a pool that's sized for a Dachshund!
Depth
You also need to consider how much water the pool can hold. The average dog pool is shallow – this lets your dog cool off and splash about with little to no risk of them drowning. A deep pool is best suited for extra-large dogs or dogs that enjoy swimming and playing in water.
Accessibility
It goes without saying your dog should be able to easily get in and out of the pool. It's best to avoid a pool with tall sides unless you own a large dog or you're willing to purchase a ramp.
Features
A dog pool can have various features, like a built-in drain or slip-resistant bottom. Some pools even come with handy, complementary accessories. It's worth considering what sort of features are right for you and your pup. For example, while a drain will allow you to quickly empty out the water, a dog that chews will likely see the drain and its protruding cap as their own personal chew toy.
Now that you're familiar with the key factors, we'll now dive into our picks for the best dog pools of 2021. If you're still feeling a bit lost at sea when it comes to dog pools, make sure to check out our comprehensive full buyer's guide below.
Guide to Buying the Best Dog Pool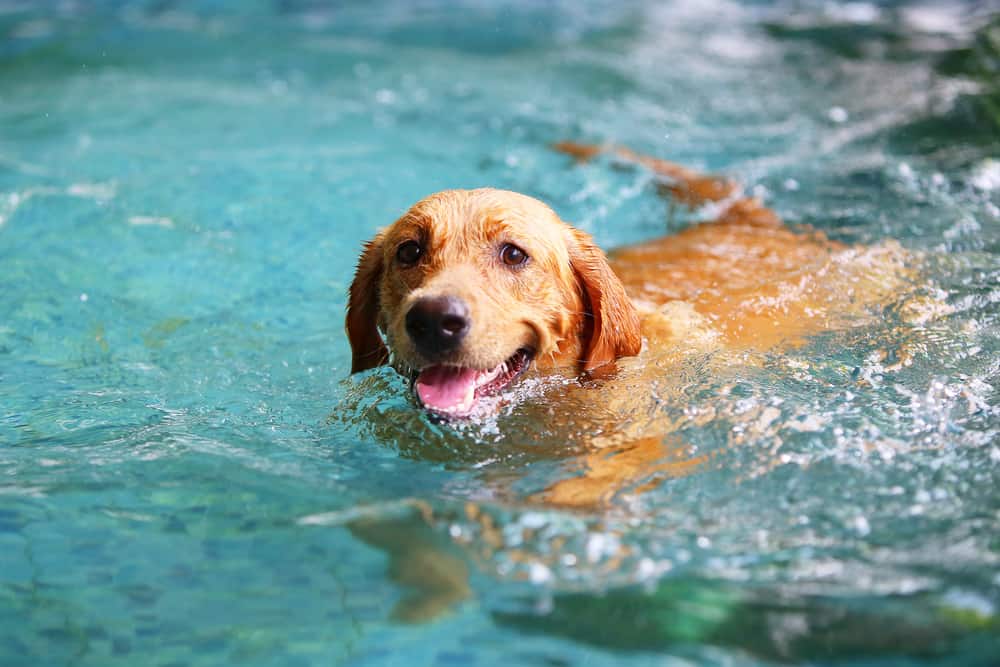 What is the best dog pool for your pooch? There isn't a quick and easy answer to this; every dog is different, and every dog has different needs. But don't worry, in this in-depth guide, we'll be helping you figure out the answer. We'll also be covering pool safety, pool cleanliness, and how to encourage your four-legged friend to use their new pool.

Benefits of a Dog Pool
A dog pool has plenty of benefits, besides keeping your dog cool (and safe) under the summer sun.
Helps Them Stay Active
When it's hot outside, it can be hard for your dog to get as much exercise as they need – the blistering heat can put them off walking and playing, and even if they want to, you'll doubtlessly have to step in and limit the amount they do. After all, the more your dog exercises in hot weather, the more likely they are to overheat.
However, giving your dog a pool to splash, play and swim in is sure to help them stay active throughout the summer, as it not only encourages them to exercise (heat won't be as bothersome), it also ensures they're able to exercise safely (drastically lessens the chance of overheating).
Relieves Joint Pain
A pool can be immensely beneficial in helping a dog with mobility issues keep fit. This is because swimming lets dogs work out their bodies with reduced strain on their joints, ultimately enabling them to exercise painlessly and for longer durations with ease.
Strengthens Bond
A dog pool provides you and your pup with another way to spend time together. Plenty of pools, like the Intex Inflatable Lounge Pool, accommodate both humans and dogs, so you'll easily be able to join them and play with them. The more time you spend with your dog, the stronger your bond will be, and the more memories you'll both have to treasure.
Reduces Behavioral Problems
As we've mentioned above, a pool allows your dog to exercise easily, and it gives an opportunity for bonding time and play. All of this helps to fulfill your dog's core needs. If your dog's needs are met, they're less likely to exhibit unwanted behaviors, like persistent barking, digging and chewing.
Extremely Versatile
Sure – a dog pool's main function is to be a space for swimming and splashing about, but you can also turn it into an ideal bathing station, a fun ball pit or a whelping box. You can even use it as a handy storage space for all their toys.
What Dog Pool Is Right for Your Dog?
There are a few other factors you need to take into account when purchasing a dog pool, including your home environment, your dog's energy level, and how often they'll be using it.
Home Environment
Before you buy a dog pool, you need to consider how much space you actually have. A small yard won't be able to accommodate a large pool, and even if it does manage to just about fit, it will prevent you from using the yard as, well, a yard!
If you don't have much storage space inside your home, it's not a good idea to go for a bulky pool, or a pool that can't be folded up – you'll be stuck with a permanent, outdoor decoration that isn't exactly attractive to look at.
The Jasonwell Dog Pool is a solid foldable pool that can be easily stored.
Energy Level
Unsurprisingly, an energetic dog is going to put the pool through more wear and tear than a low-energy dog. If you own a high-energy dog, you'll need to make sure you buy an exceptionally durable pool. A high-energy pooch will also benefit from a pool that has a non-slip surface (like the Pecute Dog Pool), as they'll likely be bouncing in and out of the water.
Breed
If you own a small breed like a Chihuahua, you'll need to ensure the pool isn't too deep and its sides aren't too tall. On the other hand, if you own a giant breed, a small pool certainly won't keep them cool – for them, it'll be like standing in a puddle. They'll need a pool with a much greater depth, such as the Intex Rectangular Frame Pool.
Be aware that while some dogs are natural-born swimmers, others find it almost impossible to swim. This is particularly true of brachycephalic breeds, as due to their physical anatomy, they're unable to keep their body afloat properly. If your dog's not able to swim, stick to a shallow pool, or go for a splash pad like the Zen Laboratory Splash Pad.
Risk of Overheating
Dogs, in general, are more prone to overheating than humans, but some dogs are extremely prone to overheating, such as brachycephalic dogs, thick-coated dogs and puppies. If this is the case for your dog, it's a good idea to purchase a pool that offers constant shade, such as the Step2 Play & Shade Pool.
Make sure to familiarize yourself with the signs of overheating. If you suspect your dog is overheating, follow these steps and contact your veterinarian immediately.
Of course, even if your dog is not extremely prone to overheating, you should still be keeping the pool shaded as much and as often as possible, or at least have a shaded area for your pup when they're outside. If you're unfortunate enough not to have a shaded area in your yard, we recommend purchasing a shade sail.
Temperament
For most dogs, seeing their new pool for the first time is an exciting moment, but for others, it can be startling (scary, even) – they'll be wondering what on earth is this strange thing that has taken up residence in the yard. If your dog is fairly anxious, it's best to stick to a small pool as it'll be less overwhelming than a large pool.
That said, we do explain how to get your dog used to a new pool a little further down.
Some dogs just can't help but see the world around them as their chew toy. If your dog is a chewer, you'll need to invest in a highly durable pool, like the ODOB Bone Pool. This is also true for dogs that love to dig, as their nails will easily pierce through a weak material.
Be aware that a dog's nails should always be well-trimmed before they use a pool, even if they're not a digger. This will reduce the chance of scratches and tears.
Will Your Dog Be Using It Daily?
If you're planning to use the pool every day during the summer, you'll need a pool that can withstand a lot of wear and tear. On the other hand, if you know you'll only be using the dog pool on the odd occasion, you probably won't need to fork out for a pool with exceptionally high durability. A cheaper, slightly less durable pool, such as the Dione Lane Dog Pool, or an inflatable type, will likely suffice.
Dog Pool Safety
We've covered pool safety throughout this guide, but here are a few more safety tips to be aware of before you set up your new dog pool:
Make sure your dog always has access to clean, cold water. We recommend buying a freezable water bowl that will keep their water cool for hours. You could even buy a dog water fountain that will ensure their water is topped up throughout the day.
No matter how good a swimmer your dog is, you always need to supervise them when they're in the pool, just like you would with a child.
Are you planning to teach your dog how to swim? Check out PetMD's swim training guide.
If you're considering purchasing a deep pool, invest in a dog life jacket and take the time to learn how to perform pet CPR.
Sure, dogs have thick coats, but they can still get sunburned just like us! You can prevent your dog from getting burned with dog sunscreen lotion and also by placing the pool in a shaded area.
Remember to clean your dog's ears after they've used their pool; excess moisture in the ear canal can lead to an ear infection. Don't own a dog ear cleaner? Don't worry – you can check out the top ten dog ear cleaners here.
If your dog has a physical ailment, purchase a dog pool that will let them easily get in and out of the pool, like the Alcott Inflatable Pool. Of course, you can also invest in a ramp.
Own multiple dogs? They'll likely want to play in the pool together, so you'll need to invest in a wide pool; a pool too small could result in them bashing, bumping and shoving one another while playing.
How to Keep Your Dog Pool Clean
It's important you regularly clean the pool and replace the water – dirty water is a breeding ground for bacteria and algae, both of which can cause serious harm to your dog. After you've finished using the pool for the day, follow these simple cleaning steps:
Drain out the pool and rinse it down with fresh water, making sure to clear away any debris or fur. Check there's no debris trapped in the drain and inspect for potential tears.
Using a soft cloth or sponge, wipe the pool down with a cleaning solution.
Rinse again, then dry with a new cloth.
Leave the pool out to fully dry under the sun. If possible, turn it upside down while it's drying. Doing so will allow remaining moisture to drip down into the grass, and it'll also prevent falling leaves from ending up inside it.
If you don't have the time to change the water daily, it's a good idea to add a small amount of chlorine to the pool. The chlorine will keep bacteria and algae growth at bay.
Is Chlorine Safe?
It is safe for your dog to swim in chlorinated water – just make sure you're using the correct amount, and rinse your dog with non-chlorinated water afterward.
You may be concerned about your dog drinking chlorinated water and if this will have any ill-effects. But don't worry, the Centers for Disease Control and Prevention (CDC) has stated that it's safe for your dog to drink chlorinated water if the chlorine in the pool is at the recommended level (1 – 3 milligrams per liter). That said, drinking chlorinated water in excess can give your dog an upset stomach, so it's always best to discourage them from drinking it.
Be aware that if you're using chlorine, you should keep the pool out of direct sunlight. The sun (and heat) can drastically reduce the effectiveness of chlorine.

How to Encourage Your Dog to Use Their Pool
Not all dogs are going to dive into the pool as soon as they lay their eyes on it. If your dog is reluctant to dip into their new pool, you should try the steps below:
You first need to get your dog used to the pool. Instead of adding water to it straight away, throw a waterproof toy into the pool, and encourage your dog to play with it. If your dog is hesitant, lure them toward the pool with their favorite treats, and then praise them and give them a treat when they step into the pool.
Repeat this process, but add water and increase the water level each time. Your pooch will soon associate the pool with a rewarding experience, and they'll start to see it as a fun space rather than something to be afraid of.
If the above does not work, you should speak to your veterinarian for further guidance. Keep in mind you should never physically force your dog into the pool or shout at them – this will just strengthen their fear and likely damage the relationship you both share.
The Final Dive
When it's sweltering outside, your four-legged friend will truly appreciate having their own pool to cool off in.
Knowing which dog pool is best for you and your pup can be quite a challenge. However, checking out our top picks while considering the factors we discuss in our guide – such as your dog's temperament, breed and energy level – is sure to help you make an informed decision when picking a dog pool for your beloved companion. Plus, familiarizing yourself with pool safety will ensure your pooch can make a splash without any risk to their well-being. Now, go and have some aquatic fun!